Brewers' Anderson exits after liner hits leg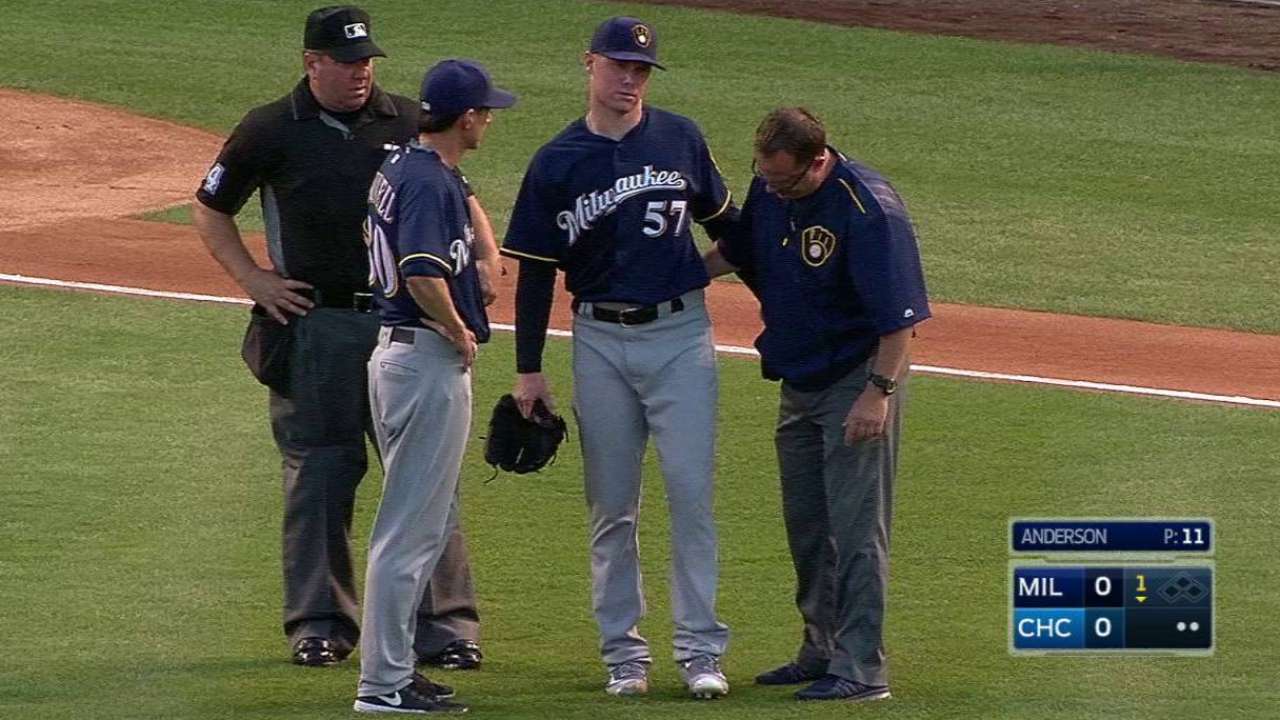 CHICAGO -- Brewers started Chase Anderson expressed hope that he'll make his next start as scheduled after exiting Tuesday's start against the Cubs with a bruised left quad.
Eleven pitches into his outing, Anderson was hit by a Kris Bryant line drive that left Bryant's bat at 107 mph, according to Statcast™, and struck Anderson on the inside of his left leg. Anderson recovered in time to throw out Bryant at first base, then grimaced and doubled over. After a chat with head athletic trainer Dan Wright and a few tosses from the mound, Anderson exited the game.
In the wake of the Brewers' 4-1 loss, Anderson was, "stiff, sore, but not really [in] too much pain. Luckily, it got all muscle, so we're just trying to get the swelling to go down."
He knew immediately he would not be able to continue in the game.
"I couldn't land on it," Anderson said. "I would probably have compensated something else; the elbow, the shoulder. Baseball players are the best compensators. If that would have been the case, staying in, I feel like I could have injured something else. I didn't want to push the limit on that."
Reliever Jhan Marinez took over as manager Craig Counsell and pitching coach Derek Johnson assessed their options. The Brewers used two relievers in their 4-0 loss earlier Tuesday, including Tyler Cravy, who was called up from Triple-A Colorado Springs as a "26th man" for the doubehealder. Cravy delivered two scoreless innings in Game 1.
In Game 2, Marinez, Blaine Boyer, Rob Scahill, Corey Knebel and Tyler Thornburg combined to throw 143 pitches over the final 8 1/3 innings.
"I'm not worried about the rotation, I'm worried about the bullpen right now," Counsell said. "Chase's [next] start is a couple of days away, so we'll worry about that in four days. But we're going to have to make sure we're OK in the bullpen first."
Anderson departed Wrigley Field on Tuesday with a bag of equipment from the medical staff. He was instructed to ice his quad and apply electrical stimulation therapy in an effort to treat the bruise.
Anderson had been on a roll, posting a 2.53 ERA and three victories over his previous four starts. In his only previous start against the Cubs on May 17, he carried a perfect game into the sixth inning and a no-hitter into the eighth.
Adam McCalvy has covered the Brewers for MLB.com since 2001. Follow him on Twitter @AdamMcCalvy, like him on Facebook and listen to his podcast. This story was not subject to the approval of Major League Baseball or its clubs.