Dickerson adjusting to new spot in lineup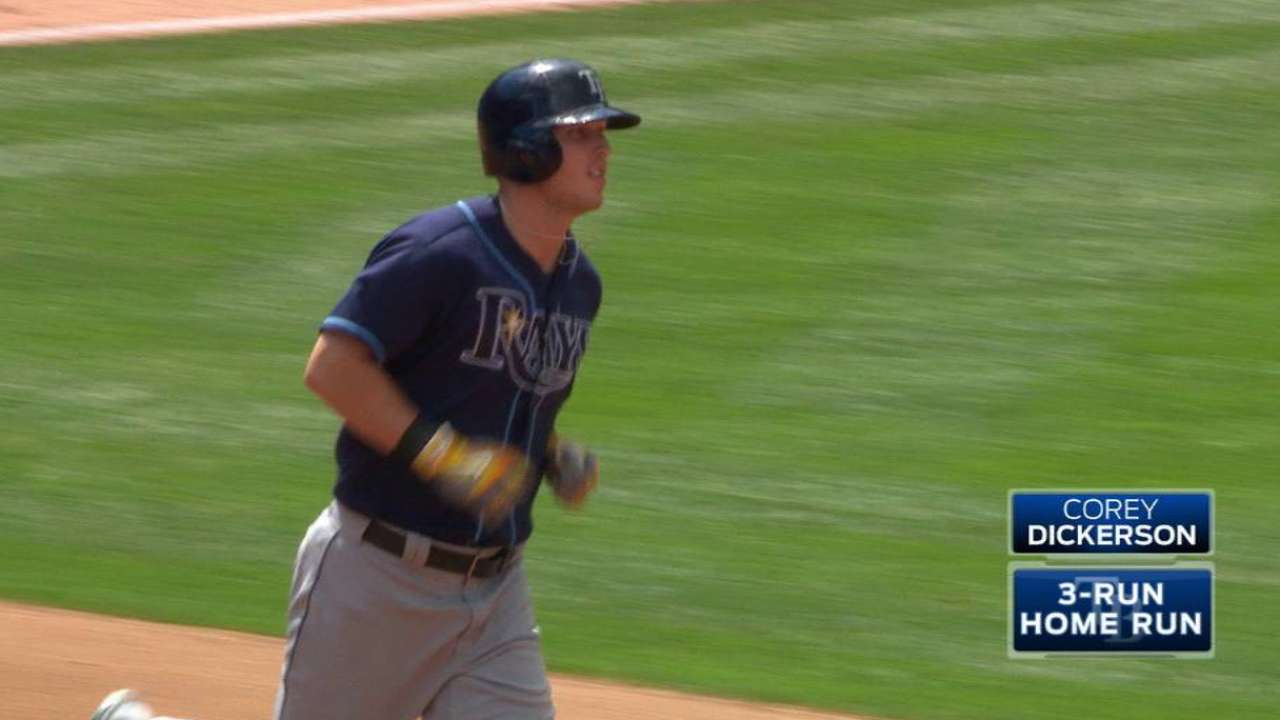 ST. PETERSBURG -- Corey Dickerson took the No. 8 spot in the lineup for the second straight night in Tuesday's 15-1 Rays win over the Padres and went 1-for-4 with a solo home run and two runs scored.
Rays manager Kevin Cash has always liked to balance his lineup with lefties and righties following each other in the batting order. So lefties have usually batted No. 2, No. 4, No. 6 and No. 8. And with Dickerson's struggles at the plate, he's gotten pushed toward the bottom. He has two home runs and a double in his last three games, but before that he had just three hits in his first 35 at-bats in August.
"When [Matt] Duffy came here, we like him hitting in that five-spot," Cash said. "It moved everybody down. Nick Franklin, in my opinion, he's deserved to move up in the lineup a little bit. He's had some really solid at-bats. We got (Logan Morrison) back. It is a balance."
On the season, Dickerson is hitting just .223 with 17 homers and 47 RBIs. In his previous two seasons with the Rockies, he hit .309 and got on base at a .354 clip. During that stretch he never started a game in the No. 8 hole, and has made most of his starts as a No. 5 hitter in Colorado. But as his numbers have regressed, so too has his spot in the batting order.
Worth noting
• Enny Romero will begin throwing rehab games on Thursday in Port Charlotte, Fla. He pitched a simulated game at Tropicana Field on Monday. Cash said it's unclear how long the Rays' reliever will need, whether that's 1-3 appearances, before he's activated.
Romero has a 5.23 ERA this season and has been on the disabled list with a strained back since Aug. 3. He appeared in only eight games in the month before landing on the DL and has struggled with his command since posting a 1.93 ERA over the first month of the season.
• Desmond Jennings went back on the DL with a left knee contusion on Aug. 6. And for the first time since then, Cash said he expects Jennings will play again this season. He's not sure when, but is confident it will happen. It's all a matter of his ability to run on his knee.
• After Chase Whitley starts for Class A Advanced Charlotte on Tuesday, his 30-day rehab clock will come to an end. Following his start, he'll come to Tropicana Field to discuss his next steps, and if he'll be able to join the Major League team. He's been with the Rays all season, but has never pitched for them. He last pitched in May 2015 and has been recovering from Tommy John surgery since.
Sam Blum is a reporter for MLB.com based in Tampa. This story was not subject to the approval of Major League Baseball or its clubs.