Brach's second-half struggles continue
Righty has given up six earned runs since All-Star break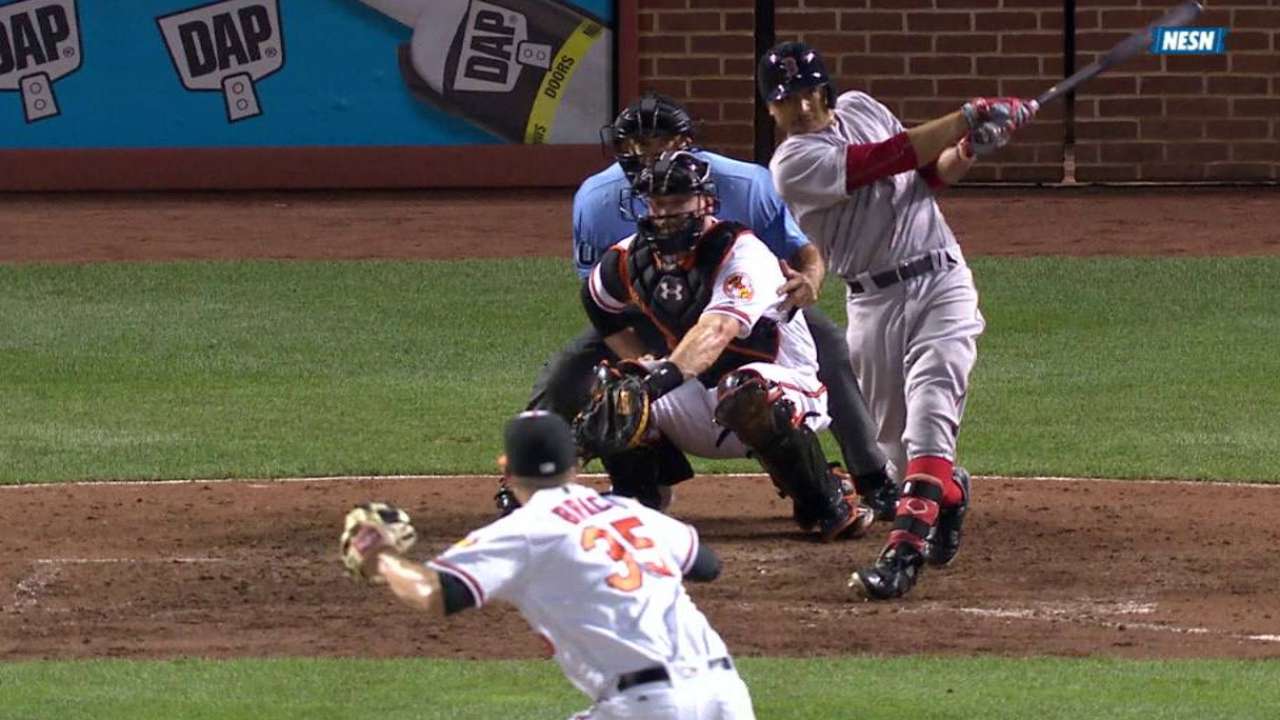 BALTIMORE -- Since Orioles reliever Brad Brach traveled to San Diego to participate in his first All-Star Game, he hasn't resembled that same dominant pitcher.
Brach allowed just five earned runs in 49 1/3 innings before the break. In the 12 innings since the Midsummer Classic, he's allowed six earned runs. His latest blemish came Tuesday, when he served up a go-ahead two-run blast to Mookie Betts in the Orioles' 5-3 loss to the Red Sox at Camden Yards.
"He's going through a little period where every little mistake seems to get magnified," manager Buck Showalter said.
While Brach still has an outstanding 1.61 ERA on the season, it's nearly doubled over the first month since the break. The previous runs allowed since the break hadn't proved costly, but Tuesday was different.
Brach came in for the eighth after the Orioles had rallied in the seventh to tie the game at 3. He gave the lead back almost immediately. David Ortiz hit a leadoff single and then Betts belted an 0-1 fastball into the left-field seats. The loss dropped Brach to 7-2 this season.
"Was trying to go away and out; it was just a bad pitch," Brach said of the fastball. "He took a good swing and hit it out. So, unfortunately, it kind of took the wind out of the sails right there after we got back into that game."
Catcher Matt Wieters cited Brach's fastball command as the difference between his first-half and second-half outings, and Brach seemed to think the issue has been his mentality.
"Probably thinking about it, talking about it too much and just not … yeah, honestly I don't know," Brach said of the difference in the second half. "I don't know what's different, just, like I said, probably just thinking about it too much, worrying about every single pitch that I've thrown instead of going out there and throwing like I know I can."
In June, when setup man Darren O'Day went down with a hamstring injury, Brach stepped up to fill the former All-Stars' role. O'Day is back on the disabled list, and the Orioles again need Brach to shine in the late innings.
Wieters believes Brach's recent struggles will drive him to revert back to his All-Star level self as the O's enter the stretch run in a tight American League East.
"He's going to work," Wieters said. "He's going to get back. A few runs here and there are going to make him work that much harder."
Ryan Baillargeon is a reporter for MLB.com based in Baltimore. This story was not subject to the approval of Major League Baseball or its clubs.