Ross making progress, throws live batting practice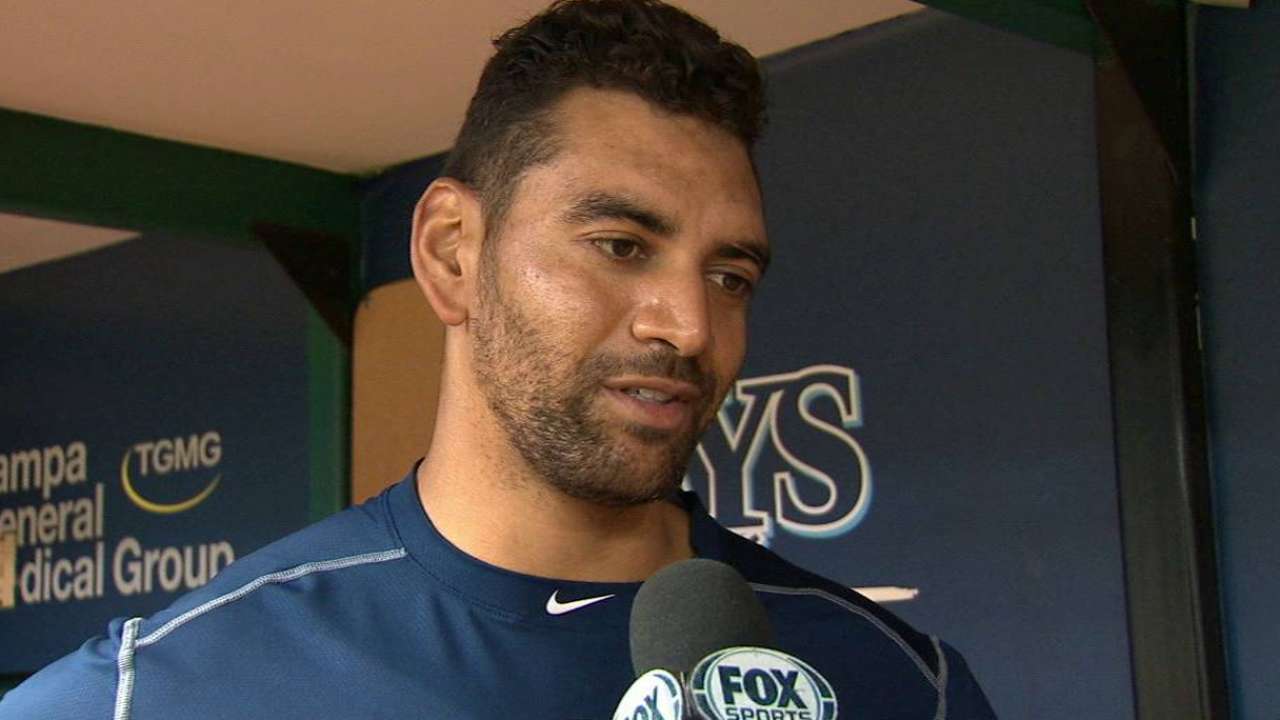 ST. PETERSBURG -- The 2016 season has largely been a lost one for Tyson Ross, but the right-hander took another step towards returning on Tuesday.
The 29-year-old threw a 30-pitch live batting-practice session, followed by even more pitches out of the bullpen. Ross said he felt "really good," adding he used each pitch in his repertoire.
"The next step is to throw off the mound and get back out there with the stamina continue building, work towards rehab starts and getting back in action," Ross said. "We're going to do something back at home after this road trip."
Padres manager Andy Green was impressed with the outing.
"The ball was really coming out -- low-to-mid 90s," Green said. "He was snapping some good sliders, and it was exciting to see him on the mound."
His start on Opening Day was the only one for Ross this season. He surrendered eight runs (seven earned) over 5 1/3 innings in that loss to the Dodgers. He's been sidelined with right shoulder inflammation as well as a left ankle sprain.
"It's definitely been a test of my patience," Ross said. "It's been a long road, it's been a long year. I'm focused on handling it one step at a time and doing everything right to not only be healthy for this day but moving forward.
"I'm excited for the opportunity to throw to hitters today and am looking forward to the next step in the process," Ross added.
Moving forward, Green said Ross will likely throw long toss in the next couple days, followed by another live batting-practice session as opposed to a simulated game, due to the time of the year. He added that Ross may even see a rehab start at a lower-level affiliate before September.
Ross will not necessarily need to be stretched out to last five innings, either. Due to expanded rosters, Green could envision Ross pitching even three or four innings at the Major League level before turning the game over to his bullpen.
"It's been such a long road back for him, the main thing is getting him on a mound," Green said. "He's not putting anybody else in jeopardy and throw three innings or four innings -- it doesn't matter, that's more than enough for us."
Whatever got Ross back as quick as possible is all that he was concerned about.
"I'm just busting my butt every day to get back up there," Ross said. "I'd love to get three to five [games] in September and to be able to join my team out on that field."
Worth Noting
Reliever Kevin Quackenbush was recalled from Triple-A El Paso on Tuesday. A Land O' Lakes, Fla. native and former University of South Florida player, the move marked a sort of homecoming for the 27-year-old, who has a 3.89 ERA in 42 appearances this year.
In order to make room for Quackenbush, the Padres optioned right-hander Leonel Campos to Triple-A. In 13 2/3 innings over 10 Major League games for San Diego, Campos has a 6.59 ERA . He's allowed 10 hits and 12 walks in that span, has struck out 15.
Greg Zeck is a contributor to MLB.com based in St. Petersburg and covered the Padres on Tuesday. This story was not subject to the approval of Major League Baseball or its clubs.