Dominican tops Cleveland for RBI softball title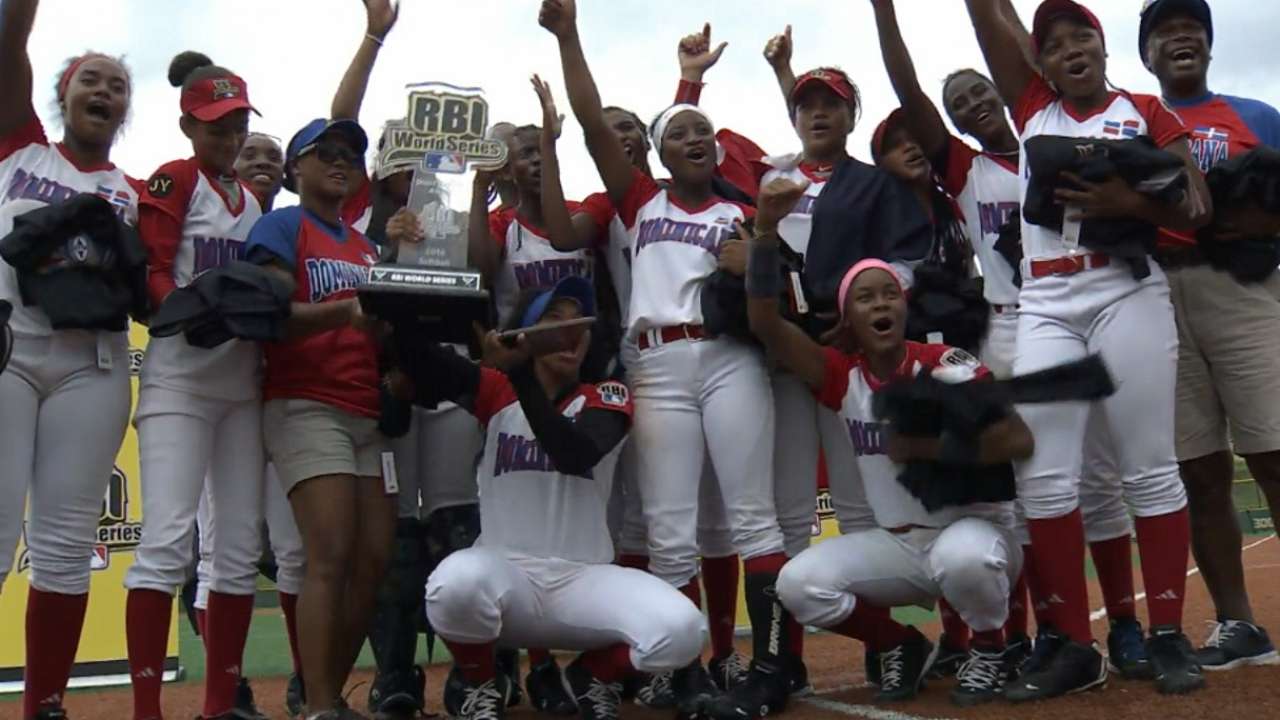 CINCINNATI -- After three scoreless inning for both teams, the Dominican Republic Reviving Baseball in Inner Cities (RBI) team busted open Tuesday's game against Cleveland Baseball Federation RBI, the defending champions, with a four-run fourth inning, ultimately claiming the RBI World Series softball title with a 5-3 win.
Although the two teams combined for eight hits through the first three innings, Cleveland pitcher Alexis Burke and Dominican Republic pitcher Anyelis Disla avoided damage to keep anyone from scoring.
But in the bottom half of the fourth, the Dominican Republic benefitted from a one-out, two-run homer from designated player Betsy Luciano to claim the game's first lead. Two more runs crossed the plate in the inning after Nicol Colon and Yoelisa Paulino followed the homer with back-to-back doubles and Claudia Santana drove them in with a single.
"At the beginning, they were energetic and they were not focused," Dominican Republic coach Altagracia Garcia said, as translated by MLB specialist Nesleys Liriano. "And then they said, 'OK, let's do what we're supposed to do.'"
Luciano added an insurance run in the fifth, finishing the game 2-for-3 with a homer and three RBIs, earning the MVP award.
"She couldn't believe it," Luciano said through Liriano.
The Cleveland club won its eighth straight East Division championship on Monday with a walk-off win over Harrisburg RBI, but it was unable to conjure up the comeback magic on Tuesday.
Cleveland did answer the Dominican Republic's fourth-inning rally with three runs in the top of the fifth, stringing together two singles and a double from the top of its order to lead off the inning. However, Disla was able to escape the inning without giving up the lead. Katherine Sugillo pitched the final two innings to secure the win.
Offensively, both teams performed well, putting up 10 hit apiece. However, Cleveland stranded nine runners, compared to six from the Dominican Republic. Cleveland squandered two early scoring opportunities, stranding three runners in the second with one out and the bases loaded, and then stranding two in scoring position the following inning, again with one out.
The game was the Dominican Republic's sixth straight appearance in the RBI softball World Series, and its fourth overall championship. The Dominican Republic has eight combined RBI World Series titles between baseball and softball.
Cody Pace is a reporter for MLB.com based in Cincinnati. This story was not subject to the approval of Major League Baseball or its clubs.