Law follows, eclipses father's baseball career
Giants' rookie sensation posted sub-2.00 ERA through 48 appearances
Derek Law's father, Joe, made it to the Major Leagues -- twice. Yet when Derek made his big league debut on April 15 with the Giants, he accomplished something that eluded his dad.
Joe Law, a 6-foot-2, 210-pound right-handed pitcher in his playing days in the Athletics' organization, was first called up to the Majors on July 4, 1988. He was supposed to be the emergency starting pitcher for Dave Stewart. But when Stewart -- who had been ill -- decided he was OK to pitch, Law was sent to the Minors the next day.
Law was called up again the next month, and a similar thing happened. He spent three more days in the Majors, didn't pitch and was sent back to the Minors.
"Those were my four days in the Majors," said Law, who is now 55 and is a forklift driver in Pittsburgh. "I was disappointed."
Twenty-eight years later, Joe's son, Derek, who is also a 6-foot-2, 210-pound right-handed pitcher, was called up to the Majors. But this was different for the Law family.
For starters, the Giants flew Derek's parents, Joe and Tracey, as well as Derek's fiancée, Chelsea, and two friends to Los Angeles for the game against the Dodgers.
More importantly, Derek got into the game. Pitching in relief, Law allowed no runs, striking out the side in the seventh inning. The first batter Law faced was Adrian Gonzalez, who went down swinging.
"As a kid, you think about that moment all the time," Derek said of pitching in the Majors. "And then it's happening, and it goes by like that, and it's over. And you're like, 'Well, now I'm in the big leagues, I guess.'"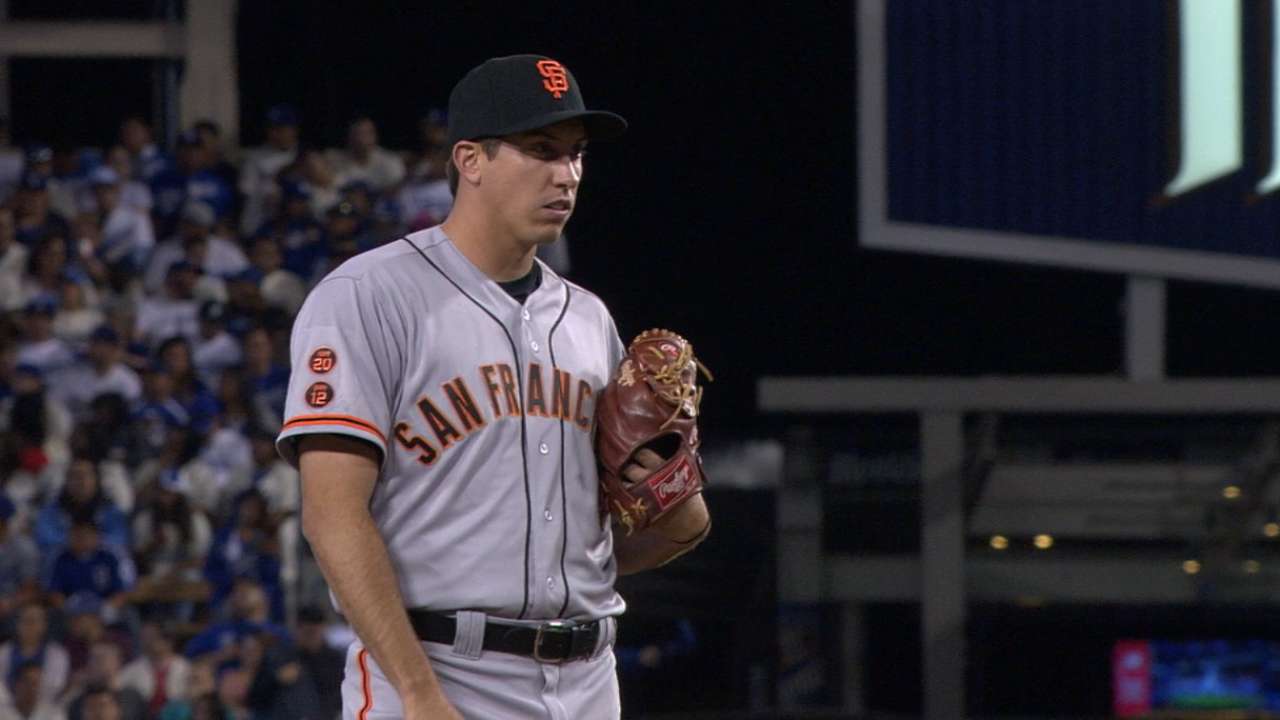 Indeed he is, and Law is doing quite well. The righty, who turns 26 on Sept. 14, is 4-1 with a 1.97 ERA in 48 appearances over 45 2/3 innings. Entering Tuesday, he hadn't allowed a run since June 30.
"Just with his opening appearance in L.A., we knew we had something special in that kid," Giants veteran pitcher Jeff Samardzija said. "He's got starter's stuff. He's got four pitches, he attacks the zone and he knows how to pitch."
Despite the praise, Law has remained humble. According to Joe, Derek has a great relationship with his brother, 21-year-old Dustin, who is autistic. In addition, Derek is marrying Chelsea, his high-school sweetheart, on New Year's Eve.
Derek hasn't forgotten the people in Miami who meant so much to him, either. During last week's road series against the Marlins, he called Danny Price, his second head coach at Miami-Dade College, as well as pitching coach Kevin Long and former MDC head coach Steve Hertz and got them tickets to that night's game.
"He was honored that we were there," Price said.
"I'm so proud of him, not only because he is pitching so well, but just the way he carries himself," said Hertz. "He is very gracious and humble."
Playing in the Major Leagues is such a long shot for most prospects -- just ask Joe Law. But for a moment there, it looked like Derek might not even be born.
In July 1990, Joe Law, while playing Triple-A baseball, was driving cross-country from Tacoma, Wash., back home to Pittsburgh after knee surgery. Tracey, who was seven months pregnant with Derek, was driving when their car was rammed from behind.
Joe said his family's car flipped twice on the Ohio Turnpike. Joe, who wasn't wearing a seatbelt, was thrown from the vehicle. Fortunately, Tracey held onto the steering wheel and suffered only a minor cut on her elbow.
And while there was no damage to the unborn Derek, Joe wasn't as lucky -- he had a lot of internal and external bleeding. Oakland released him, and that was the end of his career.
Joe said the crash was destiny.
"I knew," Joe said, "that the reason why I never played in the Majors was for me to be home with Derek."
Early in Derek's career, it was clear he had talent. After earning Pittsburgh All-Area honors in 2008 and '09 at Seton-LaSalle Catholic High School, he had an offer to play at North Carolina State. But when that offer fell apart, Law went to Florida in October '08 for a wood-bat tournament.
Frank Damas, who was Miami-Dade's recruiting coordinator at the time and is now a scout for the D-backs, was in Jupiter, Fla., looking for talent.
"I was walking between fields -- one game was still going on longer than others," Damas said, "and I happened to see Derek."
Hertz offered a scholarship to Law sight unseen based on Damas' recommendation.
Damas was right about Law, who went 8-5 with a 2.35 ERA and 121 strikeouts in 92 innings as a sophomore. The Giants drafted Law out of Miami-Dade, taking him in the ninth round in 2011.
Law pitched well at every stop in the Minors, but he required elbow surgery in June 2014, and he didn't return until one year later.
The surgery was a success, and this year has been the proof. Law earned his first win on May 7 against the Rockies and his first save on June 13 vs. the Brewers.
Long said Law's velocity has improved from 91 mph in college to as much as 97 mph now.
"He told me he could have worked a bit harder when he was in college," Long said. "But he was just a kid back then. Since he got drafted, he has become a consummate pro. I think he's going to be in the Majors for a long time."
Walter Villa is a contributor to MLB.com. This story was not subject to the approval of Major League Baseball or its clubs.