Detwiler derailed by Beltre in return to Texas
Grand slam in fifth inning sinks lefty in second start for A's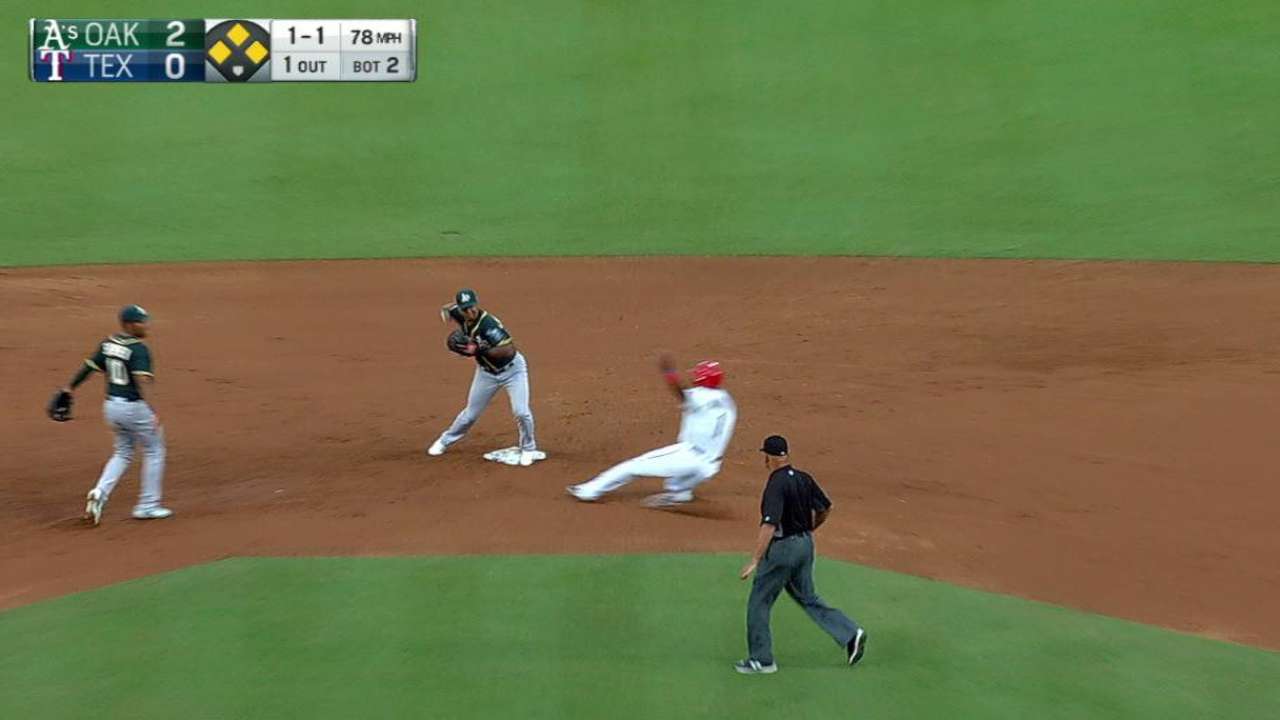 ARLINGTON -- Seeking an elusive win at Globe Life Park, A's left-hander Ross Detwiler was undone by one giant swing Monday evening.
Facing his former Rangers club, Detwiler yielded a grand slam to ex-teammate Adrian Beltre that largely defined his second outing in green and gold, a 5-2 loss in the opener of a three-game series.
Detwiler was around for just 4 2/3 innings, after twirling eight shutout frames against the Orioles in his A's debut last week. In looking to build on that performance, Detwiler was also looking for something else.
Despite pitching with Texas for four months last season, the left-hander never claimed a win at home. But after surrendering five runs on seven hits and four walks in his return Monday, he's still without a win in Arlington, his ERA within the confines of Globe Life Park sitting at 6.12.
Detwiler held a one-run lead after four innings, having weaved his way through traffic to limit the damage, before running into trouble he couldn't escape in the fifth.
The inning proved critical for the Rangers in more ways than one. Though it spurred them to victory, the rally began solemnly, with Detwiler drilling Shin-Soo Choo in the left forearm that resulted in a fracture. Nomar Mazara pinch-ran for Choo at first base, a prelude to back-to-back singles from Ian Desmond and Carlos Beltran, before Beltre drilled a 2-1 fastball beyond left field.
Beltre is 13-for-31 (.419) with four home runs and 11 RBIs in eight games against Oakland this year.
"He had to be perfect," A's manager Bob Melvin said of Detwiler. "Coming up in those situations, [Beltre] is pretty good, so he had to make a really good pitch to him, and he got a little more of the plate than he probably wanted to.
"I don't know whether or not that [Choo pitch] rattled him or not, but from the start of the time he got here up until that point, he was making pitches, then for just three or four batters, he didn't."
Detwiler recorded one more out before issuing a walk to Jonathan Lucroy that prompted his departure at 97 pitches.
"I was fighting myself the inning before that, really lost command. I was getting in bad counts, and that's what ended up hurting me quite a bit," Detwiler said. "Beltre is one of the last guys you want to face with the bases loaded. I got 2-0 real quick on him, another product of the bad count I put myself in."
Jane Lee has covered the A's for MLB.com since 2010. Follow her on Twitter @JaneMLB. This story was not subject to the approval of Major League Baseball or its clubs.