Smyly continues hot stretch with 1-hit outing
Rays left-hander allows one run over seven innings in win vs. Padres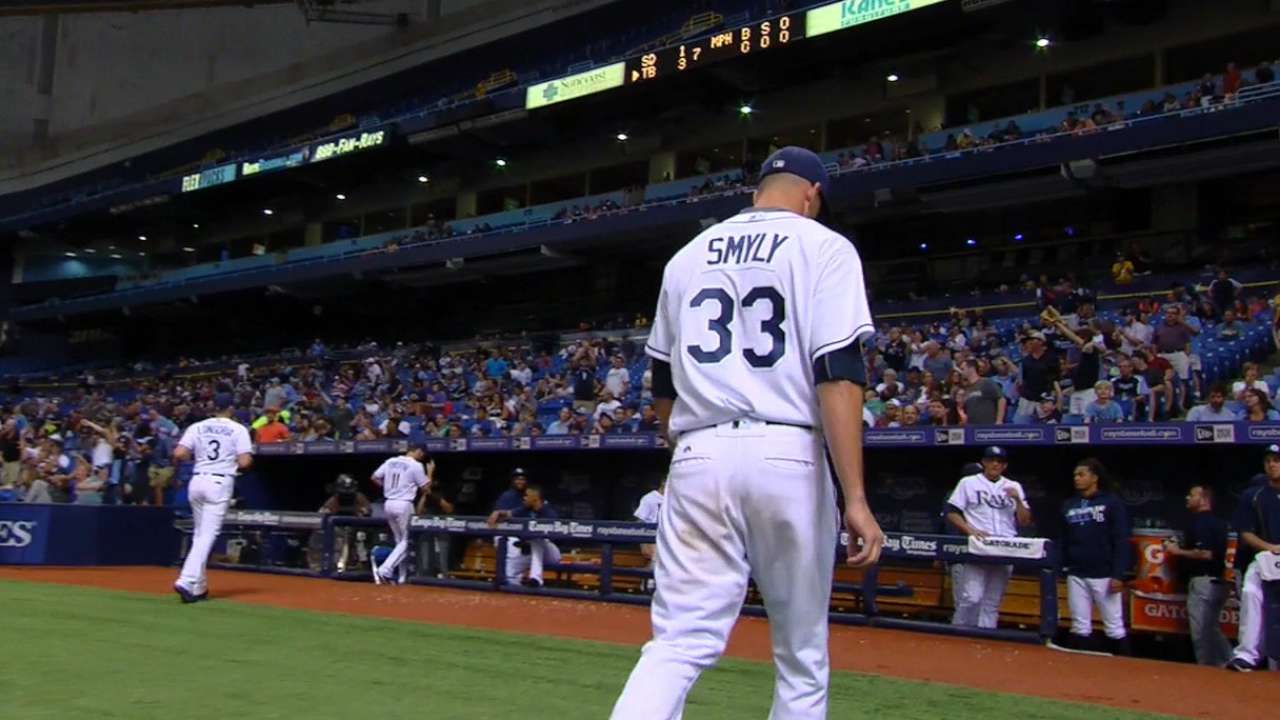 ST. PETERSBURG -- Drew Smyly is trending in the right direction.
Monday night, the left-hander tossed a tidy seven innings to earn his fifth win of the season and notch his fifth consecutive quality start in the Rays' 8-2 win over the Padres at Tropicana Field.
Smyly allowed one run on one hit in seven innings, which came on a first-inning home run surrendered to Alexei Ramirez. After that, he silenced the Padres, allowing two walks while striking out four. Of the 87 pitches he threw, 57 were strikes.
"Drew was outstanding, to say the least. Just really efficient," Rays manager Kevin Cash said. "Kept his pitch count down, got a lot of early outs. Made them put the ball in play. Just another strong outing for him.
"It's nice to see the turnaround that he's had, along with some of the other guys in the rotation. Just really pleased with his performance and, obviously, he should be, also."
Smyly's last five starts have seen him pitch six innings or more while allowing two runs or fewer after doing so only once in his previous 13 starts since the beginning of May. He is 3-0 with a 2.25 ERA during the stretch, following a stretch of 10 starts in which he went 0-7 with a 7.60 ERA. By notching his fifth straight quality start, Smyly tied the longest streak of his career.
"I think this game's full of streaks, pitching and hitting," Smyly said. "You just have to ride out the good streaks and try to limit the bad ones. But it's definitely a streaky game. I feel good right now. I'm making quality pitches. I'm going to try and ride it out until the end of the season."
When asked about what pleased him most from his outing, Smyly pointed to his efficiency.
"They were swinging pretty early, they were really aggressive," Smyly said. "I got quite a few first-pitch outs that helped my pitch count, obviously. Just trying to stay out of the heart of the plate, because I knew they were going to be up there aggressive and try and nibble on the corners and get some weak contact, which I did."
Cash opted to lift Smyly after seven innings because of his pitch count with two innings remaining, and the fact that Brad Boxberger had not pitched in a week. Smyly said he wanted to continue, but he understood his manager's decision.
Earlier in the season, the only luck Smyly seemed too have was bad. He managed a smile when a reporter asked if his luck had turned.
"I don't know if it's luck," Smyly said. "Everything always evens out over the course of the season. We play a lot of games. So you just have to continue to put one foot in front of the other, and every time I take the ball, I'm going to do the best I can."
Bill Chastain has covered the Rays for MLB.com since 2005. This story was not subject to the approval of Major League Baseball or its clubs.