Kang's swing coming around after slump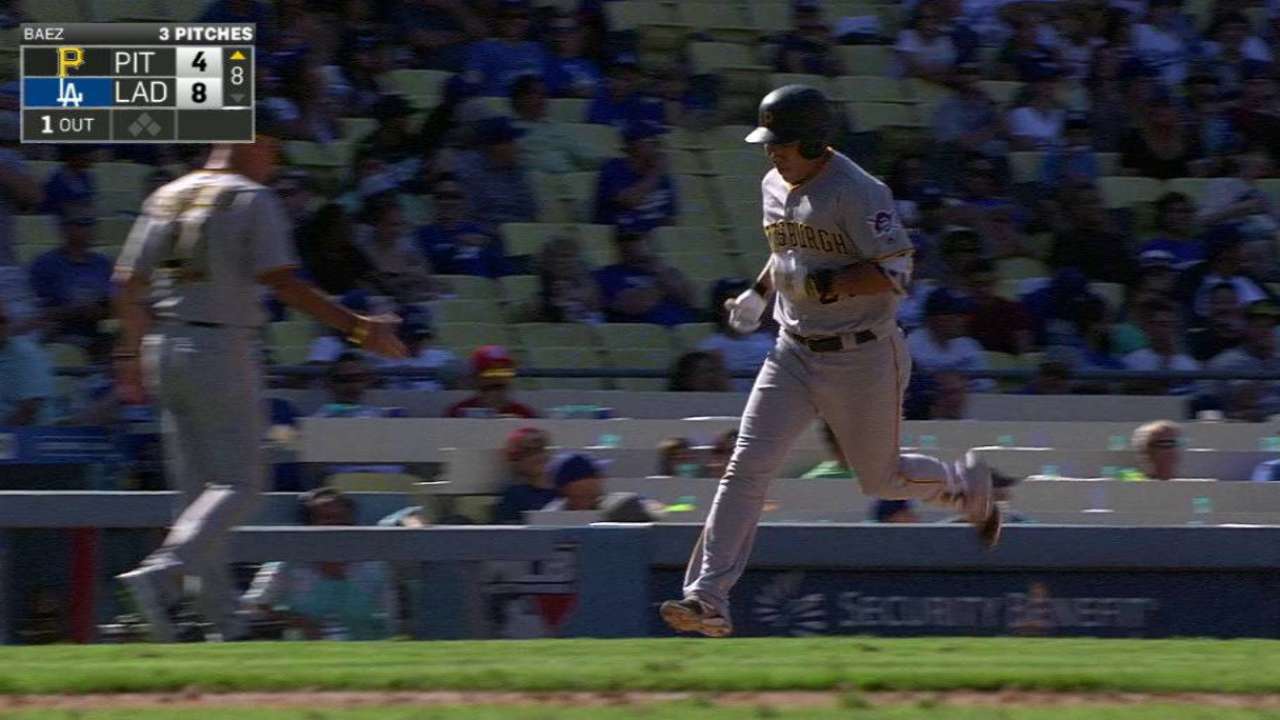 SAN FRANCISCO -- When Jung Ho Kang pulled a 97 mph fastball to left field in the eighth inning of Saturday's 8-4 loss to the Dodgers, Pirates manager Clint Hurdle said it could have been "the start of something good, something real good."
At the very least, it was the start of a two-game home run streak and not just the end of a 28-game stretch without a homer. Kang crushed a 94 mph fastball 445 feet to left-center field in the ninth inning of Sunday's 11-3 win at Dodger Stadium, perhaps the most encouraging sign yet that he's nearing the end of an eight-week slump.
"I feel good that it's getting better than before," Kang said Monday through interpreter H.K. Kim. "Nobody can predict how well I'm going to perform today. ... I'm just trying to stay positive for today's game."
Kang hit well for a month after coming off the disabled list then struggled for the first time in the Majors, batting .163/.255/.286 with 30 strikeouts in 110 plate appearances from June 20-Aug. 10.
During that skid, Hurdle observed Kang was "caught in the middle," too late on fastballs and too early on offspeed pitches. More recently, Hurdle pointed out that Kang was being pitched to differently as opponents compiled more detailed scouting reports and data.
"Overall, I think it's the same," Kang said. "They try to throw me offspeed and breaking balls, but if I get the barrel on those, they're going to throw me fastballs again and vice versa."
Kang was one of the National League's best fastball hitters a year ago, when he hit .287 with an .816 OPS and 15 homers in 126 games. So seeing a pair of fastballs jump off Kang's bat was a familiar and welcome sight.
"Anytime he can jump a fastball like that and hit it, I think there's some good to it," Hurdle said. "He took some shots on some balls out over the plate that he tried to hit to right field or right-center. I think his confidence is building."
That confidence isn't necessarily showing at third base, however. Kang has committed 10 errors, seven of them in August. He made two on one play Saturday, booting a ball then rushing a bouncing throw to first base.
"There's no struggle at all for me," Kang said. "I had a major surgery last year, and coming back, so it's a little different than last year."
Since Kang returned in early May, the Pirates cautioned he might not be back to "normal" until next season.
Last year, Kang was an average, dependable shortstop and an above-average third baseman, but the operation to repair a fractured tibia and torn meniscus may have temporarily compromised his range, one reason Pittsburgh decided early on to use Kang exclusively at third base and not shortstop this year.
"Nothing major," Kang said. "But it is not the same as last year."
Adam Berry has covered the Pirates for MLB.com since 2015. Follow him on Twitter at @adamdberry. This story was not subject to the approval of Major League Baseball or its clubs.