Hendriks giving A's reliable late-game relief
Righty regains slider command since returning from DL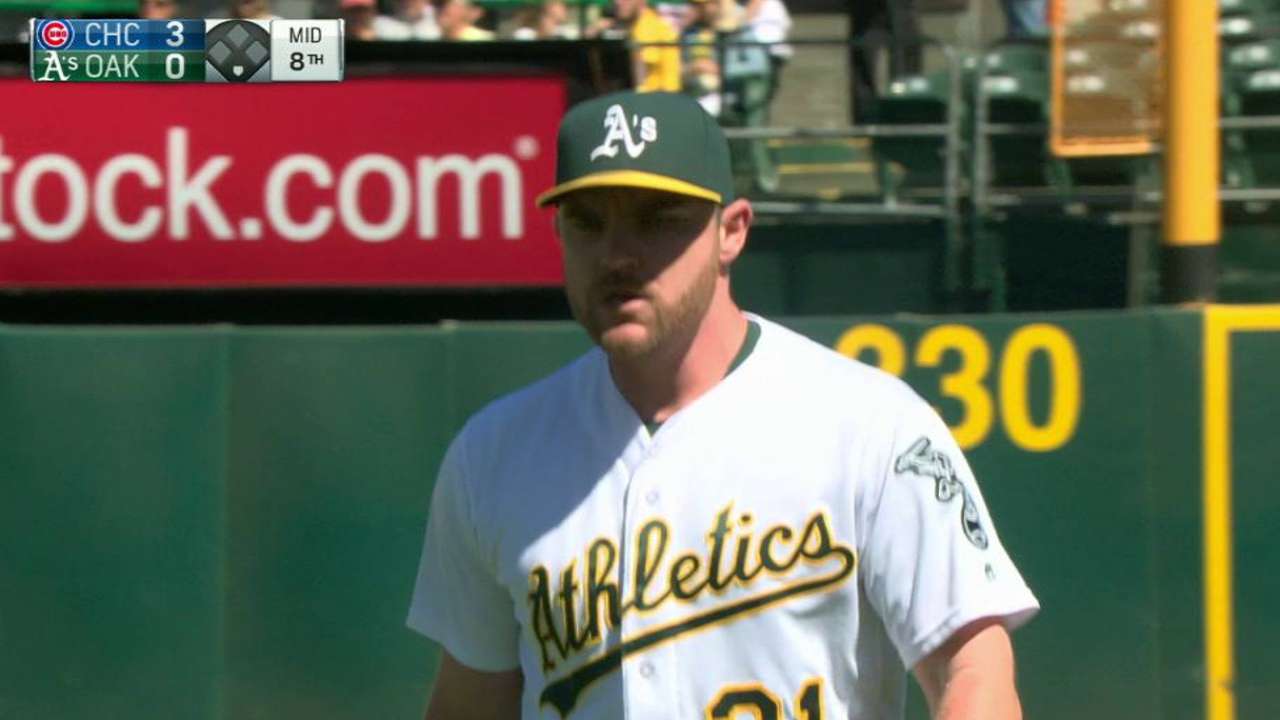 ARLINGTON -- Liam Hendriks has emerged as a dependable late-inning relief option, just as the A's planned -- albeit a few months later than expected.
The right-hander has been excellent of late, quietly cruising through traffic to the tune of a 1.91 ERA since being reinstated from the disabled list on June 19. He had an 8.27 ERA in 11 outings before the DL stint, which proved to be just as much of a mental break as a physical relief.
Hendriks, acquired from Toronto in the offseason, was admittedly pressing too much in the early going of his A's tour, "and when you try to be perfect," he said, "you never are."
He was slowed by a triceps injury that forced him to miss 37 games, but it was during that time he regained feel for his slider, a pitch he only threw approximately 13 percent of the time before his DL trip.
"I just wasn't comfortable throwing my slider, and it wasn't quite coming out the same way it had," Hendriks said. "I was overthrowing it, trying to do too much with it, and it kind of snowballed and I lost complete feeling of it."
Since returning, he's utilized it 22 percent of the time.
"A lot of my outings were very fastball-heavy and I wasn't quite using any of the breaking balls, so it was generally fine in the first inning, but it was the second inning they realized, 'Oh, wait, he's not throwing any breaking balls, let's just sit on the fastball and see what happens,'" Hendriks said. "Now I've been able to come back and throw my slider for strikes early, and even the threat of me throwing it generally keeps them off the fastball a little bit as well.
"I'm starting to get back to that point where I'm confident no matter who's in the box and no matter what the situation is."
Opponents are hitting just .192 against Hendriks in his last 23 games and only .200 this year when he's pitching in "late and close" situations, defined by Baseball-Reference.com as any plate appearance from the seventh inning on in which the hitting team is in a tie game, ahead by one run or has the potential tying run on deck.
Right-hander Ryan Dull has been the A's best pitcher in such instances this season, but he's also endured a heavy workload. Resting him more in the second half has been easier on manager Bob Melvin with Hendriks as another option during these sticky situations.
"He's pitching with more confidence," catcher Stephen Vogt said, "and he knows he's going to go out and get the job done."
"Obviously it was good to go back out there and be healthy again, but I think being away from it a little helped, too, just trying to get that fight back in your system," Hendriks said. "Coming in right now, I've a little bit of an edge where I'm able to use that animosity a little more in closer games."
Jane Lee has covered the A's for MLB.com since 2010. Follow her on Twitter @JaneMLB. This story was not subject to the approval of Major League Baseball or its clubs.