Tigers resting Wilson after cortisone injection
Pelfrey's back improving as he nears injury rehab assignment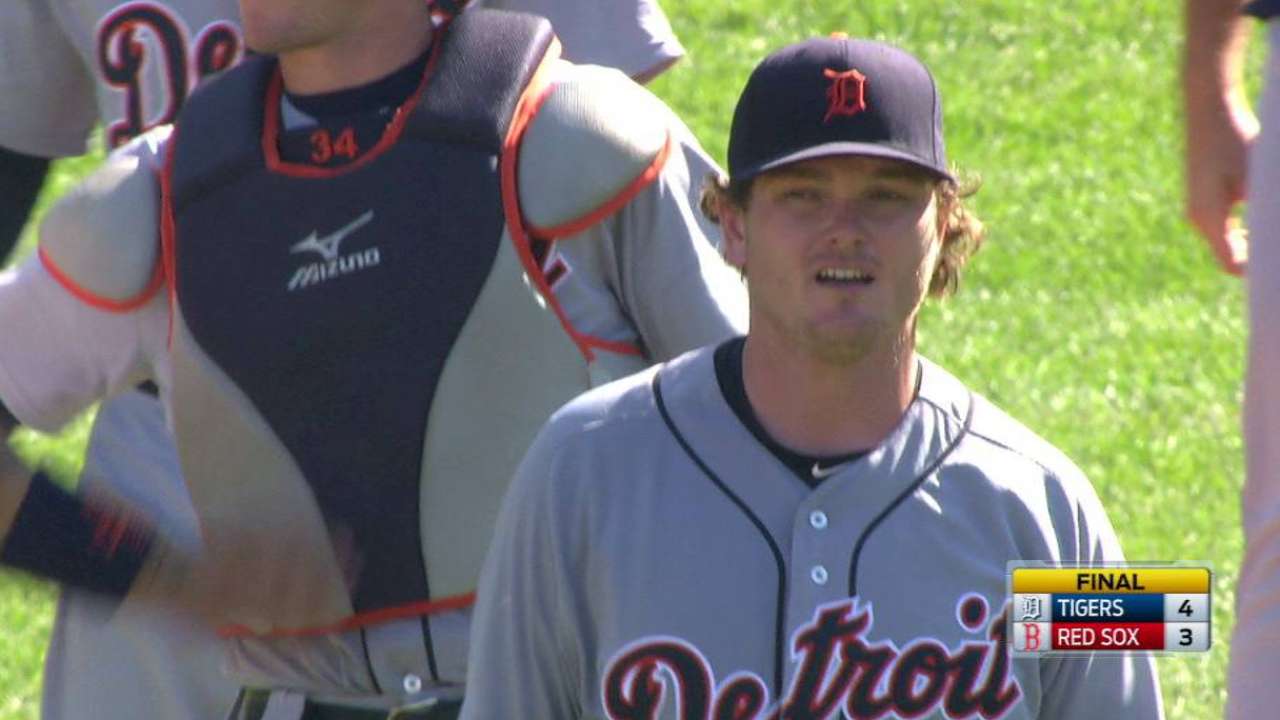 DETROIT -- The long, stingy outings from Matt Boyd and Michael Fulmer over the weekend gave much-needed rest to much of the Tigers' bullpen. For left-hander Justin Wilson, there was a bigger need for that than previously realized.
Wilson received a cortisone injection a few days ago for a muscle issue in his left elbow that was pinching a nerve extending to his hand, manager Brad Ausmus said on Monday.
"Justin had an elbow-finger combination," Ausmus said. "We had him looked at in Dallas. The MRI shows nothing different, really, from earlier in the year, or maybe even before the year started. But he got an injection, so we were avoiding him. But he's going to throw today and see how he feels.
"He has said that he could pitch through it, but we opted to get it treated and give him a few days off, and see if we can get him back to full health."
Wilson hasn't pitched since giving up lead-changing home runs in the eighth inning of back-to-back games at Seattle last Tuesday and Wednesday. He has yielded six earned runs on eight hits over his last three outings.
Wilson likely wouldn't have been available in Friday's series-opening loss against Texas regardless, having thrown 46 pitches over Tuesday and Wednesday combined. But Boyd's seven scoreless innings on Saturday allowed Ausmus to bypass Wilson and use Shane Greene as the eighth-inning setup man, keeping him in after a leadoff walk to face left-handed hitter Shin-Soo Choo.
Pelfrey's back shows improvement
The Tigers returned to Comerica Park to find injured starter Mike Pelfrey feeling vast improvement in his strained back. Pelfrey played catch the last few days, including on Monday, and is on track to throw a side session on Friday with the potential for a Minor League rehab assignment sometime next week.
Pelfrey was not with the club on its week-long road trip because the Tigers didn't want to risk worsening his back strain with air travel. He spent the week in Detroit working with a physical therapist on loosening his back.
The strain was in the multifidous muscles that are attached to the spinal column.
"I think the biggest thing was for three or four days, it spasmed up every time I tried to do something," Pelfrey said.
After a few days of therapy work, Pelfrey said, the back loosened up and hasn't tightened since.
Pelfrey is expected to need at least one rehab start.
Former top pick to have Tommy John
Outfield prospect Derek Hill, the Tigers' top Draft pick two years ago, will undergo Tommy John surgery after injuring his right elbow on a throw last week at Class A West Michigan. It's the second season-ending injury in as many years for the multi-tooled outfielder.
The Detroit News first reported the surgery for Hill, who was batting .266 with a .661 OPS in his second season with the Whitecaps. He had been enjoying a midsummer resurgence at the plate and was looking forward to the Midwest League playoffs.
Jason Beck has covered the Tigers for MLB.com since 2002. Read Beck's Blog, follow him on Twitter @beckjason and listen to his podcast. This story was not subject to the approval of Major League Baseball or its clubs.