Marlins moving on without Stanton, A-Rod
Chasing NL Wild Card, club weighing options ahead of waiver deadline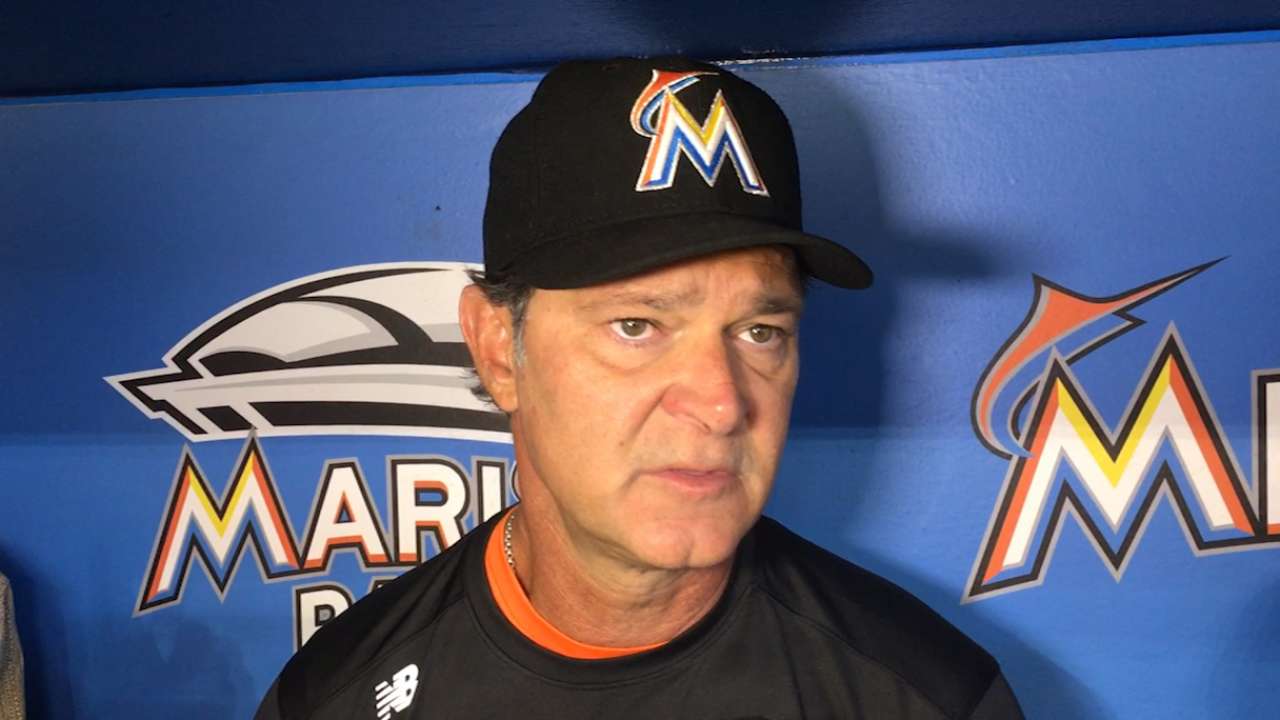 CINCINNATI -- Unless a viable option is available, the Marlins are prepared to go the rest of the way with what they have and hope they have enough to secure a playoff spot.
It's been a whirlwind couple of days for the organization, with Giancarlo Stanton likely done for the year with a Grade 3 left groin strain. And on Monday, Alex Rodriguez's publicist released a statement saying the 41-year-old has no intentions of playing again in 2016.
Without Stanton, their home run (25) and RBI (70) leader, the Marlins are minus their biggest power threat. Rodriguez could have been a first-base alternative after clearing conditional waivers Monday. But the 14-time All-Star is planning to sit out the rest of the season.
The waiver trade period goes through Aug. 31, and Miami manager Don Mattingly said the club is still measuring possible moves. And if nothing materializes, the organization feels, as is, the National League Wild Card is realistic.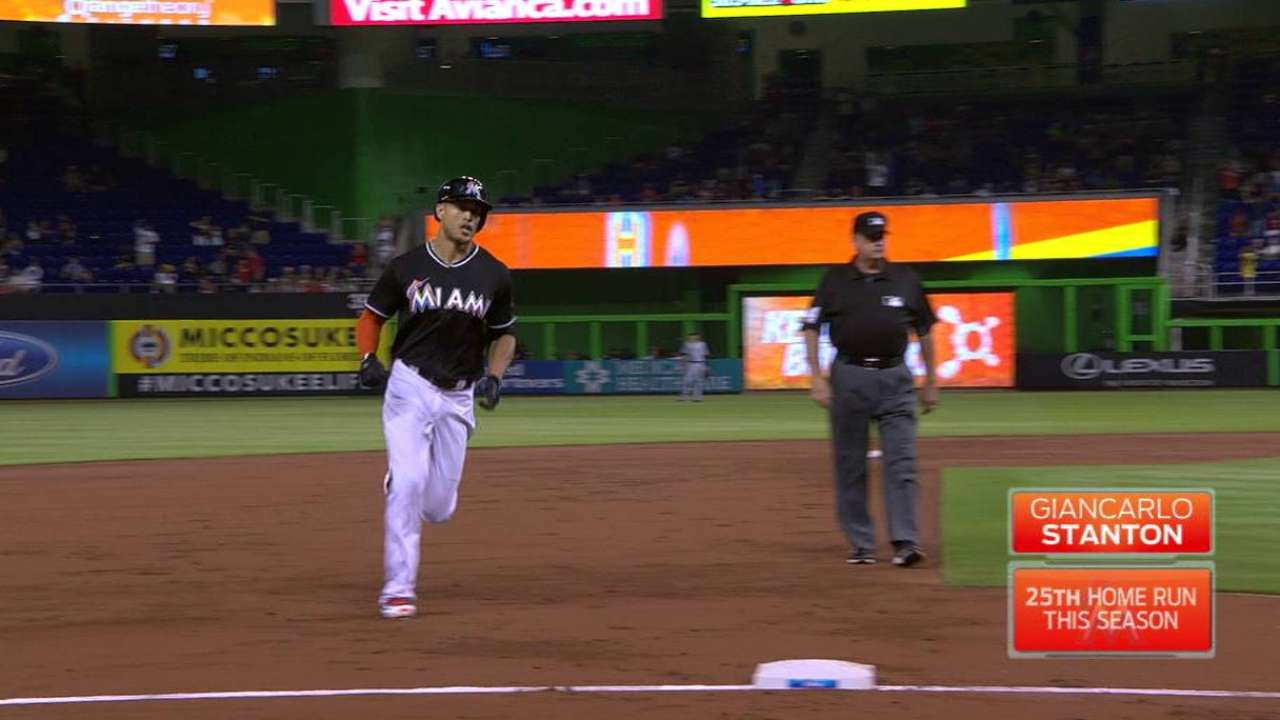 "They've battled all year long," Mattingly said. "They've hung in there. Obviously, there are a number of teams that we're fighting with. We always talk about the division, and obviously that's something that's not mathematically impossible, but realistically more now, you're talking about a number of teams that are in a Wild Card hunt. Without conceding the division, you know, realistically, that's where we're at."
A week ago, the Marlins were eyeing the NL East title, but they trailed the first-place Nationals by 8 1/2 games entering play Monday.
Now, the NL Wild Card may be more likely.
Miami also has five key players on the disabled list: Stanton, lefty Adam Conley (hand), closer A.J. Ramos (finger), first baseman Justin Bour (high ankle sprain), and Wei-Yin Chen (left elbow).
Miami is in the thick of the Wild Card race, and president of baseball operations Michael Hill is exploring trade and free-agent options. The Marlins are weighing all possibilities, including outfielder Carlos Gomez, who was designated for assignment by the Astros last week. The club is also considering promoting Xavier Scruggs, who has 19 home runs and 48 RBIs at Triple-A New Orleans. Scruggs can play right field and first base.
"Every team that's in the race is always looking to try to make that last second move, before Sept. 1, so guys are [playoff] eligible," Mattingly said. "We're no different. I've heard a number of names that have come across. I know Michael and the guys are looking into anything that we can do to help ourselves and give ourselves a chance. I think we all feel like these guys deserve it."
As for life without Stanton, Mattingly says Miami isn't a "one-man team." Ichiro Suzuki, the latest member of the 3,000-hit club, is taking over in right field.
Last year, the Marlins finished 71-91 overall. But without Stanton for a majority of the season, they went 17-12 after Aug. 31.
"They figured it out, they could win without Giancarlo," Mattingly said. ".I don't say this in a negative way about Giancarlo, because in the past, I think, when you'd read about the Marlins, it was Giancarlo and all these little guys with him. Now, we have a lot of good players here. It's really an insult to the rest of them to think we can't do anything without Giancarlo. It's just not fair to this team. I say that, with all due respect, we're a better club if Giancarlo is in there every day, and swinging the bat. So I don't say that in a bad way. But this is a different club."
Joe Frisaro has covered the Marlins for MLB.com since 2002. He writes a blog, called The Fish Pond. Follow him on Twitter @JoeFrisaro and listen to his podcast. This story was not subject to the approval of Major League Baseball or its clubs.