Hicks thriving for Yanks since Beltran trade
Opportunity to play every day has benefited outfielder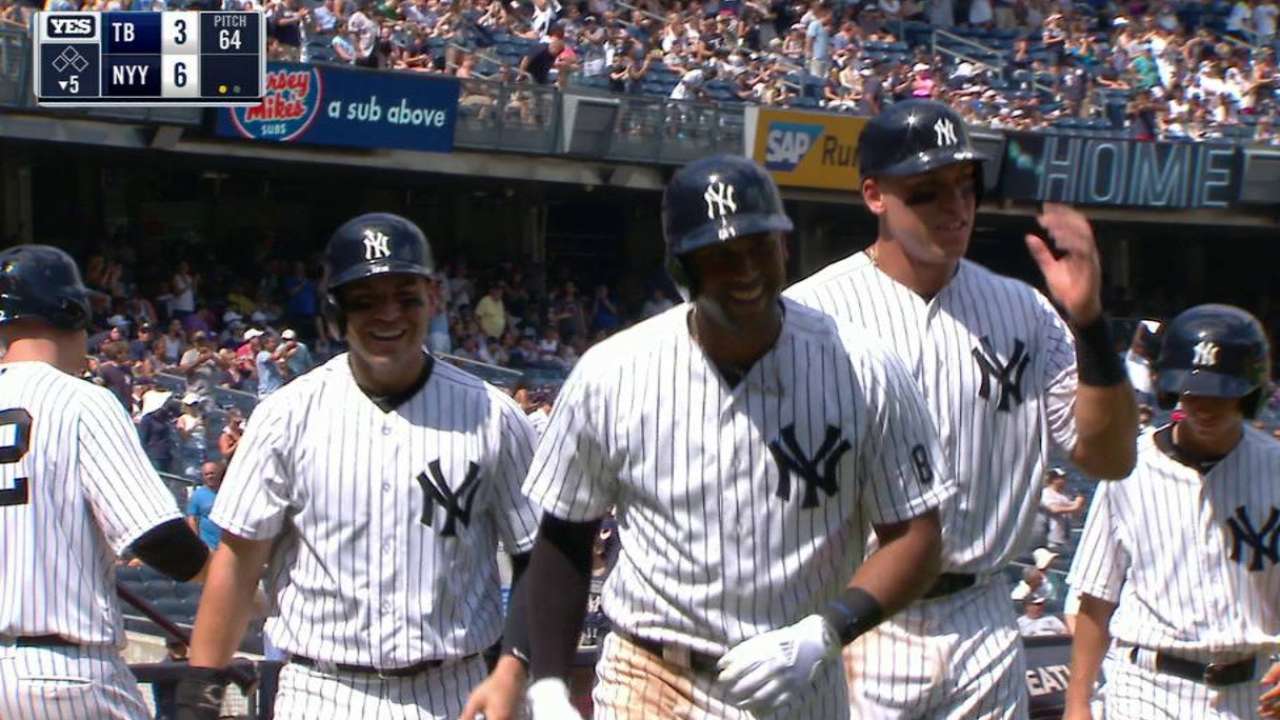 NEW YORK -- For Aaron Hicks, the key to being consistent is being consistent.
Through the first four months of his first season with the Yankees, Hicks was a part-time player, serving primarily as a pinch-hitter or the all-around backup for when Carlos Beltran, Brett Gardner or Jacoby Ellsbury needed an off-day. But since Beltran was traded to the Rangers on Aug. 1, Hicks has had to step in as an everyday outfielder, and he's taken advantage of the opportunity.
In 87 games through Aug. 1, Hicks was hitting .185 with three home runs and a .533 OPS. In 12 games (all starts) since the Beltran trade, however, Hicks is hitting .308 with three home runs and a .906 OPS. As a frame of reference, Beltran's OPS with the Yankees this season was .890.
Hicks, who was primarily an everyday player during his time with the Twins, credits his turnaround to being able to better prepare given his more consistent reps at the plate.
"Just seeing the ball consistently coming in, and more plate appearances," Hicks said. "The more plate appearances you get, the better feel you're going to have for your swing for the game."
Expanding on that, Hicks said that in his recent hot streak he's done a better job of having a strategic game plan for opposing starters. Setting a game plan is much easier as an everyday player, given you know who you'll be facing at the beginning of the day, unlike when you're a part-time player.
Yankees manager Joe Girardi said he's noticed that Hicks has been making more solid contact over the last two weeks. His 12 hits have done a pretty good job of proving that, but Girardi said that even on Hicks' unsuccessful at-bats he's been making harder contact.
For Girardi, this is a huge development not just for his team, but for the psyche of his player.
"It couldn't have been easy to be him, in a sense," Girardi said. "Because every time he didn't get a hit, it was probably over-evaluated why he was playing and other people weren't playing. That had to have been having to play with some pressure on your shoulders on a daily basis. He heard the questions. But I think now that circumstances have changed, he's played better."
Nick Suss is a reporter for MLB.com based in New York. This story was not subject to the approval of Major League Baseball or its clubs.