Run of unfruitful Drafts led to Braves' rebuild
Coppolella, Hart have worked aggressively to restock system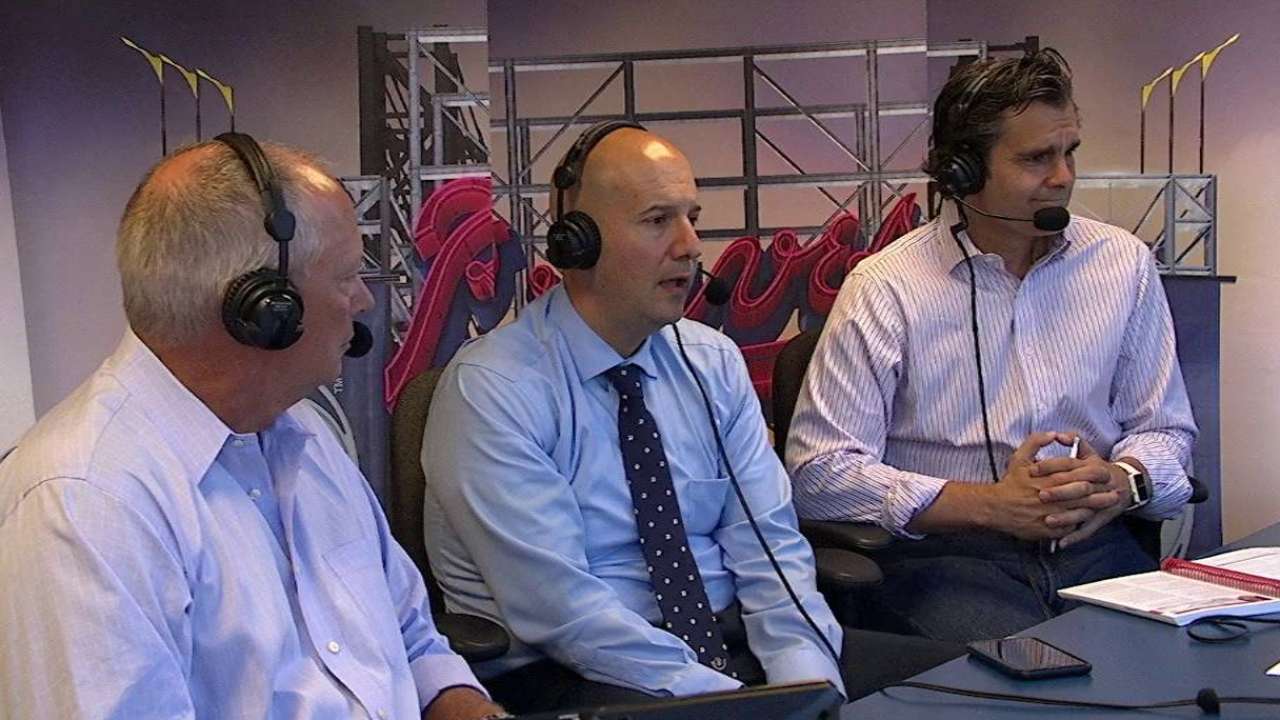 ATLANTA -- If searching for the benefits of stockpiling Draft picks, the pitfalls of selecting low-ceiling college players or the cause for a rebuild, one only has to look at the MLB Draft selections the Braves made from 2011-13.
Right-handed pitchers Lucas Sims (21st overall selection in 2012) and Jason Hursh (31st overall selection in '13) stand as the only players the Braves selected within this three-year stretch who are either on Atlanta's active roster or rank among the club's Top 30 Prospects per MLBPipeline.com.
But maybe this shouldn't be surprising, given the fact that Sims and Hursh stand as just two of the six players taken within the first 10 rounds during this three-year stretch who remain in Atlanta's organization. Four of those players (Hursh, Carlos Salazar, Tanner Murphy and Steve Janas) were selected in 2013. Before Kyle Kubitza was claimed off waivers from the Rangers and returned to the Braves' farm system last week, Atlanta's pipeline was void of any players selected by the Braves in 2011.
• Braves' Draft results: 2011 | 2012 | 2013
When Braves president of baseball operations John Hart and general manager John Coppolella assumed their current roles after the 2014 season, they began a massive rebuilding process that was aimed toward restocking a farm system that was adversely affected by the many Draft misses by the club from 2011-13.
"Our focus isn't on how bad it was two years ago or the total lack of talent in the system, but instead to be relentless in the pursuit of talent," Coppolella said. "It's a monomaniacal approach, but one that we feel is already showing results and will only continue to get better and better."
Of all the players the Braves selected from 2011-13, the only ones to play in Atlanta are Alex Wood, Shae Simmons, Matt Marksberry, Cody Martin, Tommy La Stella, John Cornely (one appearance in 2015), Gus Schlosser and Hursh. Marksberry, Simmons and Hursh are the only members of this group still within the organization. Martin, Cornely and Schlosser all had short stints in Atlanta's bullpen before going elsewhere.
While some members of the Braves' organization still have high hopes for Sims, who has fared much better at the Double-A level than the Triple-A level this year, it goes without saying that Wood (2012, second round) has provided the Braves more value than any of the other players the club selected from 2011-13.
Of course, it should also be noted that Wood and former top prospect Jose Peraza were part of the ill-fated trade that brought Hector Olivera to Atlanta late last year. While the Braves might regret aligning themselves with Olivera, they might not have been wrong in their assessment that Peraza was an overrated prospect, and Wood's mechanical flaws made him an injury risk.
While Wood made just 10 starts this year before undergoing an elbow surgery that will likely sideline him for the remainder of this season, Peraza is back at the Triple-A level with the Reds. Before Peraza graduated from prospect status, he ranked behind four Braves (Dansby Swanson, Ozzie Albies, Sean Newcomb and Aaron Blair) on MLBPipeline.com's Top 100 Prospects list.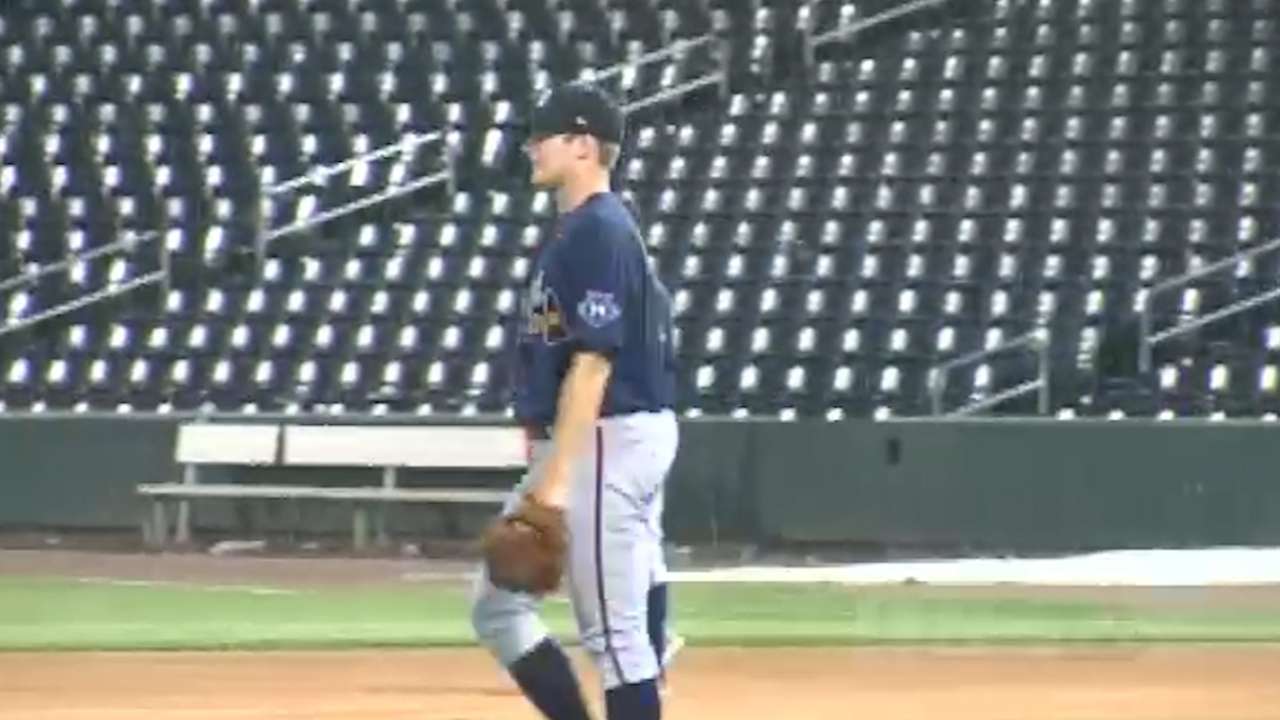 The Braves acquired Swanson and Blair from the D-backs in exchange for Shelby Miller, who, along with Tyrell Jenkins, had been acquired from the Cardinals in exchange for one year of Jason Heyward. Newcomb and Chris Ellis were acquired in the November trade that sent Andrelton Simmons to the Angels.
While some Braves fans were upset about losing favorites like Simmons and Heyward, these aggressive moves made by the front office yielded the kind of high-ceiling talent that the club did not gain back in 2011, when Florida State left-hander Sean Gilmartin was the first of 10 straight college products selected by the Braves. Gilmartin was considered an ill-fated selection from the start, and he has done nothing to dispel this belief. He has spent the past three seasons pitching in the Twins' and Mets' systems as a reliever.
After the Braves took Gilmartin with the 28th overall selection, the Giants took Joe Panik with the following selection. The Red Sox took Jackie Bradley Jr. with the 40th selection that year. The Mets took Michael Fulmer 44th, and the Rockies took Trevor Story 45th.
The Braves at least gained some value when they took UConn shortstop Nick Ahmed in the second round of the 2011 Draft and then included him in the trade that brought Justin Upton to Atlanta before the '13 season. When Upton was traded to the Padres before the '15 season, the Braves received Mallex Smith, Jace Peterson, Max Fried and Dustin Peterson.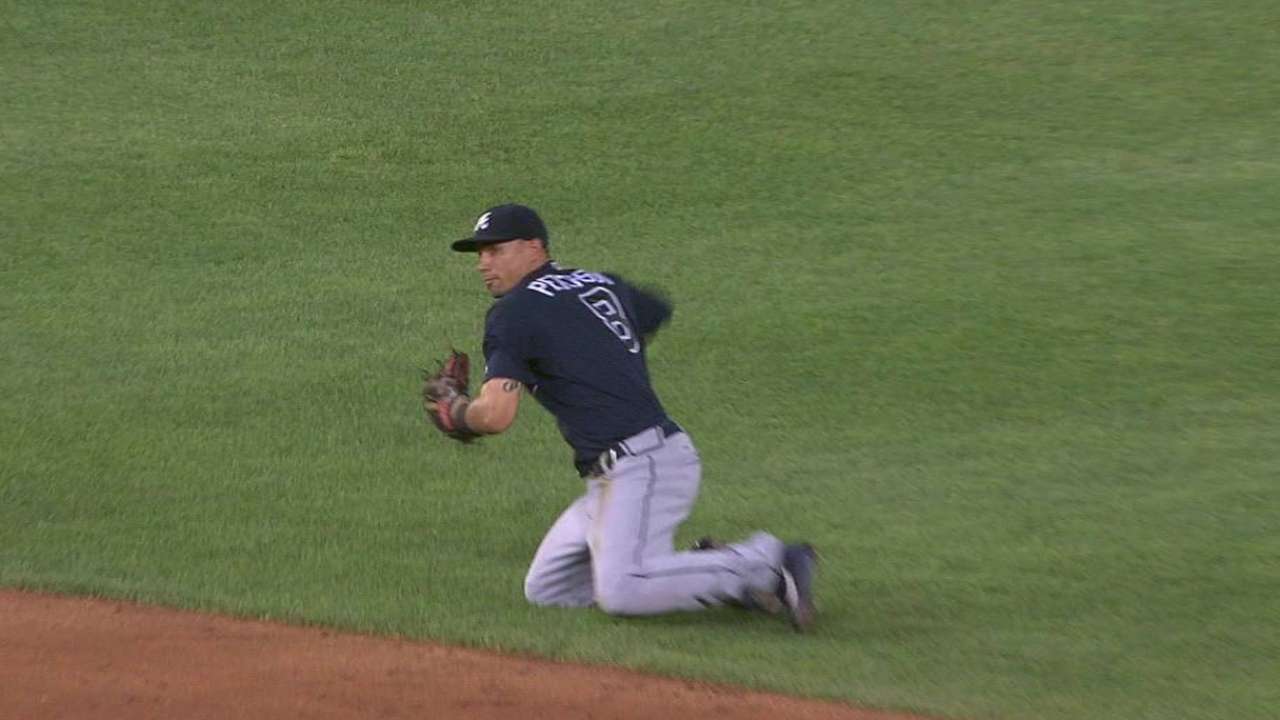 While Smith and Peterson have already displayed their potential at the big league level, Fried and Peterson stand as two of the most intriguing prospects within an Atlanta pipeline that has been significantly overhauled over the past two years.
The Braves' Top 30 Prospects list includes just two players -- Sims and Braxton Davidson (first-round selection in 2014) -- who were in the organization before Hart and Coppolella took control of the front office.
"We know where we started this process in late 2014 and how far we have come in less than two years," Coppolella said. "We know it's tough on our fans to go through this rebuilding, but part of why we are doing this is so that we can turn it back around sooner rather than later. We didn't want a slow burn where it takes us a decade to get back to championship baseball, and so we have been aggressive in looking for upside and impact talent."
Mark Bowman has covered the Braves for MLB.com since 2001. This story was not subject to the approval of Major League Baseball or its clubs.