Ups, downs part of learning process for Sano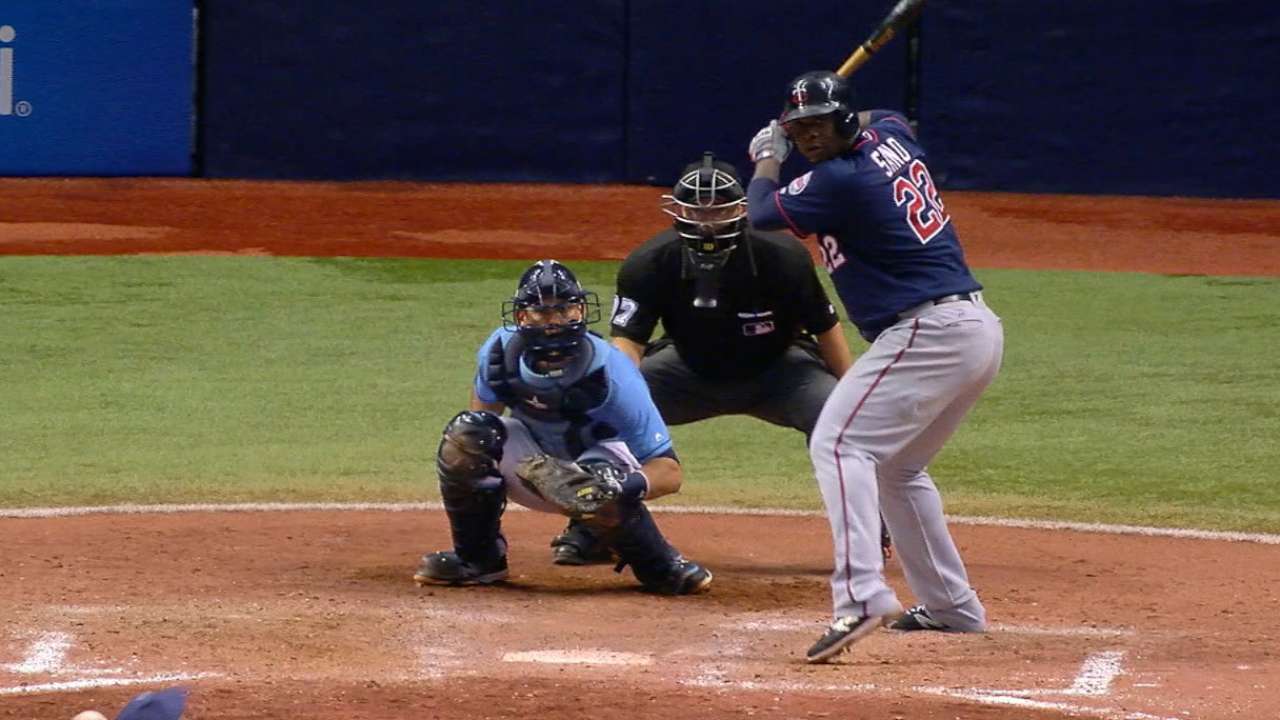 MINNEAPOLIS -- The chatter surrounding Miguel Sano during his first full season in the Major Leagues has been endless.
From the defensive adventures in right field at the start of the season to recent suggestions of a possible demotion to Triple-A Rochester due to perceived attitude problems, Sano, the former No. 7 prospect in baseball according to MLB Pipeline, has been the subject of plenty of scrutiny during his time in a Twins uniform.
And now, with last Thursday's doubleheader nightcap against the Astros marking Sano's 162nd game in the Major Leagues -- the equivalent of a full season -- there's a chance to step back and examine his body of work with a better sample size.
• MRI shows no structural damage in Sano's elbow
It's not a perfect evaluation because of the long offseason in the middle and because very few players play 162 games over the course of a season, but manager Paul Molitor believes that the numbers so far are indicative of Sano's high potential.
"I think a lot of people would really be pleased with the numbers after 162 games," said Molitor. "I think a lot of attention goes to the strikeouts and the ratios and some of those things, but you look at production, it's high end and the on-base percentage is very respectable. I think he's got really high goals for himself."
Through the equivalent of his first full season in the Major Leagues, Sano recorded a .260/.363/.508 slash line with 37 home runs and 101 RBIs and 96 walks. The batting average is respectable for a slugger of his caliber, and the .363 on-base percentage would have been tied for 11th in baseball in 2015, ahead of players like David Ortiz, Manny Machado and Jose Altuve.
Sano ranks first in Twins history in homers and walks in the first 162 games of a career, and he's third in RBIs and OPS.
"It gives you a little bit of a glimpse of the upside, of things that he can do," Molitor said. "There's a lot to like, the expectations are there, I think the hype was there and I think the numbers have backed that up to this point."
Of course, the biggest cause for concern has been the 242 strikeouts that he amassed in his first 162 games. If those strikeouts had been accumulated over a single season, they would have smashed Mark Reynolds' all-time record of 223.
Sano led all of baseball by striking out in 35.5 percent of his plate appearances last season, and that number stands at 34.7 percent in 2016, second in the league to Tampa Bay's Steven Souza Jr. among players with a minimum of 300 plate appearances.
"I'd be happy, but I want -- for my team -- to put up better numbers than that," Sano said. "For that, I need to work harder and pay more attention to the game and that stuff."
The strikeout numbers haven't improved that much, and he has regressed in some ways from his stellar 2015 campaign that saw him finish third in the American League Rookie of the Year Award voting last season. His walk rate is down from 15.8 percent in 2015 to 12.1 percent in '16. His slash line is down, he's hitting doubles at a lower rate and his power numbers are also slightly down.
But Sano is still only 23 years old and raw, meaning that there's still a long way to go in his development, particularly in his defense, where he has flashed his athletic ability and ridiculous arm at third base. But he has seemingly struggled with his focus at times.
Because the Twins are out of contention and have other options at third base like the hot-hitting Jorge Polanco and the veteran Trevor Plouffe, they can afford to give Sano more time to improve his defense. And while the strikeout numbers are high, it's clear that Sano's presence in the heart of the lineup still brings value to Minnesota.
"Like a lot of our young guys, we're trying to get him just to continue to improve," Molitor said.
"In the second half, I started trying to listen to my team at home plate and try to hit more balls to the gaps and homers," Sano said. "I feel really good overall. I like my situation right now and it's a pretty good feeling."
There was concern expressed at one point by both Molitor and hitting coach Tom Brunansky that Sano's work ethic might have been holding him back from truly realizing his potential. Because of that, there were even whispers after the Rays series last weekend that Sano could have been headed down to Triple-A Rochester.
But Sano seemingly heeded the message from his coaches, first mashing two homers in a game against the Rays and then acknowledging his need to improve his mindset. (Byron Buxton was ultimately sent down to Rochester instead.)
"I have a lot of ability," Sano said. "The numbers in the big leagues, I can have 100 RBIs and 30 to 35 home runs. To be an All-Star, to play good defense -- but for that, I need to work harder."
Along with Polanco, Max Kepler, Buxton, Jose Berrios, Eddie Rosario and others, Sano is a key cog in the homegrown youth movement that the Twins hope will bring a championship back to Minnesota. One full season in, Sano is still a work in progress, but given the early returns, it's not hard to imagine him helping return the Twins to their winning ways.
"I'm just working hard," Sano said. "I've been doing my game, trying to play the game the right way, and my ultimate goal is just to get to a World Series and help our team win. I don't really have a specific number. That's my only goal -- to win."
Do-Hyoung Park is a reporter for MLB.com based in Minneapolis. This story was not subject to the approval of Major League Baseball or its clubs.