Sox recall Hembree, Hernandez, Marrero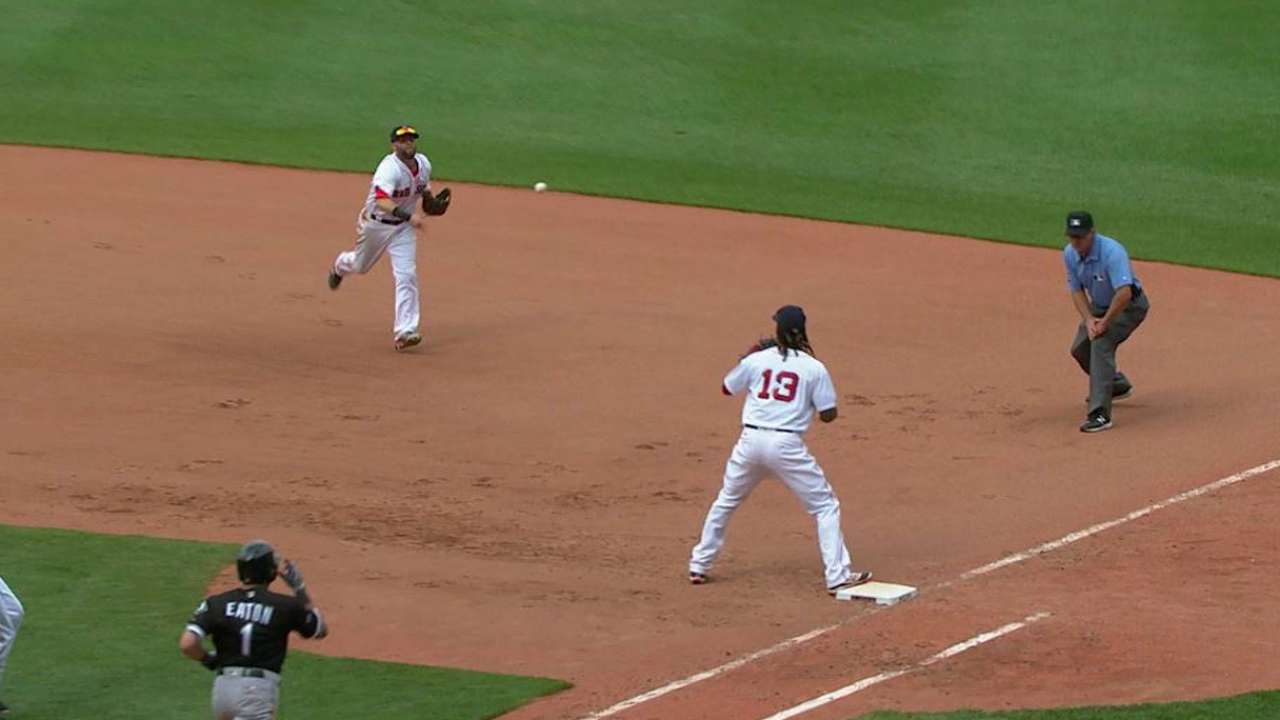 CLEVELAND -- The Red Sox recalled right-hander Heath Hembree along with infielders Marco Hernandez and Deven Marrero from Triple-A Pawtucket prior to Monday's makeup game at Progressive Field.
The moves were necessary after the team placed right-hander Steven Wright on the 15-day disabled, retroactive to Aug. 8, with a right shoulder strain and first baseman Hanley Ramirez on the bereavement list Monday. Following Sunday's 16-2 win against the D-backs, the Sox optioned left-hander Roenis Elias down to Pawtucket.
"We needed the balance," Boston manager John Farrell said. "We needed to get back to 13 position players given the temporary physical status of guys. The versatility had a lot to do with it."
Getting back to balance had a heavy influence, but so did the play of the players called up.
Hernandez had been swinging the bat well enough at Triple-A to earn a spot according to his manager. Hernandez is hitting .303 (61-for-201) with 28 RBIs in 52 games with the PawSox.
"Marco has probably been swinging the bat the best of anyone in Pawtucket," Farrell said. "That gets him here."
This will be Hernandez's fourth stint with the club the season. He is batting .295 (13-for-44) with five RBIs in 29 games with the Red Sox this year.
For Marrero, it will be his second time in a Boston uniform this season. He's played all over the infield -- excluding first base -- in Pawtucket. He's hitting .196 with 26 RBIs in 87 contests with Pawtucket.
"The versatility stood out," Farrell said. "It wasn't that we needed a specific right-handed-hitting outfielder. ... Versatility is one factor and who is most healthy and performing the best."
In 27 big league games this season, Hembree is 4-0 with a 2.41 ERA over 37 1/3 innings. He has 36 strikeouts and opponents are batting .276 against him this season.
The Red Sox needed the versatility and fresh bodies going forward as they begin an 11-game road trip in four different cities.
"This isn't a surprise by any means," Farrell said. "We knew this was here. We make the adjustments accordingly. Our guys are not thinking anything other than, 'Here's the game today.' We are going to be in a different spot for four or five consecutive days. We will be wearing our gray uniforms."
Shane Jackson is a reporter for MLB.com based in Cleveland and covered the Red Sox on Monday. This story was not subject to the approval of Major League Baseball or its clubs.