After five tries, Pomeranz gets 1st Sox win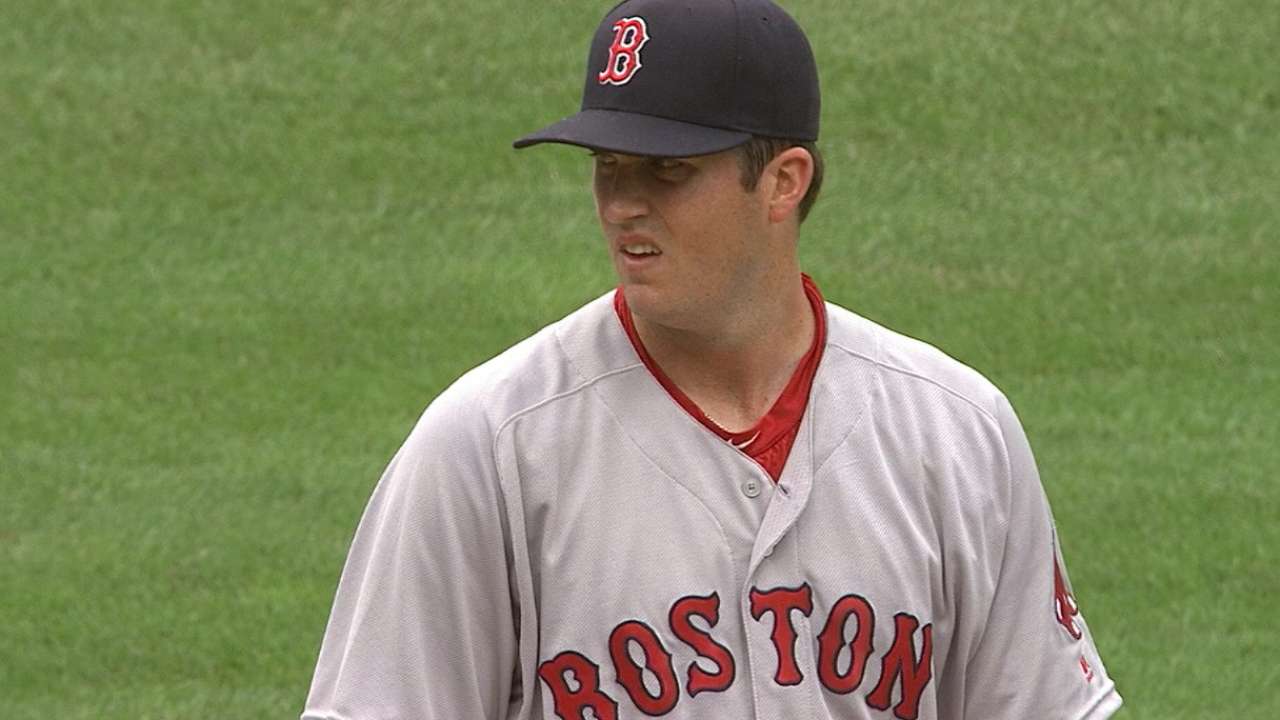 CLEVELAND -- When Red Sox manager John Farrell walked out to the mound in the eighth inning, left-hander Drew Pomeranz didn't want to give him the baseball.
"You have to be a competitor," Pomeranz said after Boston's 3-2 win over Cleveland on Monday. "You never want to give up the ball. If you are ready to give up the ball anytime he comes out there, you are defeated. You can't ever be defeated."
After going 0-2 with a 5.26 ERA in five starts since being acquired from the Padres on July 14, Pomeranz nailed down his first win in a Red Sox uniform. And to top it off, he did so by going into uncharted territories -- the eighth inning.
"Especially the first time I have gone into the eighth in my career," Pomeranz. "It was kind of a personal goal of mine to go deeper in games. Finally got in there, but still a lot of improvement. ... It almost gave me a second wind. I was getting excited to go out and pitch in the eighth."
Pomeranz spun a career-high 7 2/3 innings, allowing just two runs on five hits while recording six strikeouts compared to two walks. It was his third straight start of allowing two-or-fewer runs and fourth time with Boston.
"This day was set up because of what Drew did for us," Farrell said. "I think he's doing a better job, particularly today with attacking with his fastball and trusting it up in the zone more. He's one of those pitchers that you don't track his arm very cleanly early, so he's got life in the zone."
Pomeranz breezed through the lineup the first time through, as he tossed three spotless frames. Then in the fourth, he surrendered a leadoff homer to Tribe outfielder Rajai Davis. Pomeranz worked around a walk and a one-out double to avoid further damage.
The Red Sox lefty avoided trouble over the next three frames, as he got around a leadoff single in the fifth and a leadoff walk in the seventh. In the unfamiliar eighth, Pomeranz surrendered a pair of doubles, including an RBI two-bagger to Davis before exiting.
"I would have like to not give up that last hit," Pomeranz said. "But getting deeper in the game and taking as much pressure as I can off the bullpen guys. They have been going hard all year and I know what it's like to be in the bullpen, I was in the bullpen last year."
The Boston bullpen was able to hang on to reward Pomeranz with his first victory. To make things even sweeter, his inaugural Red Sox win came against the very team that drafted him in the first round of the 2010 Draft in his first career start against his former club.
But for Pomeranz, it was more about going deep in the game and less about the team he was facing.
"I've pitched against them before," said Pomeranz. "I like pitching here, it's a good ballpark, a good tall mound. I'm pretty sure I'm going to face all my old teams this year. I think I'm still lined up for two more the rest of the year."
Shane Jackson is a reporter for MLB.com based in Cleveland and covered the Red Sox on Monday. This story was not subject to the approval of Major League Baseball or its clubs.