Home runs once again plague Tomlin
Right-hander's solid outing vs. Sox spoiled in sixth inning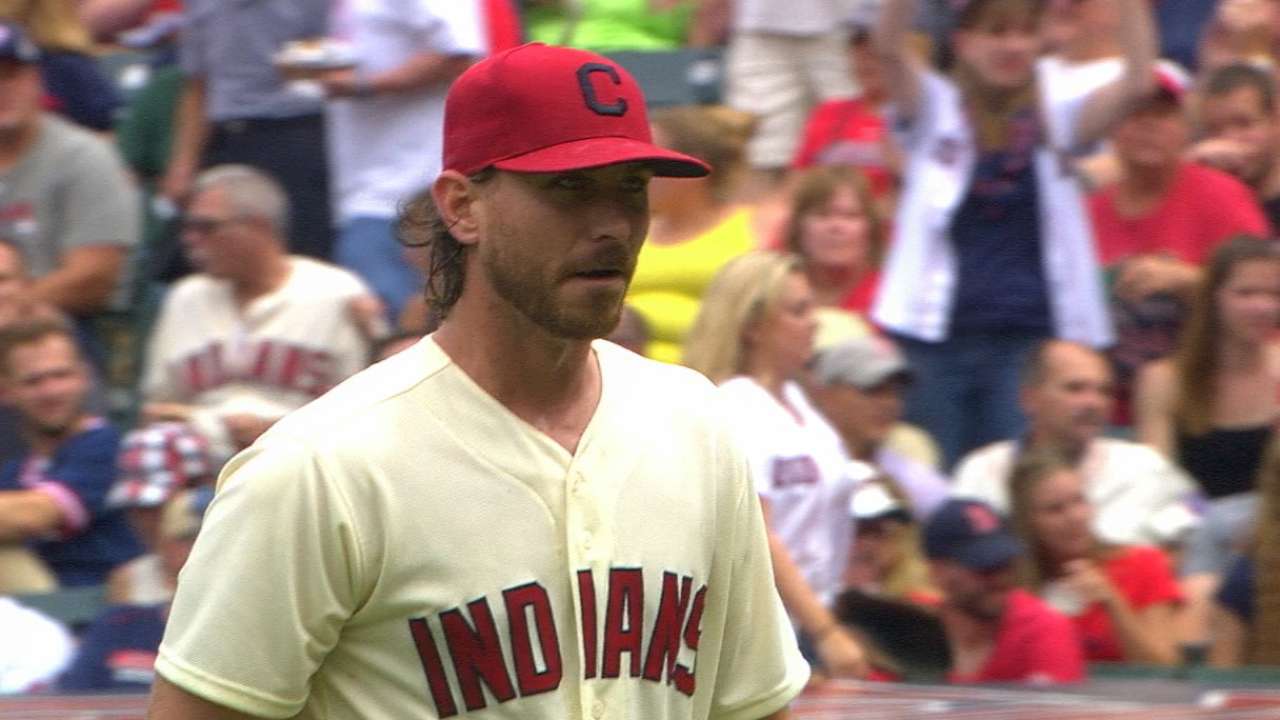 CLEVELAND -- As soon as the baseball left Josh Tomlin's hand, he knew he made a mistake. The Indians pitcher intended to send the cutter diving far inside to slugger David Ortiz, but the ball betrayed the right-hander and headed right for the heart of the plate.
Ortiz did what he has now done 530 times throughout his career. Big Papi drilled the mistake into the seats and then completed a slow trot around the bases. The two-run homer ignited a three-run outburst for the Red Sox in the sixth inning on Monday, creating enough damage to put Tomlin's outing under the microscope after a 3-2 loss for the Indians.
Asked if he was happy Ortiz was calling it a career, Tomlin managed a slight smirk.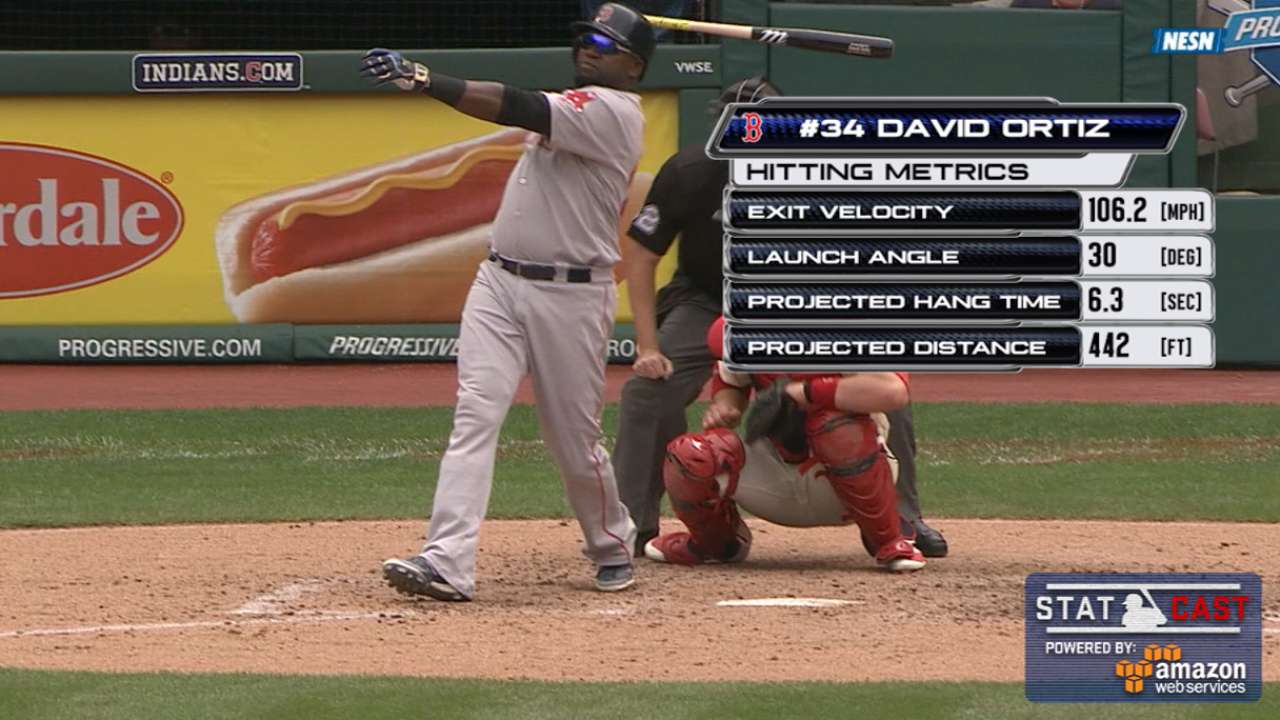 "I am now, yeah," Tomlin said.
There were two primary factors at play in this defeat for the American League Central-leading Indians.
The first was an issue that has plagued Tomlin throughout his career. The righty has always been prone to home runs, and the two he surrendered in the sixth -- one to Ortiz and another to Jackie Bradley Jr. -- were ill-timed enough to trip up the Tribe. Tomlin now leads the Majors this year with 29 home runs allowed and a rate of 1.9 homers per nine innings.
More detrimental to Cleveland's chances, however, was the fact that the offense did little against Red Sox lefty Drew Pomeranz. The inability to manufacture runs against the former Tribe farmhand turned a respectable outing from Tomlin into another loss. The lack of run support magnified the mistakes made by Tomlin, who was working with little to no margin for error.
"He pitched well," said outfielder Rajai Davis, who drove in both of Cleveland's runs. "Two balls. They put good swings on them. We'll live with that. We had our chances to score. We didn't score."
That said, there is no denying the problematic nature of the home runs Tomlin has allowed.
Over his first 15 starts this season, Tomlin cruised to a 9-1 ledger and 3.21 ERA by doing what he does best: Minimizing traffic and limiting the home runs mostly to solo shots. Thirteen of the 19 homers surrendered by Tomlin in that stretch were solo blasts. In the seven starts since that period, Tomlin has logged fewer than five innings three times, while posting a 6.26 ERA overall.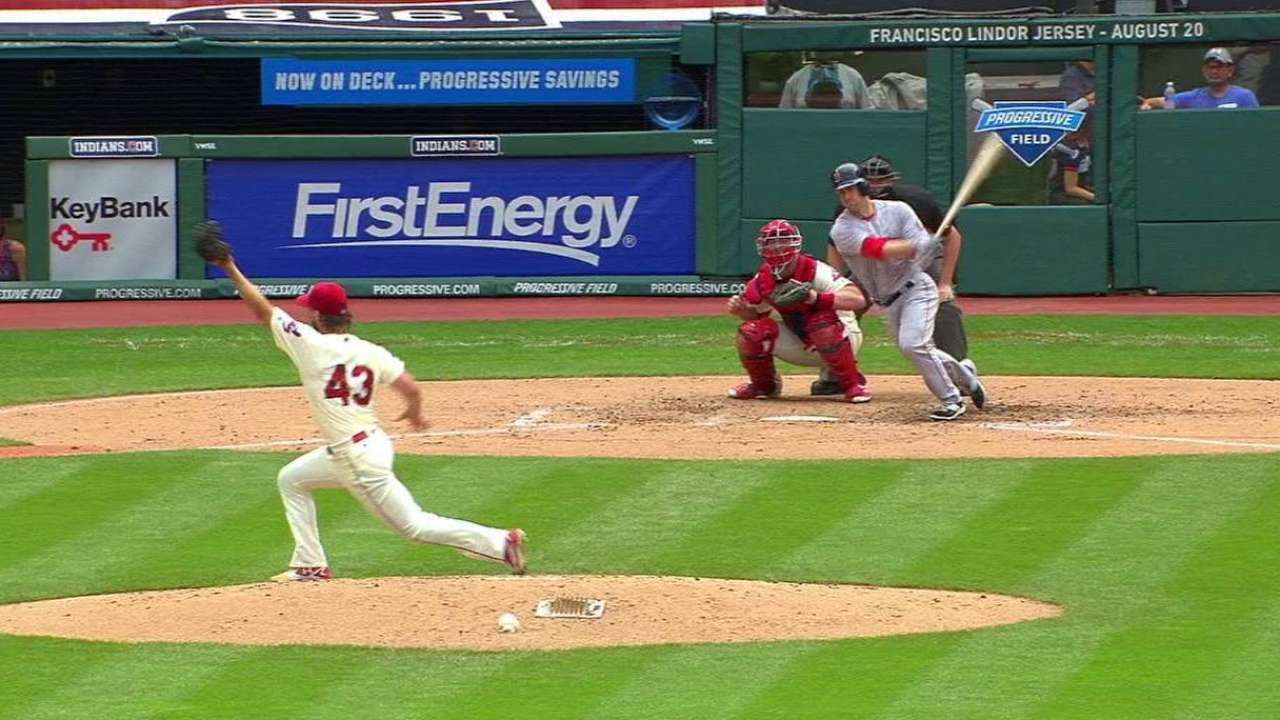 In that recent seven-game span, Tomlin has allowed 10 home runs, including four solo shots. The homers given up in that stretch have accounted for 20 runs total. Tomlin allowed 25 runs on the previous 19 blasts (1.3 runs per homer).
"I'm trying to avoid the crooked number as much as I can," Tomlin said. "It just hasn't really happened in the past three or four starts or however [long] it's been. If I can limit the guys on base when those big guys come up in the lineup, it's going to benefit me and the team."
Monday's effort was a step in the right direction, considering Tomlin had given up 14 runs in 8 2/3 innings in his previous two turns combined. Against the Red Sox, the righty allowed the two homers in the sixth and blanked Boston's bats in the remainder of his 7 2/3 innings. Tomlin struck out three and issued zero walks, lowering his AL-best walk rate to 1.1 per nine innings (only Clayton Kershaw ranks better in baseball).
"I thought he was really good, really crisp," Indians manager Terry Francona said. "Other than [the home runs], he was really good. That's obviously a really good lineup, but they're also really swinging it well. I think they scored [16 on Sunday]. His stuff looked crisp -- like the Tomlin we've seen so often."
Unfortunately for the Tribe, Boston jumped on the few missteps taken by Tomlin.
The cutter to Ortiz was the perfect example.
"As soon as I saw where it was heading towards, I kind of knew," Tomlin said. "He's an unbelievable hitter. He's a great hitter. They don't really miss that many mistakes, and he didn't."
Jordan Bastian has covered the Indians for MLB.com since 2011, and previously covered the Blue Jays from 2006-10. Read his blog, Major League Bastian, follow him on Twitter @MLBastian and listen to his podcast. This story was not subject to the approval of Major League Baseball or its clubs.