MLB.com Columnist
Phil Rogers
No matter what, never count out Cardinals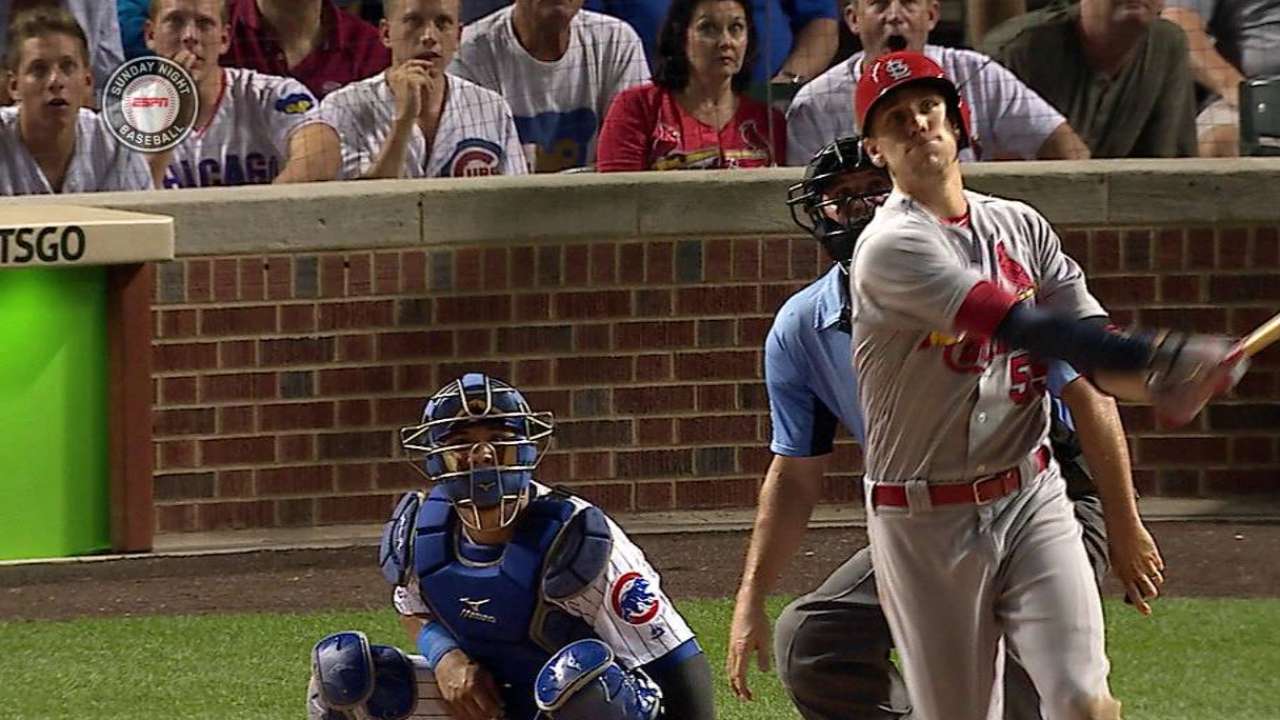 CHICAGO -- According to the National League Central standings, the St. Louis Cardinals are 12 games behind the Chicago Cubs. Yet you can't help but wonder: Do they have the league right where they want it?
There are teams you can write off when they're beat up and things aren't going well. Then there are the Cardinals.
Since Tony La Russa's team worked miracles in 2006, the Cards have often found a way to play their best when the wins count the most. They defy both logic and statistical analysis, consistently coming up bigger as a team than their roster might make you expect.
Because they never give an inch, they can never be dismissed as a threat to come from behind and win a game or to find a way to push their way into another postseason field. They're a team nobody is going to want to play in October.
"Staying with it,'' manager Mike Matheny said after Sunday night's 6-4 victory over the Cubs. "We get down. We've been down quite a few times early. Guys just keep playing the game. It's something I'm extremely proud of about this club. They don't give in, they don't give up. They keep playing the game.''
The way the Cardinals exploded against the Cubs' bullpen on Saturday and Sunday suggests they're up for a fight against the Pirates, Mets and Giancarlo Stanton-less Marlins for the second Wild Card spot (assuming the NL West runner-up takes the first one).
If they do manage to extend their franchise-best streak of five consecutive trips to the postseason, they'll look back on Matt Bowman's great escape Sunday as a turning point in their battle.
This was looking like the worst kind of weekend for the Cards. They had lost No. 3 hitter and clubhouse cornerstone Matt Holliday to a broken thumb on Thursday night, after Adam Wainwright got whacked around and Matt Adams had already landed on the disabled list. Then St. Louis was steamrolled by Jake Arrieta and five home runs on Friday.
The Cardinals had scored six runs in the eighth on Saturday to win 8-2, but they seemed on their way to losing the series three games to one when Bowman entered Sunday night. The Cubs led 3-1 in the seventh, there were men on first and third with no outs, and Bowman walked Willson Contreras to make things even worse.
One hit would break open the game. But Bowman, the remarkable Rule 5 Draft pickup from the Mets, retired Matt Szczur (one of the game's best pinch-hitters), Dexter Fowler and Kris Bryant to hold the line at 3-1.
"That was huge,'' Matheny said. "That's a game-changer right there. That's one of those momentum changers. You've got the bases loaded, no outs … and then Bowman continuing to make good pitches. He's done a nice job. One of the great surprises for our club.''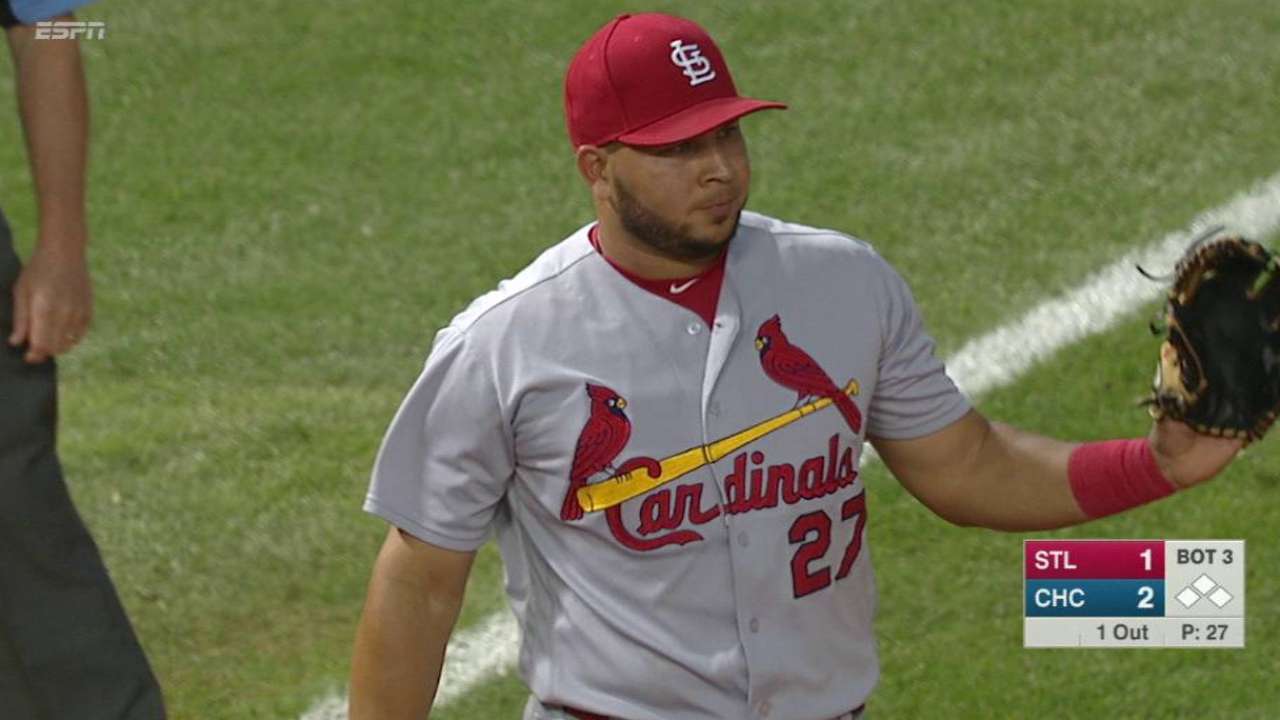 Bowman's excited teammates took it from there against relievers Hector Rondon and Travis Wood in the eighth inning. Stephen Piscotty's three-run homer off Rondon was the biggest of six hits as the Cards turned the two-run deficit into a 6-3 lead.
While it wasn't as big as Bowman stranding the bases loaded or Piscotty and Brandon Moss hitting homers into the left-field seats, there was another big moment in the game-turning sequence. Greg Garcia, the 26-year-old utility man playing shortstop because All-Star Aledmys Diaz had his thumb broken by a pitch, followed Kolten Wong's leadoff single with a perfect bunt single.
While Garcia is hitting only .242, he's got a .361 on-base percentage. He's capable of doing the job filling in as the leadoff hitter while Matt Carpenter hits third, replacing Holliday.
Dead? Hardly.
The Cardinals are wounded, but they leave Chicago feeling surprisingly good about their long-term survival, thanks to winning the battle of bullpens on Saturday and Sunday.
"It's so loud, there's so much excitement about the other [team],'' Matheny said. "It kind of brings out the best in a group like this. We're playing well, no question, nice to see us not back off.''
Matheny said Sunday that Jhonny Peralta -- who moved from shortstop to accommodate the rise of Diaz -- looked better playing third base than he has all year. He was also feeling very good about his two new right-handers, Alex Reyes (for now a monster in the bullpen) and Luke Weaver.
Reyes and Weaver are the types of talented pitchers who can make life miserable for opponents for years to come. No one knows that better than Cubs manager Joe Maddon, who was asked before Sunday's game about the Cubs having grabbed the upper hand in this ancient rivalry.
"If it appears to be that way, I don't trust it, because I have so much respect for that group and what they're going to do to get back at us,'' Maddon said of the Cardinals. "For right now, you just want to take advantage of this as long as we can. Knowing the tradition, the stellar organization [the Cards] have been, they're going to come right back at us very soon.''
Maddon singled out Reyes and Weaver.
"You see that kid Reyes?'' Maddon said. "He's going to start, maybe next year. He's one of the best [looking young] starters, like [Jose] Fernandez in Miami. That's who he really reminds me of. He's bigger, has a great delivery and can pitch. That's just one guy. The starter yesterday, Weaver, he's really good also. It's a temporary moment right now that we have to stay on top of if we want to continue to maintain any kind of edge. We have total respect for them.''
When the Cubs beat the Cardinals in the NL Division Series last October, it validated their standing as one of baseball's elite teams. It's hard to overstate how much the Cards would love a rematch this October.
The Cubs are positioned to face the NL Wild Card Game winner in the NL Division Series, so it could happen. But all Matheny knows is that the Cardinals are scheduled to play three more regular-season games at Wrigley Field in late September.
They won't forget these two wins.
"To be able to go up against these guys and take this game today, it's a big deal for us,'' Matheny said. "It's a real nice way to finish off a long stretch. When we get going right on a consistent basis, that team over there is good. It's just going to be how long can you play? You've got to minimize the mistakes. That's an area where I see us doing a better job.''
The Cardinals are alive, and that means they're dangerous.
Phil Rogers is a national columnist for MLB.com. This story was not subject to the approval of Major League Baseball or its clubs.