Colon seeks milestone victory on MLB.TV
Vogelsong returns to San Francisco; Felix starts for M's in Anaheim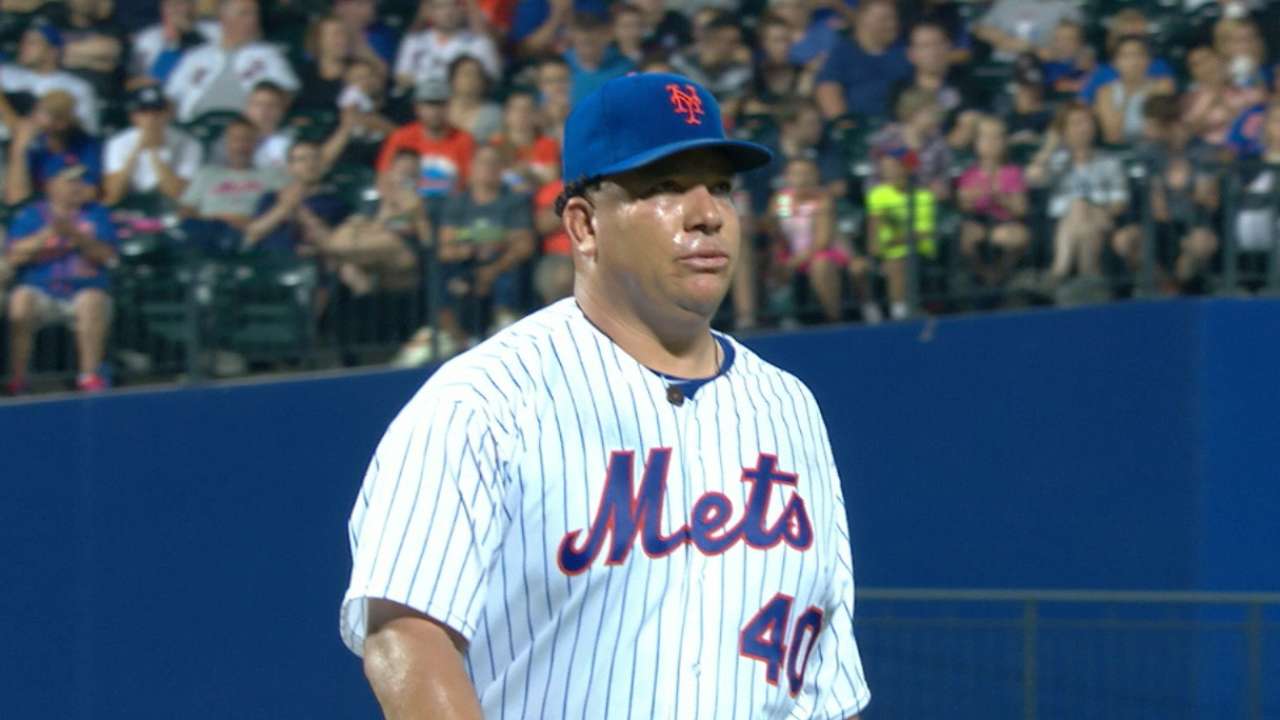 In his 19 years pitching in the big leagues, Bartolo Colon has amassed 228 wins, defeating all but one Major League franchise. Colon will get another opportunity to complete his personal big league circuit and become the 18th pitcher to beat all 30 current teams when his Mets visit the D-backs today for the opener of a three-game series at Chase Field.
The D-backs are the lone club that remain elusive from Colon's win column. The 43-year-old right-hander pitched well against Arizona on Wednesday, but received a no-decision as the Mets lost 3-2 at Citi Field. In three career starts against the D-backs -- his fewest appearances against any club -- Colon is 0-1 with a 3.20 ERA.
Colon's rematch with Arizona is just one of several intriguing matchups on tap for today, including Ryan Vogelsong's return to San Francisco and Felix Hernandez's start against the Angels. The entire 10-game slate is available for streaming live on MLB.TV.
MLB.TV Premium has returned with the same features as last year, and is only $49.99 for the remainder of the season. This package has the best value and provides access to more than 400 devices and a free subscription to the MLB.com At Bat Premium app (a $19.99 value). It offers the best picture quality ever -- a new 60 frames per second -- for supported devices. Monthly signups for MLB.TV Premium are $24.99.
The new MLB.TV Single Team package is also available as a $39.99 yearly subscription. You can watch a single team's live out-of-market games in full HD.
Here's what to watch for throughout the day (all times in ET):
Colon seeks first win against D-backs: NYM@ARI, 9:40 p.m.
The Mets and D-backs meet for the second time this season less than a week after Arizona swept New York in three games at Citi Field. The Mets rebounded by taking two of three against the Padres and will look to continue their Wild Card push with a rematch against the National League West's last-place club.
Today's pitching matchup -- New York's Colon vs. Arizona's Robbie Ray -- is a rematch of last Wednesday's bout, which the D-backs won in extra innings. Both starters were dominant with Ray tossing seven scoreless and Colon allowing one run in seven frames with eight strikeouts.
Stat that matters: Ray has typically faired better on the road than at home. He owns a 5.43 ERA at his home ballparks -- Comerica Park in 2014, Chase Field in 2015-16 -- compared with a 3.56 mark in road contests.
King Felix holds court in Anaheim: SEA@LAA, 10:05 p.m.
Hernandez appears to be rounding into his usual form since returning from the disabled list. The right-hander limited the Tigers to one run his last time out, fanning eight batters and facing the minimum in five of his seven innings. It was his first time allowing one or no runs since May 21.
"It may have been one of the better outings that he's had all year," Mariners manager Scott Servais said. "Maybe not all the strikeouts that we're used to seeing, but [he] located it, kept the ball down."
Ricky Nolasco will toe the rubber for the Angels in this divisional matchup, still seeking his first win with his new club. He's 1-2 with a 4.00 ERA in three previous career starts vs. Seattle.
Stat that matters: The Angels have lost 10 consecutive games, giving them their longest losing streak since they dropped 11 straight from July 16-26, 1999.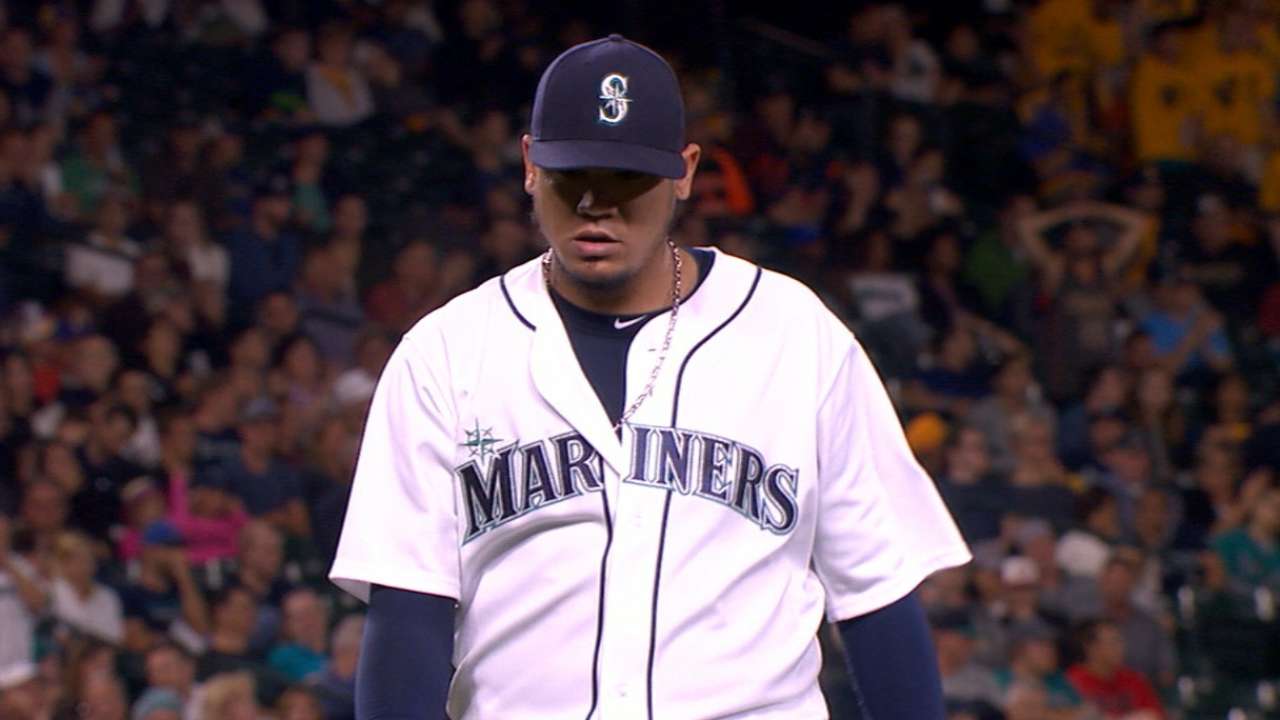 Vogelsong returns to AT&T Park: PIT@SF, 10:15 p.m.
Vogelsong will take the mound in a familiar venue today as he returns to San Francisco for the first time since signing with the Pirates this winter. Vogelsong pitched in parts of seven seasons in two stints with the Giants, the club that selected him in the fifth round of the 1998 Draft, from 2000-01 and 2011-15.
"When I go onto the field, it's all business," Vogelsong said. "It's not going to be weird at all. It's going to be a baseball game that I'm trying to pitch really well in and help us win."
Vogelsong has been strong in two starts since coming off the 60-day disabled list (facial fractures), allowing just three runs (one earned) in 12 innings of work. For the Giants, Matt Moore will make his first career start at AT&T Park. He's limited his opponent to two runs over six innings in both of his starts since joining the Giants prior to the Aug. 1 non-waiver Trade Deadline.
Stat that matters: Despite pitching well in his first two starts with San Francisco, Moore is still seeking his first win with his new club. The Giants provided him just two runs of support in his first two outings.
MLB.TV Premium subscribers get the Mosaic View -- split screen or quad, available on PC or Mac only. That always comes in handy, especially when scoreboard-watching looms. MLB.TV Premium and MLB.TV Single Team subscribers both enjoy HD and both will get real-time highlights and player stats automatically loaded moments after they occur (only for the game you are watching with MLB.TV Single Team, and for all games with MLB.TV Premium).
Chad Thornburg is a reporter for MLB.com. This story was not subject to the approval of Major League Baseball or its clubs.