Miller has no set role, and that's fine with him
Francona utilizing dominant Tribe reliever in variety of innings, situations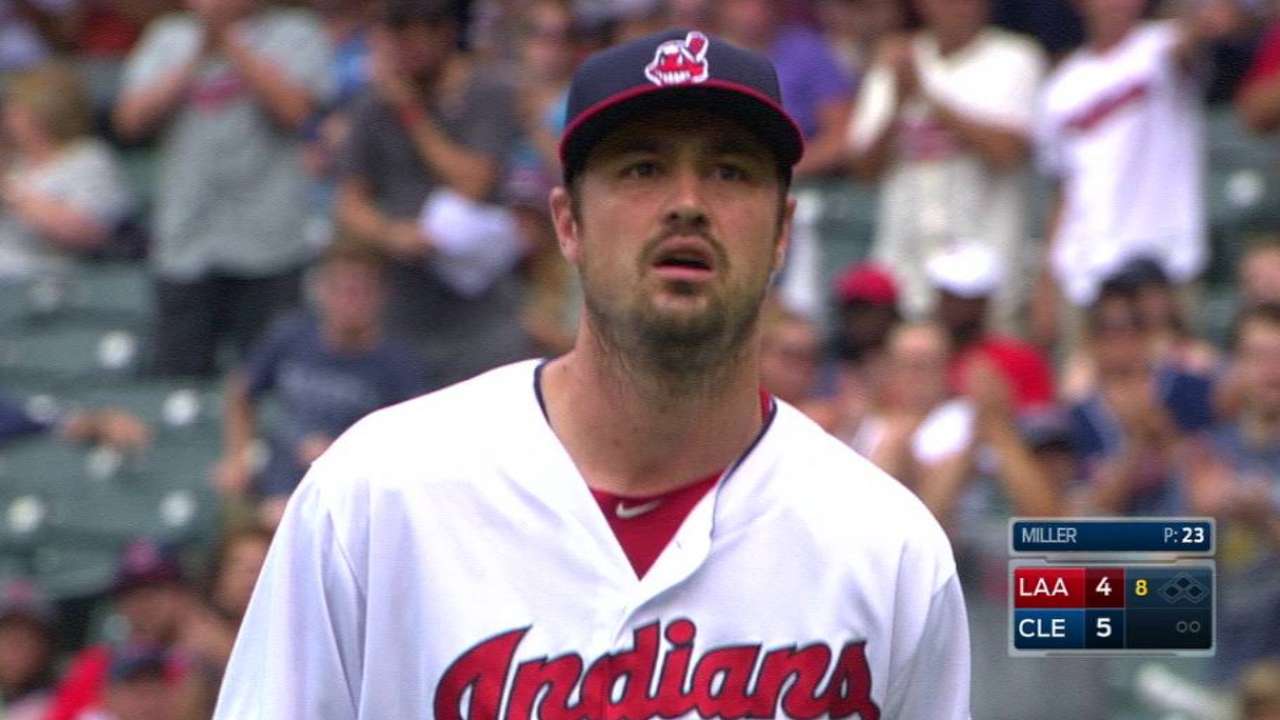 CLEVELAND -- Andrew Miller has been with the Indians for two weeks and he still is not sure whose name will be called when the bullpen phone rings. That is fine by the towering left-hander, considering Cleveland is featuring a formidable late-inning combination.
"It will still sort itself out a little bit," Miller said after the Tribe's 5-4 victory over the Angels on Sunday. "I think we're trying to figure out how to use guys. For me, flexibility is something that I think is a positive I can offer."
Flexibility, along with dominance.
After the Indians scored a pair of runs to secure a one-run lead in the sixth inning, Miller and right-hander Cody Allen slammed the door on the Angels over the next three frames. Cleveland's back-end duo held the Halos to an 0-for-9 showing, which included three strikeouts, three groundouts and three flyouts.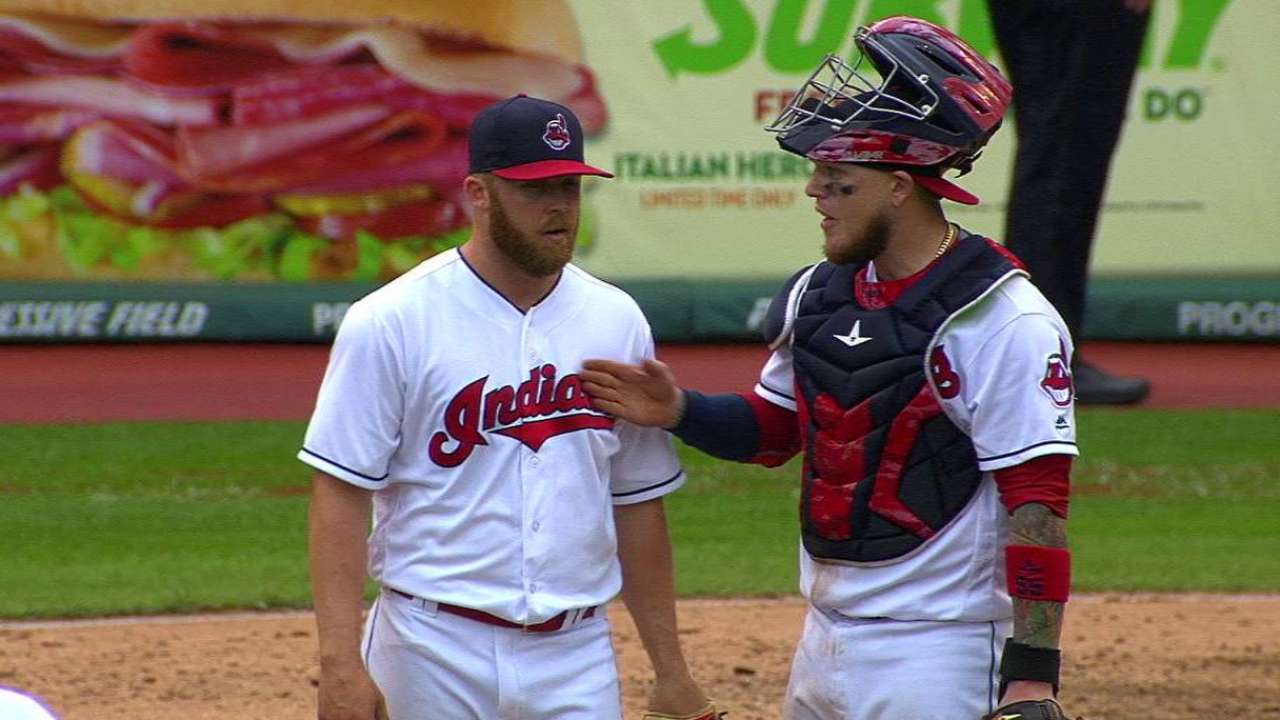 Miller set down the Angels swiftly in the seventh, convincing manager Terry Francona to stick with him for the eighth.
"The way that Miller was throwing," Francona said, "sometimes the best thing to do is just stay out of the way and let him go do his thing."
After the Indians acquired Miller from the Yankees at the non-waiver Trade Deadline -- as part of a blockbuster deal that sent four prospects to New York -- Francona indicated that he would mix and match with the lefty, Allen and setup man Bryan Shaw. There would be no inning assignments or a designated closer. Francona would call a name based on the situation.
Through six appearances for Cleveland, Miller has entered into a game in the sixth (once), seventh (twice), eighth (twice) and ninth (once). The left-hander has worked a multi-inning outing twice and has chalked up 10 strikeouts against one walk in 6 2/3 innings. On the year, Miller has a 1.56 ERA with 87 strikeouts and eight walks in 50 games (52 innings).
Since joining the Indians, Andrew Miller has entered the game in the...

6th: Once
7th: Twice
8th: Twice
9th: Once

— Jordan Bastian (@MLBastian) August 14, 2016
"Electric stuff. Super consistent," Indians starter Trevor Bauer said of Miller. "The way he approaches it, that's the part I get to see now that I didn't see before, just the consistency of the routine and the mindset every day. He's been a big acquisition for us already."
Cleveland's recent run of relief success extends beyond Miller, too.
Right-hander Dan Otero ranked eighth among AL relievers with a 56.2-percent ground-ball rate and is sporting a 1.52 ERA through 43 appearances. The highest Otero's season ERA has climbed is 1.74 back on May 9. Shaw, though prone to a big inning here and there, has a 3.60 ERA overall and has logged 24 shutout efforts in his past 25 games. Allen has a 2.37 ERA, 63 strikeouts in 49 1/3 innings and a 0.52 ERA in his past 17 trips to the hill.
"It's fun getting to watch these guys," Miller said. "Otero's pitched some great innings, some important outs. He comes in and gets ground balls. I think top to bottom, we've got a good unit out there. It's more than just one, two, three guys."
And, when the bullpen phone rings, it might be any one of those guys called upon.
"However Tito wants to use me," Miller said, "I'll happily oblige."
Jordan Bastian has covered the Indians for MLB.com since 2011, and previously covered the Blue Jays from 2006-10. Read his blog, Major League Bastian, follow him on Twitter @MLBastian and listen to his podcast. This story was not subject to the approval of Major League Baseball or its clubs.