While rotation struggles, Phillies' bats thrive
Strong offense leads Mackanin's team to 8-4 start in August
PHILADELPHIA -- After Nick Hundley shot a line drive back at Adam Morgan that hit the Phillies starter's left forearm in the fourth inning of the Philadelphia's 7-6 win over the Rockies, manager Pete Mackanin took a look at his chart of starts from the past couple weeks.
"We've been five innings, four innings, five innings, three innings with our starters," Mackanin said. "That really taxes the bullpen. … It's concerning. We don't want that to happen. Every team has injuries but we don't want that to happen now, especially starting pitching."
Two pieces of good news: First, Morgan's forearm doesn't appear to be serious. He left the clubhouse with it wrapped but X-rays were negative and he only has a bruise. The second: Despite the poor showing by their starting pitchers, the Phillies are 8-4 in August.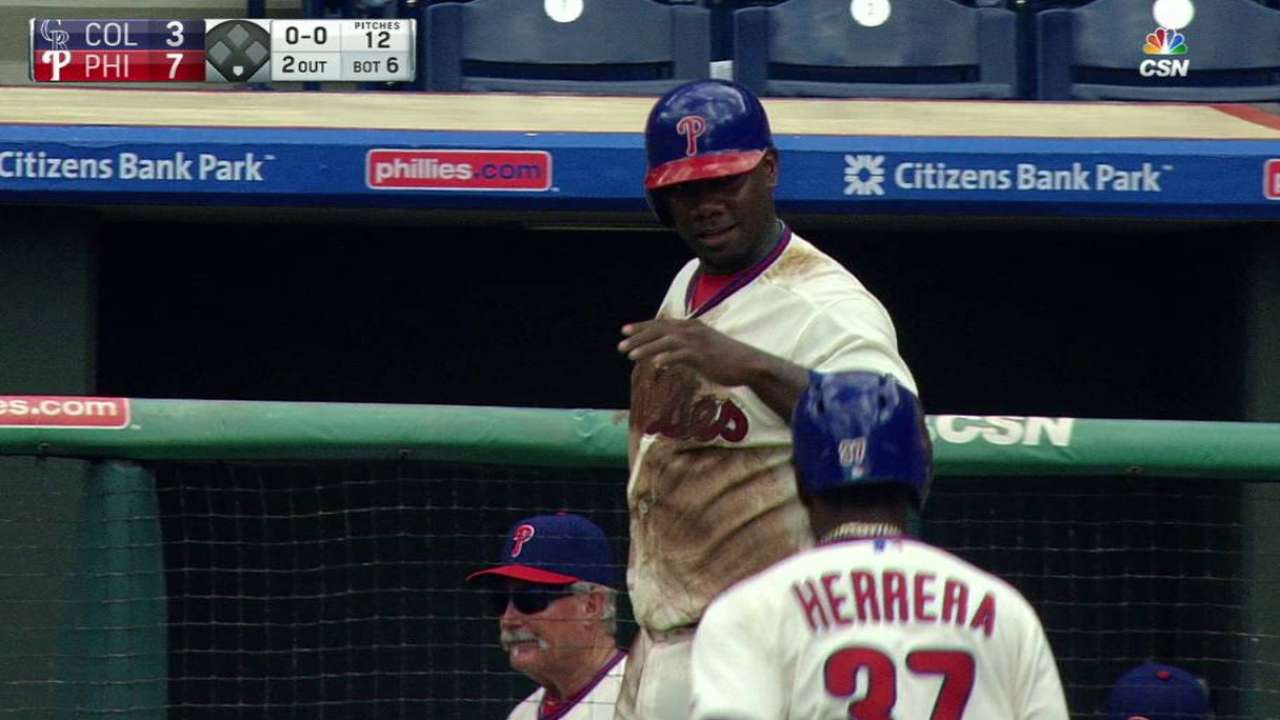 The dog days of summer are upon us and the temperature outside is rising. So is that of the Phillies' lineup. Only three teams in baseball are averaging more runs in August than the Phils. Through the first 12 games of the month, the Phillies are averaging more than six runs a game, including showings of seven, six and 10 in their first sweep of the Rockies since 2012.
And they did so while also allowing 15 runs over the three games. It's the most runs allowed over any stretch of three wins for the Phillies all season. Colorado has scored the third-most runs in baseball this season.
"It's great to sweep a team like the Rockies, with their offense," Mackanin said.
"Everybody's contributing," he continued. "I feel like everybody's getting opportunities. It's good to see. When you win a game, the more players that are involved in that game, the happier I am. I think it unites the team."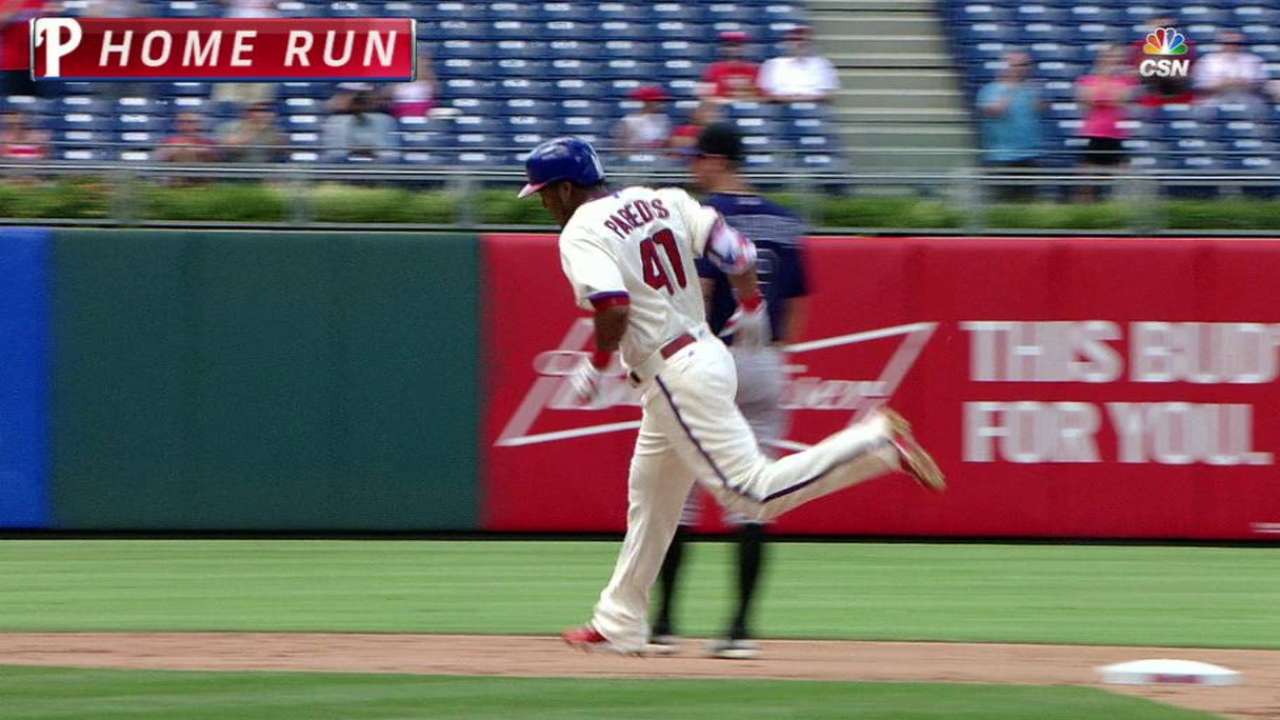 Although the seven runs Sunday were a team effort, as Mackanin said, Jimmy Paredes led the charge. By the fifth inning, Paredes was a triple away from the cycle. Making a cameo in the starting lineup, Paredes drove in three of the Phillies' run, including one on a solo shot that just cleared the left-center-field wall in the fourth.
"You never know when they're going to give you a chance and when they're going to call you to play," Paredes said. "I was ready for my chances. They gave me my chance, and I did the best I can."
The win was the Phillies' fourth straight -- their longest streak since the first week of July. They scored four runs in each of the four games, making for the longest such streak by the team since June 2013.
Evan Webeck is a reporter for MLB.com based in Philadelphia. This story was not subject to the approval of Major League Baseball or its clubs.