Stunning rally provides nice finish to O's road trip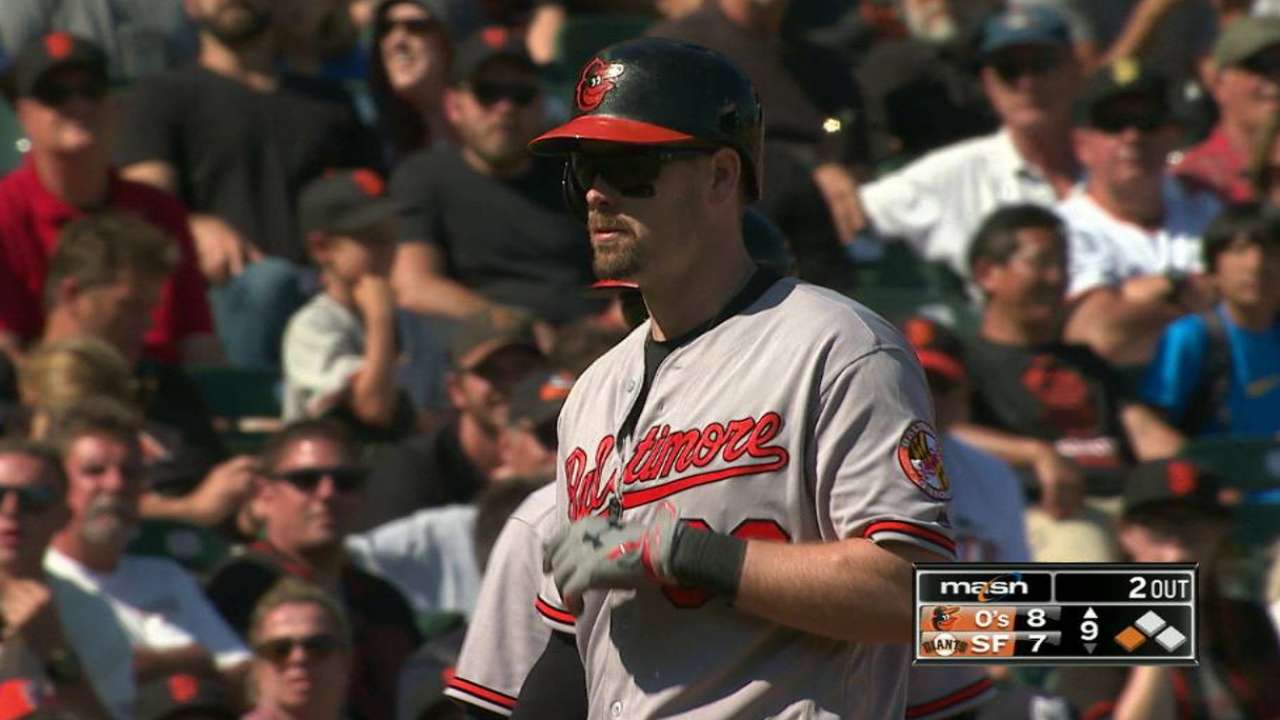 SAN FRANCISCO -- Staying engaged. Orioles manager Buck Showalter uses the phrase frequently. Orioles catcher Matt Wieters said it was just the ability to come back.
Whatever words are used to describe Baltimore's come-from-behind 8-7 victory over the San Francisco Giants at the end of a long, grueling 10-day road trip on Sunday, it meant a happy flight home.
"This is the type of game you have to win going forward," said Wieters, who collected a career-high five hits, including a triple. "Sometimes you have to come back and win games you shouldn't. You just keep playing. It can turn like that.
Jonathan Schoop put the finishing touch on the rally with a three-run home run (on what would have been Earl Weaver's 86th birthday no less) in the top of the ninth inning, and the Orioles came back from a six-run deficit to secure a 5-5 road trip.
"This team never quits," Schoop said. "We kept saying, 'Let's chip away.' We kept grinding, kept fighting. If you keep playing hard, anything is possible."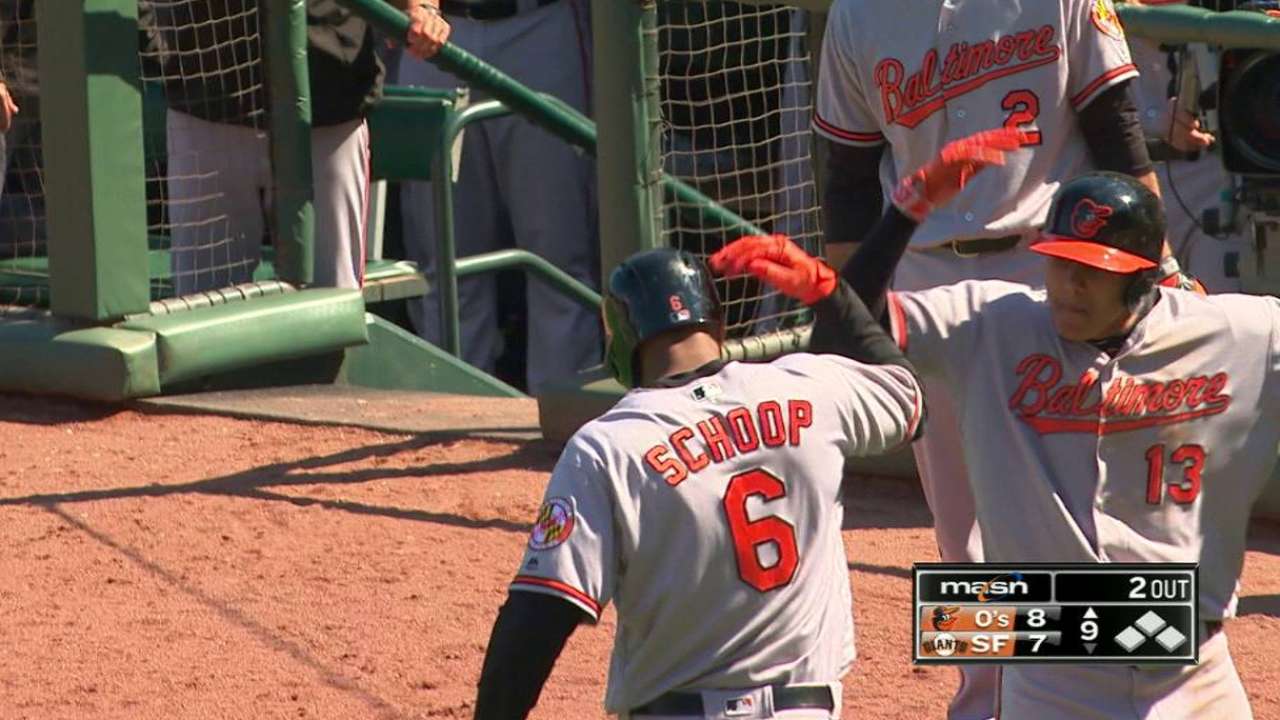 Adam Jones, who seems to be in the forefront of many Orioles rallies, drove in the first two runs of the game after Johnny Cueto made it look easy the first four innings.
Mark Trumbo's Major League-leading 34th home run, a solo shot in the eighth, shook the Orioles out of their offensive doldrums, setting in motion all the intricacies of the comeback.
"All year long, we've been able to come back," Wieters said. "It's been a long, grinding road trip, and to see a happy flight home is good."
Schoop delivered his 12th game-winning hit an inning after contributing a single to the two-run eighth inning.
"You can't even call him young anymore," Wieters said. "He's only 24, but he's come into his own."
Solid lowering of the shoulder on the post-homer celebration, Manny. https://t.co/QaAJIA6vkH https://t.co/R3nJqP0VCj

— Cut4 (@Cut4) August 15, 2016
Wieters, with 10 hits over his previous 80 at bats (.125) entering the day, upped his average .013 points to .245 with his career day.
"I finally got some balls to go through," the All-Star catcher said. "I've actually felt better the last couple of weeks."
For a seemingly lifeless offense the first three games in Oakland, the Orioles had a terrific road trip, averaging 4.6 runs per game, compared to 3.2 runs per game the previous 10.
The Orioles, trailing the first-place Blue Jays by a half-game, head home with a chance to separate themselves from the rest of the AL East, against whom they play 31 of their final 45 games, starting with the Red Sox on Tuesday.
Rick Eymer is a contributor to MLB.com based in the Bay Area. This story was not subject to the approval of Major League Baseball or its clubs.