Tigers to rely on roster until Maybin returns
Ausmus: Club unlikely to check market with injured outfielder recovering quickly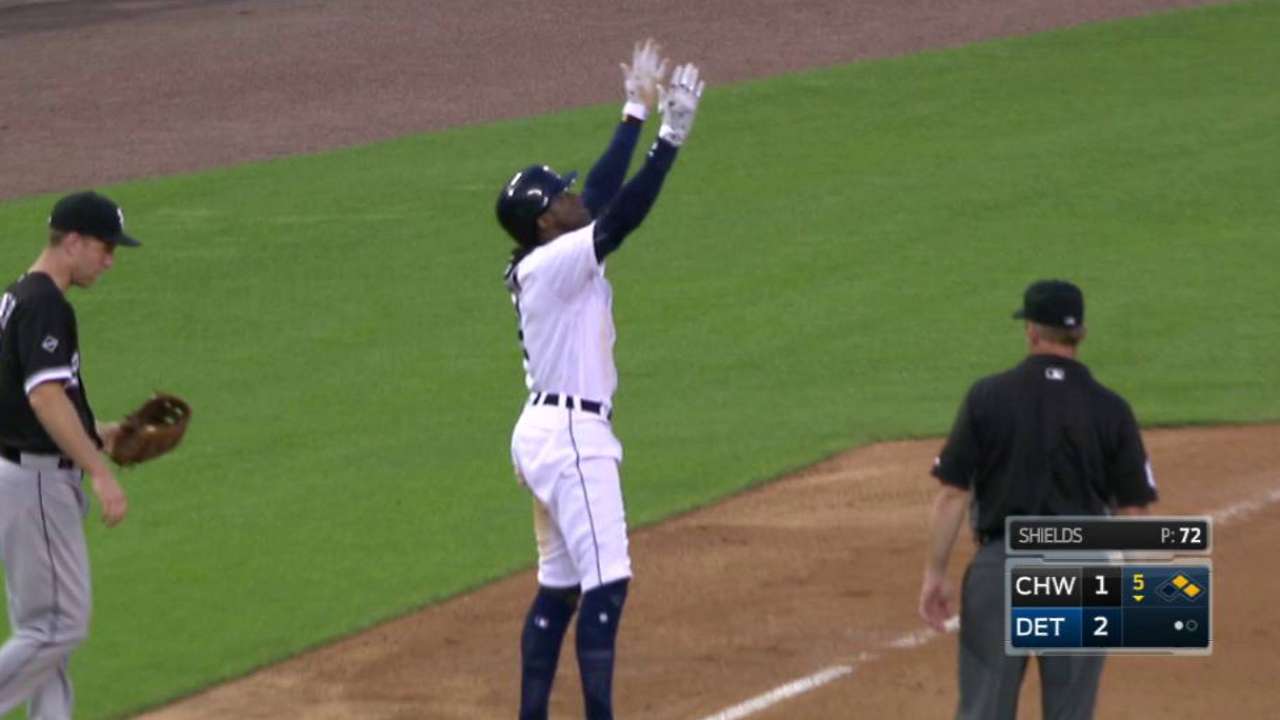 ARLINGTON -- Cameron Maybin has started shagging fly balls again during batting practice as he works his way back from a sprained left thumb. However, he's not expected to pick up a bat until next weekend.
"He said he's been feeling better the last couple days, which is a good sign," manager Brad Ausmus said Sunday morning. "He took some fly balls. It didn't bother him to close the glove at all. He has to get to a point where he can start swinging a bat, which would probably be next week sometime, just to test it."
How quickly he can get back to game action if he feels fine hitting, and whether he would need any Minor League rehab games, remains to be seen. Maybin is eligible to return from the 15-day disabled list on Friday. That timetable seems unrealistic at this point, though he might not be out much longer if he can hit without pain.
With a relatively quick return in mind, the Tigers are inclined to go with Tyler Collins and their current roster while he's out, rather than seek an acquisition. Though speculation rose that Detroit could pursue Carlos Gomez after the Astros designated him for assignment a few days ago, Ausmus indicated they're not likely to pursue any center fielder unless Maybin's situation worsens.
"I think if it was something that we thought was going to be season-ending, we might [check the market]," Ausmus said. "I don't know if we'd do it other than that [scenario]. But right now, the hope is he can start swinging a bat at the end of the homestand, see how he feels."
The Tigers' history with Gomez dates back to his days as a young center fielder with the Twins in 2008, when he engaged in an argument with then-Tigers catcher Pudge Rodriguez. Gomez scored the winning run for the Twins in the 2009 American League Central tiebreaker game, then was traded to Milwaukee, where he became a two-time All-Star outfielder. The Astros, who acquired him in a trade at last year's deadline, cut ties with him on Wednesday. He hit .221 (98-for-444) in his time with Houston, with 25 doubles, nine home runs, 42 RBIs, 46 runs scored, 29 walks and 131 strikeouts.
Jason Beck has covered the Tigers for MLB.com since 2002. Read Beck's Blog, follow him on Twitter @beckjason and listen to his podcast. This story was not subject to the approval of Major League Baseball or its clubs.