Schebler making strides in right field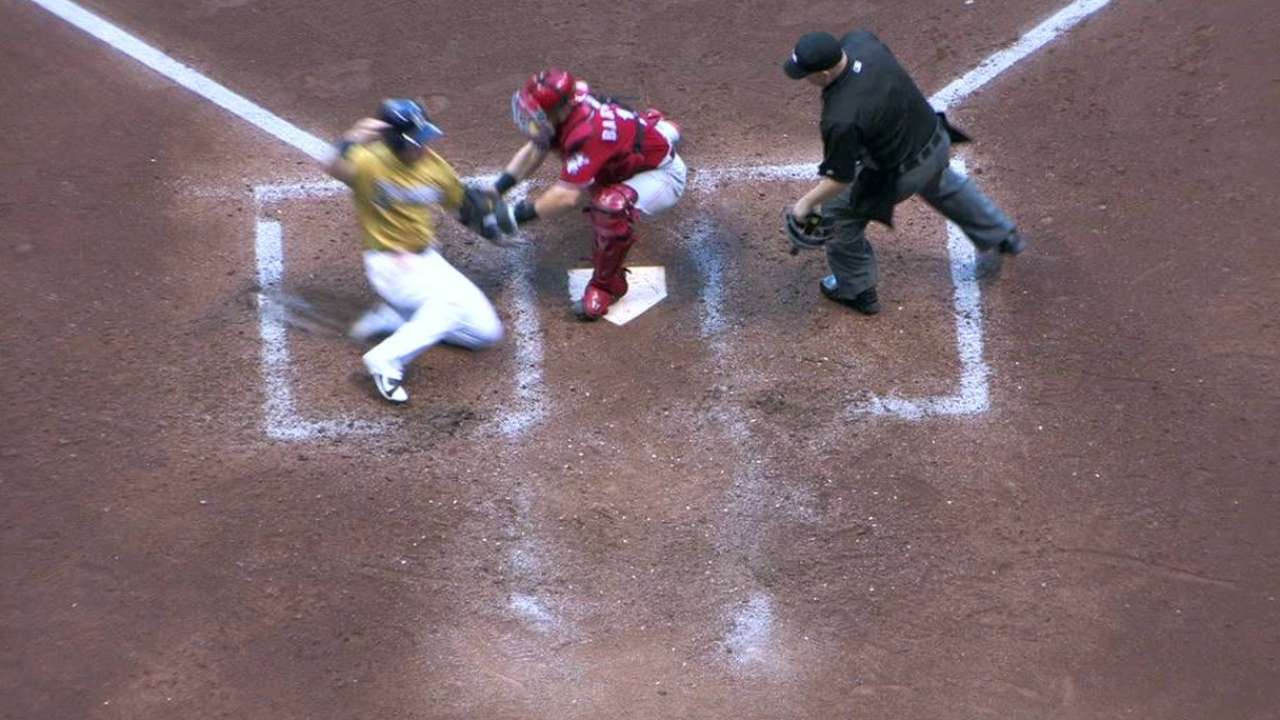 MILWAUKEE -- There was no malice intended earlier this year, as Reds right fielder Scott Schebler recalled it, when prospect Jesse Winker commented on his throwing arm while they were together at Triple-A Louisville.
"He said 'Man, you had a rough arm, I thought.' ... He was like, 'You know what? You can actually throw,'" Schebler said Sunday about the conversation with Winker. "He meant it in the best way possible, he's such a good guy."
Schebler, 25, did have a reputation for a below-average throwing arm since he turned professional in 2010 with the Dodgers. Some high looping throws from center field this year at Reds Spring Training didn't help. Manager Bryan Price profiled him more as a left fielder or center fielder rather than in right field, where stronger arms usually man the position.
"It wasn't, like, the yips or anything," Schebler said. "I just had a bad arm, wasn't accurate and lost the mechanics of it. Once I got that back, I started strengthening and doing some stuff I learned over there, and it's helped me out."
With the trade of Jay Bruce to the Mets on Aug. 1, the Reds had a vacancy in right field, and Price wanted to see what Schebler could do with it. Price has called the performance to date a "mixed bag", but Schebler has two outfield assists since his Aug. 2 recall from Louisville. One was a nice play off the wall and a relay to the plate in the fourth inning of Saturday's win vs. the Brewers.
"I'd like for him to finish the year playing right field and really be able to assess what he does," Price said. "Right now, the opportunity with this particular team is in right field, so I'd like to get a really good feeling if that looks like an option for him to play that position. He plays hard. He's certainly going to get better with the experience. I think he has the skill set to do it. The question was, could he throw as a right fielder? So far what we've seen is he's thrown a lot better than he did in Spring Training."
As Schebler improves his throwing, he's still trying to get traction at the plate. He carried a career-high 0-for-25 streak into Sunday and entered batting .143 during his second stint in the big leagues this season despite a big splash in his first game back with a walkoff homer vs. the Cardinals.
"I feel like I've run into a little bit of bad luck," Schebler said. "I feel like I've had good at-bats. I've been walking. I lined out last night and the night before that. It's one of those things where you try not to overthink it. Obviously, I want to hit. But if we're winning, that's the biggest thing. The thing I hate more than not getting hits is losing."
Price believes that Schebler will get going at the plate and is prepared to let him work through it as the regular right fielder.
"It doesn't have a great deal of relevance right now. We're just trying to get him comfortable," Price said. "Once he's comfortable here, I think he'll put up some consistent and impressive numbers."
Mark Sheldon has covered the Reds for MLB.com since 2006, and previously covered the Twins from 2001-05. Follow him on Twitter @m_sheldon and Facebook and listen to his podcast. This story was not subject to the approval of Major League Baseball or its clubs.