Eickhoff's 6th-inning struggles continue
Right-hander has allowed 24 runs in the difficult frame this season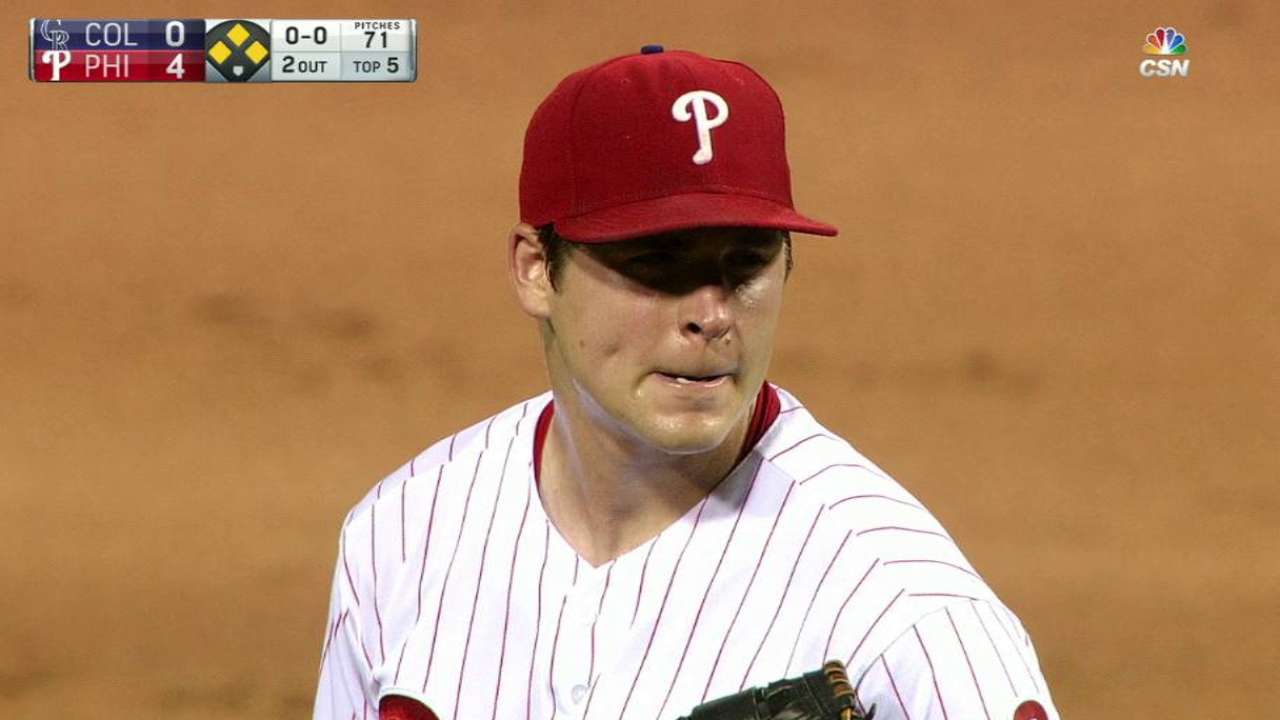 PHILADELPHIA -- Numbers don't lie. And they don't tell a pretty story for Jerad Eickhoff after the fifth inning.
Albeit in a 6-3 Phillies win, the Rockies again signed their name to the list of teams to torch Eickhoff the third time around the order. They had done so once already, scoring six of their eight runs off Eickhoff in the sixth inning of his start at Coors Field in July.
The first five innings Saturday were hardly easy for Eickhoff. He allowed six hits and nine baserunners but stranded them all. David Dahl doubled with one out the sixth, and he was not stranded.
Daniel Descalso homered the next at-bat and Tony Wolters followed two batters later with a solo shot of his own. After a triple by pitcher Chris Rusin, Eickhoff's night was over, in the sixth, again.
With the two outs recorded in the inning Saturday, Eickhoff has now pitched 17 total sixth innings this season. In those, he has allowed 24 runs. Over 119 1/3 total innings pitched in the first through fifth frame, Eickhoff has allowed a combined 34 runs. His sixth-inning ERA climbed to 12.71.
"Eickhoff, the sixth inning again, I don't know what it is," Mackanin said. "He just lost his command in that sixth inning. He's been doing that, so we've got to go to work on that and see what the problem is."
Eickhoff knows what the numbers say, but he doesn't see any trend. To him, it's a different malfunction each time. On Saturday, he said he lost his touch on the curveball. The start prior, in which he completed the sixth, but not before allowing three Padres runs, he pointed to a single mistake pitch on a two-run Ryan Schimpf home run. Even dating back to his Minor League days, Eickhoff said it was the early innings, not the late ones, that gave him trouble.
"It's just kind of how trends happen," Eickhoff said, emphasizing their randomness. "It's not anything concerning for me."
While Eickhoff may not have an explanation for the consistent sixth-inning struggles, there was an easy one for Saturday's. With temperatures north of 90 degrees and a heat index of 105 at first pitch, Eickhoff (and everyone else) was dripping with sweat. He had command of his curve in the first, but it evaporated as the game continued.
A curveball may be the pitch most affected by a slick hand: having to grip the seams, flick the wrist to get the ball spinning, all while commanding it with precision -- ideally. It had been "a while" since Eickhoff pitched in hot and humid conditions comparable to Saturday, and he didn't shy away from admitting its effects.
"I felt like I had it early on," Eickhoff said. "But as the game went on and the more I sweat, the moisture kept building. I couldn't throw it like I wanted to. It's just a part of the game. I've got to adjust to it and I wasn't able to do that
Evan Webeck is a reporter for MLB.com based in Philadelphia. This story was not subject to the approval of Major League Baseball or its clubs.