Santana cleared of concussion symptoms
Outfielder could pinch-hit Saturday; Salazar could return to rotation soon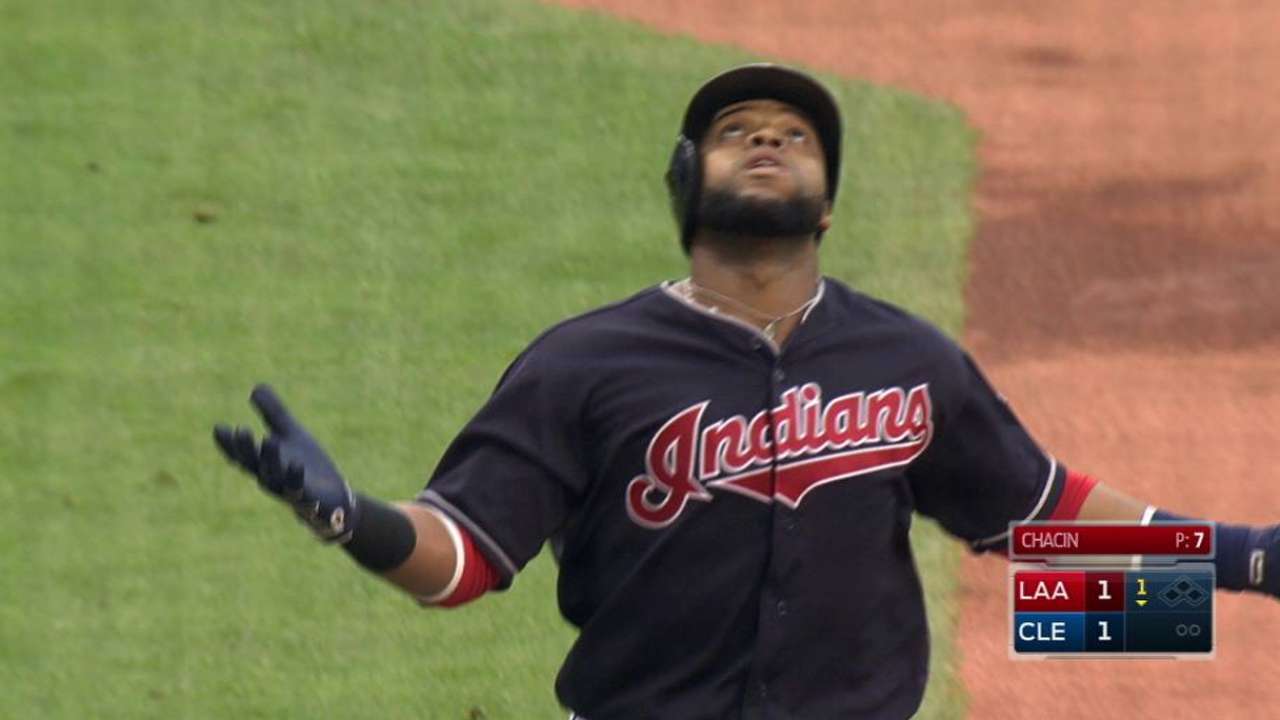 CLEVELAND -- Carlos Santana has been cleared of any concussion symptoms, and Danny Salazar appears poised to return to the rotation. After health scares involving both players, it was good news on both fronts for the Indians on Saturday.
Santana played catch, did some running drills and fielded ground balls on Saturday, passing more tests after being hit in the head by a foul ball during Thursday's game. Indians manager Terry Francona noted that Santana, while not in the starting lineup against the Angels, was given the go-ahead by the medical staff to play.
"He's completely cleared," Francona said. "We probably could have played him tonight. I just felt like, we'll have him available off the bench. I just thought a night [off from starting] wouldn't hurt him. But he's doing terrific, so that's good. He'll play tomorrow and might pinch-hit tonight. But he was completely cleared, and he feels great."
Salazar, who is on the 15-day disabled list after a bout with right elbow inflammation, threw a 15-pitch bullpen session with just fastballs and changeups on Friday. The right-hander is slated to throw a full bullpen session with all his pitches on Sunday. If all goes according to plan, Salazar should be able to slot back into the starting rotation around his activation eligibility date.
As of right now, Cleveland has Corey Kluber and Carlos Carrasco listed as the probable pitchers for Tuesday and Wednesday, respectively, against the White Sox. Salazar is eligible to come off the DL on Wednesday, putting him in line to potentially start Thursday's game against Chicago. Right now, Cleveland has not announced a planned starter for that day.
"He's doing fine," Francona said. "When [it's] his day to pitch, he'll be ready. And, we'll figure out when we want to plug him in and what we want to do behind him, things like that."
Salazar has gone 11-4 with a 3.38 ERA in 20 starts this season, earning a spot on his first All-Star team along the way. In the righty's four most recent starts, however, he had an 8.84 ERA and complained of elbow soreness after his last outing on Aug. 1.
Salazar said the time off has done him good.
"I don't feel like what I was feeling. It feels really loose right now," Salazar said. "Sometimes it's not just a peace of mind. Sometimes your elbow hurts. When you go out there, you know it hurts and sometimes your body, even though you're trying to do something different, your body holds you back a little bit, so you feel pain-free. That's what I think.
"I think right now, I'm really positive to throw another bullpen [Sunday], a full bullpen -- curveball, slider, changeup, fastball -- and then just set up a day to be back on the mound."
Jordan Bastian has covered the Indians for MLB.com since 2011, and previously covered the Blue Jays from 2006-10. Read his blog, Major League Bastian, follow him on Twitter @MLBastian and listen to his podcast. This story was not subject to the approval of Major League Baseball or its clubs.