Robertson hopes to build on slump-busting save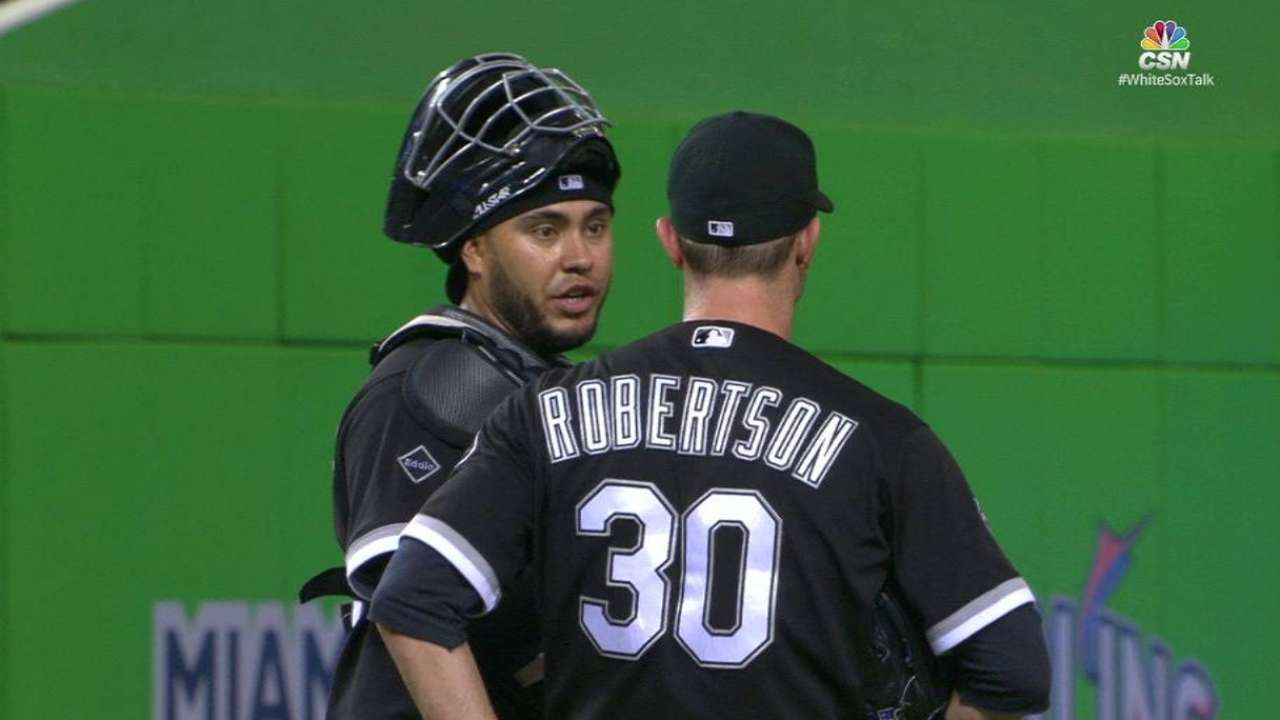 MIAMI -- After blowing two consecutive saves in Kansas City and missing on four of his last eight chances, David Robertson started the ninth inning Friday against the Marlins by falling behind 3-2 in the count on J.T. Realmuto.
"I was like, 'Great, nice job,'" said a smiling Robertson on Saturday, identifying one of his problems during these struggles as getting behind too many hitters. "But then I just refocused and made a couple of pitches and got the out.
"That's all I really needed to do. I've been doing that my whole career. You fall behind, you don't get a swing, but find a way out of it. Hopefully it's a building block for me and I can continue to perform at a better level."
Robertson eventually retired Realmuto on a called third strike and fanned two during a perfect ninth for his 28th save. He termed this recent stretch since the All-Star break as one of the worst of his career, but the veteran who thrived under the Yankees spotlight never lost his confidence.
"I've never done this in my career, pitched this poorly this many times in a row and in this short of a stretch," said Robertson, who has allowed nine runs over 12 innings since the All-Star break. "I tried not to let it get any further than that. Once it consumes you and gets in your head, it's tough to get out of that funk. It was nice to go out and perform well."
The White Sox closer also called this stretch a "slump," although a closer's slump looks a little different than hitters who go 0-for-12.
"That's what I tell guys," Robertson said. "When you are a hitter, you can go 0-for-4 in a day, but you are still going to get four more chances the next day.
"I'm not going to get four more chances. I get one chance, and if you blow one, you blow another, it's like well, you are in trouble. It shows up real quick. Nobody really remembers you went 0-for-4. They remember if you blow the game."
Lawrie begins rehab assignment
White Sox second baseman Brett Lawrie began a rehab assignment with Double-A Birmingham on Saturday, testing a left hamstring strain that placed him on the disabled list since July 27 (retroactive to July 22). There's no set timetable for Lawrie's big league return.
"You have an idea, but you're going to see how he handles his first few games and we'll go from there," White Sox manager Robin Ventura said. "Hopefully everything goes well the first game he is playing, and he is able to come back the next day and play as well. Then we'll have a better understanding of where he's going to be at.
"For as many guys as we have hurt, when you have one who gets to go out and start playing again, you're pretty excited about it. As anxious as he is, and as kind of bottled up as he has been not being able to play, it's nice for him to go out and get a few at-bats and be able to see how it feels."
Wednesday starter undecided
The White Sox have TBA listed as their Wednesday starter, in between Jose Quintana (Tuesday) and Carlos Rodon (Thursday). They could turn to Carson Fulmer or Michael Ynoa in a bullpen day or call up someone such as Anthony Ranaudo from Charlotte.
Scott Merkin has covered the White Sox for MLB.com since 2003. Read his blog, Merk's Works, follow him on Twitter @scottmerkin, on Facebook and listen to his podcast. This story was not subject to the approval of Major League Baseball or its clubs.