Perez's 'crazy' defensive skills only improving
Royals catcher leads MLB in caught-stealing percentage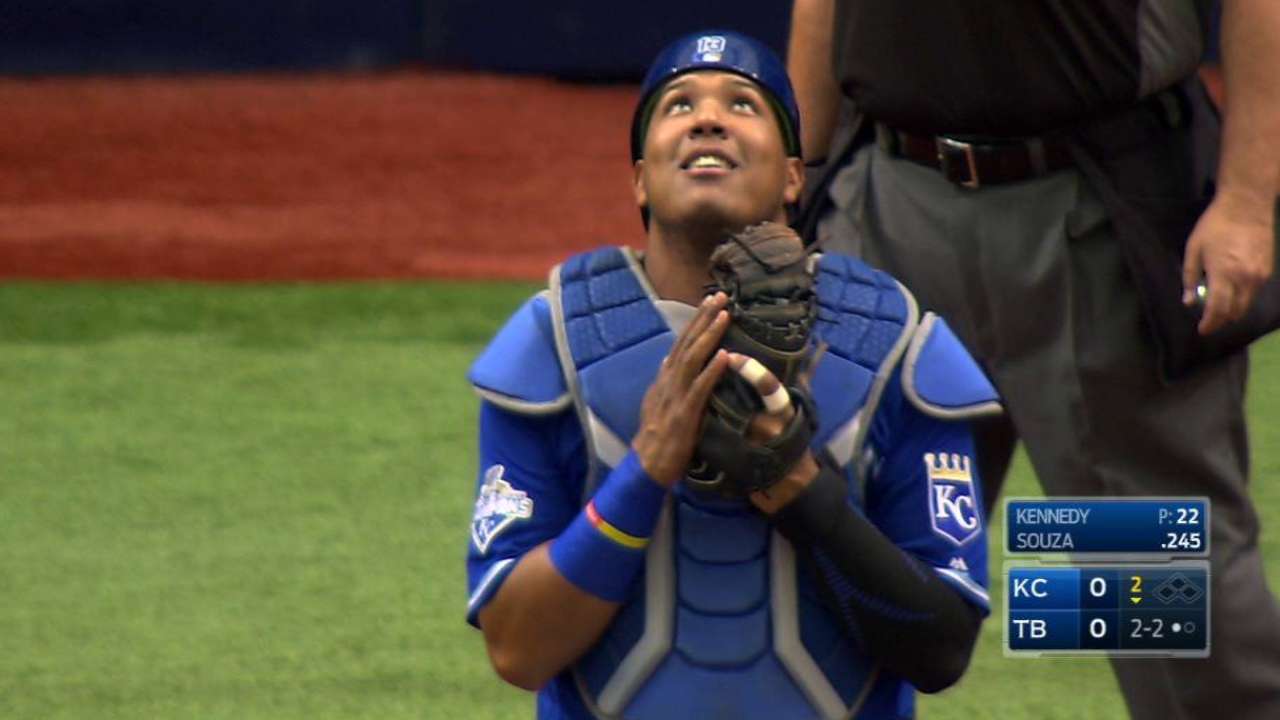 MINNEAPOLIS -- One day last week as Royals manager Ned Yost was sitting in his office gabbing with a couple of reporters, he was asked point blank if Salvador Perez was the best defensive catcher in baseball.
Yost didn't hesitate.
"Absolutely," Yost said. "But well, wait, I'll say best in the league. That other guy [Yadier] Molina is pretty darn good, too."
But every season since Perez emerged on the scene in 2011, the Royals have seen improvement in his defensive skills, whether it's throwing out runners, picking off runners, blocking wild pitches, you name it.
That's the reason that Perez is a four-time All-Star and most likely will grab his fourth straight Gold Glove after this season.
This season especially has been phenomenal for Perez. His caught-stealing percentage is an off-the-charts 53 percent, best in baseball and a career high.
Perez has only two passed balls -- one when he was crossed up by the pitcher -- and that would represent a career low for a full season.
And most impressively, Perez has improved his pop time -- the time it takes after a pitch reaches his mitt to the time it takes to reach a middle infielder's glove -- to a consistent 1.73-1.74 seconds.
The league average for pop time is anywhere from 1.85-2.00. Those with lower than 1.85 pop times are considered very good.
"Nobody does that [1.74] consistently," Yost said. "It's crazy."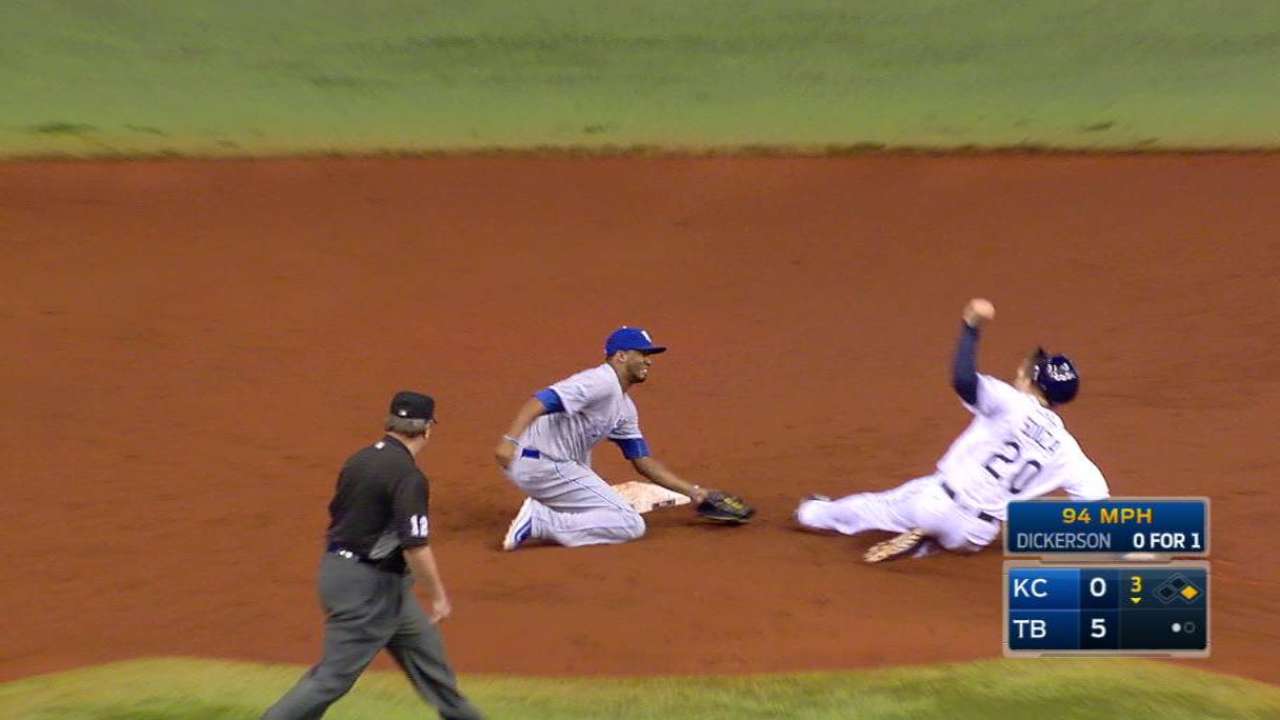 Royals catching coach Pedro Grifol, a mentor to Perez, shakes his head at the number, too.
"I've been in this game a long time and there have been few and far between where I've seen 1.73 or 1.74," Grifol said. "Those are throws that when you see the time, you say, 'OK, let me take it again.' Then you get the same result and you say the same thing. Do it again. And you keep taking the time to see if the time is real, and it is real. It just doesn't happen.
"When you're throwing 1.74 to second base and you're throwing 1.82 from your knees as Sal does, that's unreal."
Actually, the Royals have seen those times from Perez in years past -- just not as consistently as he has delivered them this season.
The improved consistently is a result of hard work on mechanics, Perez said.
"Everything I know behind the plate, I know because of Pedro," Perez said. "He has taught me everything."
Last year, the Indians suggested that Yan Gomes delivered a 1.68 pop time to nail a runner. It's a time the Royals privately dispute, instead believing that the sound barrier of pop times is about 1.70.
Someday, the Royals believe Perez will break that barrier.
"I told Ned, 'It wouldn't surprise me when Sal does it because he plays to the speed of the game,'" Grifol said. "When he needs to speed it up, he speeds it up. He'll see a runner get a bad jump and he'll do a 1.85 or 1.88 because he knows he can get him.
"He'll see a runner get a good jump and it's 1.74. So it wouldn't surprise me that in the perfect situation that with the adrenaline pumping, he could break the 1.70 barrier. I think it will happen at some point."
Jeffrey Flanagan has covered the Royals since 1991, and for MLB.com since 2015. Follow him on Twitter @FlannyMLB. This story was not subject to the approval of Major League Baseball or its clubs.