Hamels takes rough outing in stride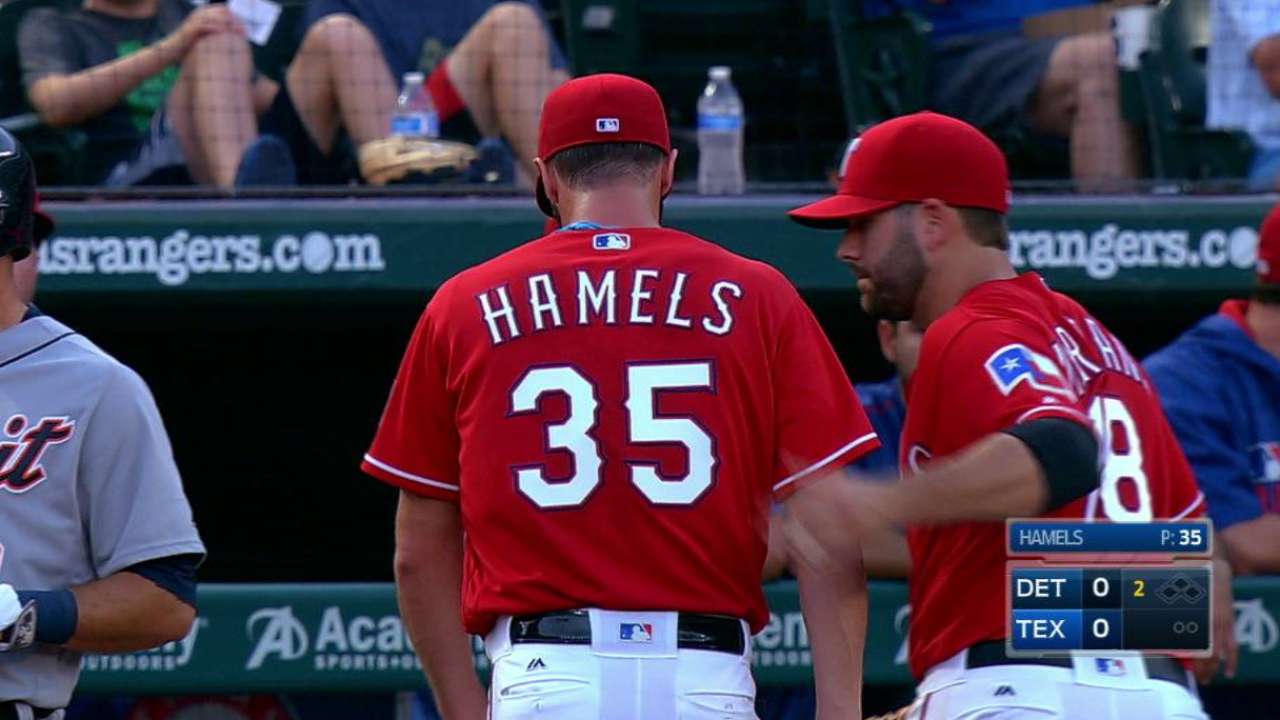 ARLINGTON -- The only thing Rangers left-hander Cole Hamels could do after allowing a career-high 14 hits in a 2-0 loss to the Tigers on Saturday night at Globe Life Park was find some levity in the situation.
"The scouting reports I studied the past four days were probably 0-fer," he said. "I don't know if they were playing a joke on me with putting wrong names and faces with stats, but something was not working."
The only thing more confusing was that Hamels allowed just two runs over seven innings, stranding 11 Tigers on base in the process.
"There's potential danger up and down [the Tigers'] lineup, and I think he maneuvered [well], really only gave up two hard-hit balls," Rangers manager Jeff Banister said. "The rest of the game he managed well. He made pitches, got the outs that he needed to. But you don't see that line much any time."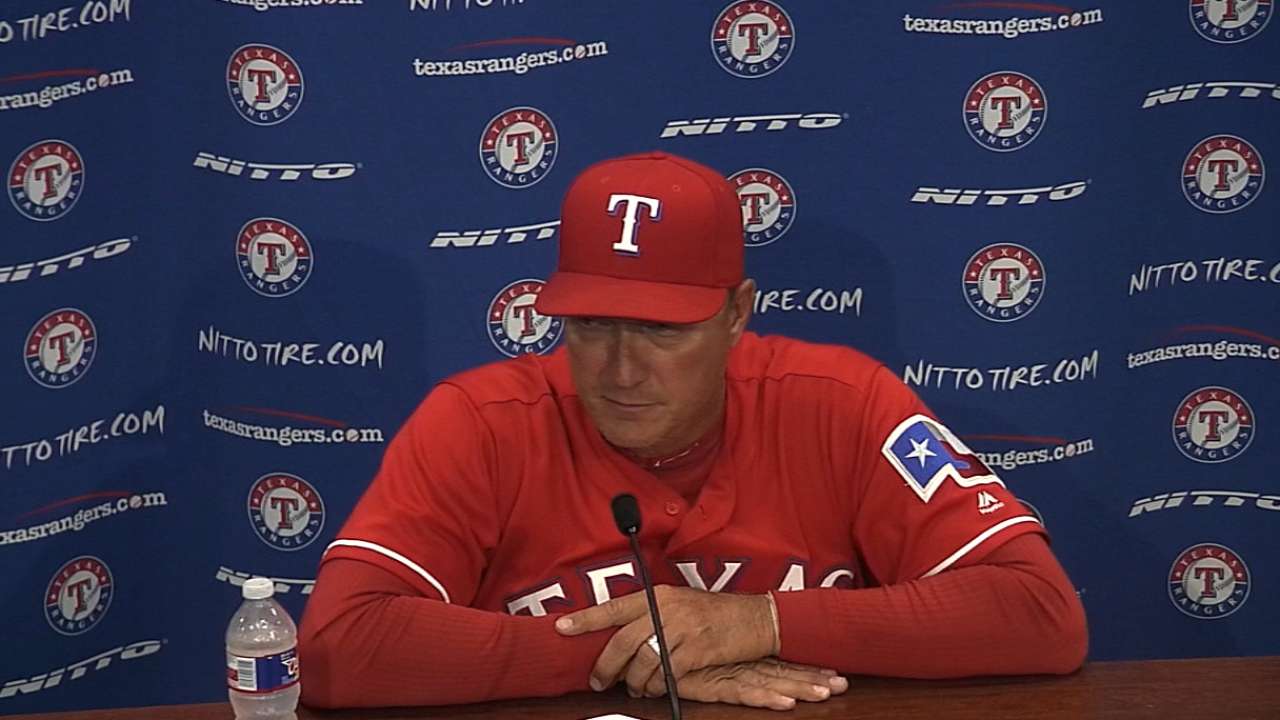 The first time Hamels found himself in trouble came in the second, when the Tigers had runners on second and third with one out following a Mike Aviles double. But the Tigers were unable to score when they decided not to test right fielder Shin-Soo Choo on a medium-depth fly ball before Hamels made a nice play on a comebacker from Ian Kinsler to end the inning with the bases loaded.
Then in the fourth, Aviles led off with a walk. He tried to go first to third the next play on a single from Jarrod Saltalamacchia, but was thrown out by left fielder Jurickson Profar.
"Aviles was trying to take advantage of what looked like Profar laying back on a ball, but he was coming, in my opinion, good at the ball," Banister said. "He made a good throw to third base and a tremendous play by Beltre on the back end of it on the hop to catch and tag at the same time when the runner is coming in hard on him."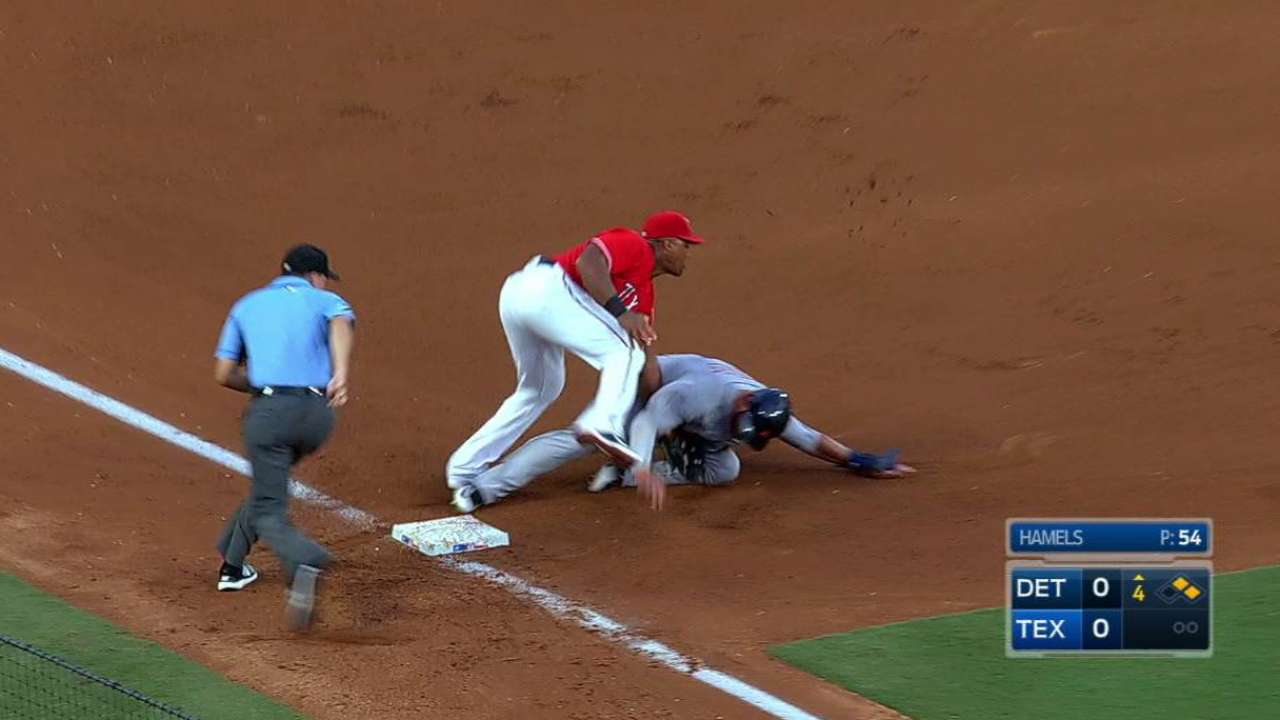 Two batters later, Saltalamacchia tried to score from first on a bloop double from Kinsler, but was thrown out by Choo who attempted a sliding catch on the fly ball.
"[Choo] stayed under control and made a good play on the ball and made a tremendous throw to Lucroy, and another great play on the back end," Banister said.
"I don't think I would have made it without the big plays in the outfield," Hamels said. "The outcome would have been a little different."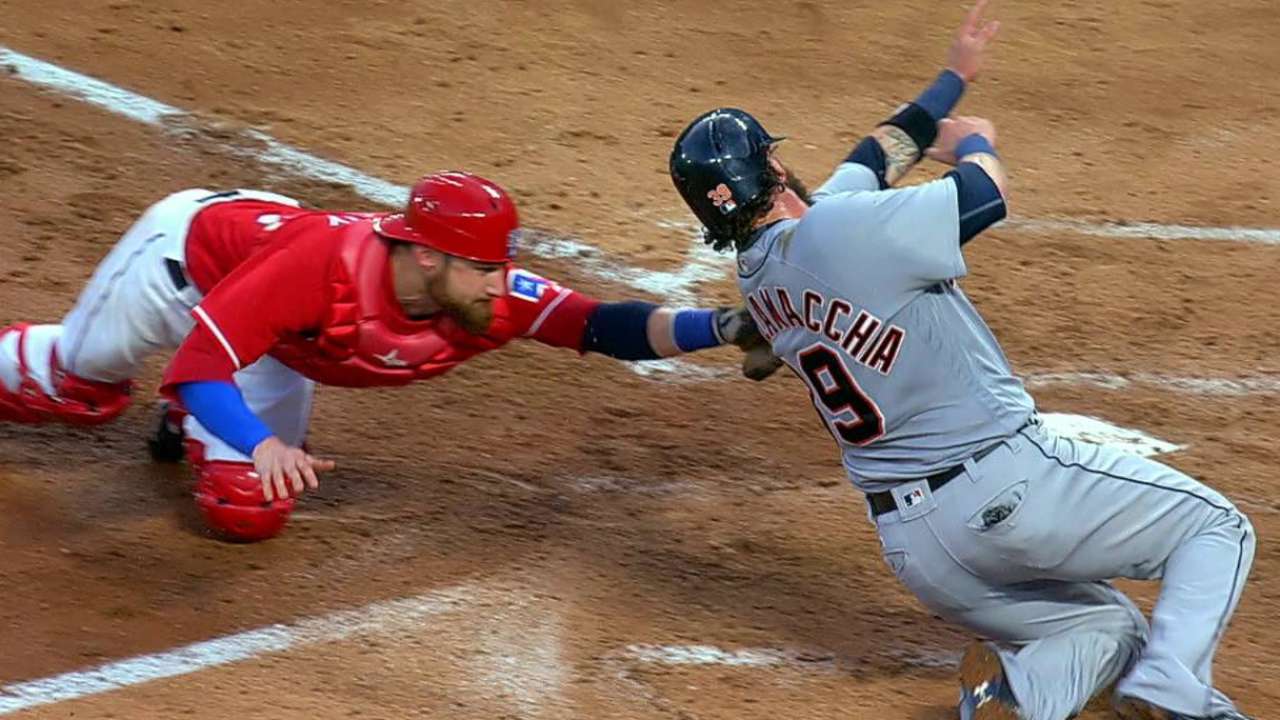 The Tigers finally broke through with an RBI single from Victor Martinez on their 10th hit of the game in the fourth. But that inning ended with a 5-4-3 double play with the bases loaded.
"People look at it when you give up hits, you don't have your best stuff," Hamels said. "Sometimes strikeouts aren't as important as double plays."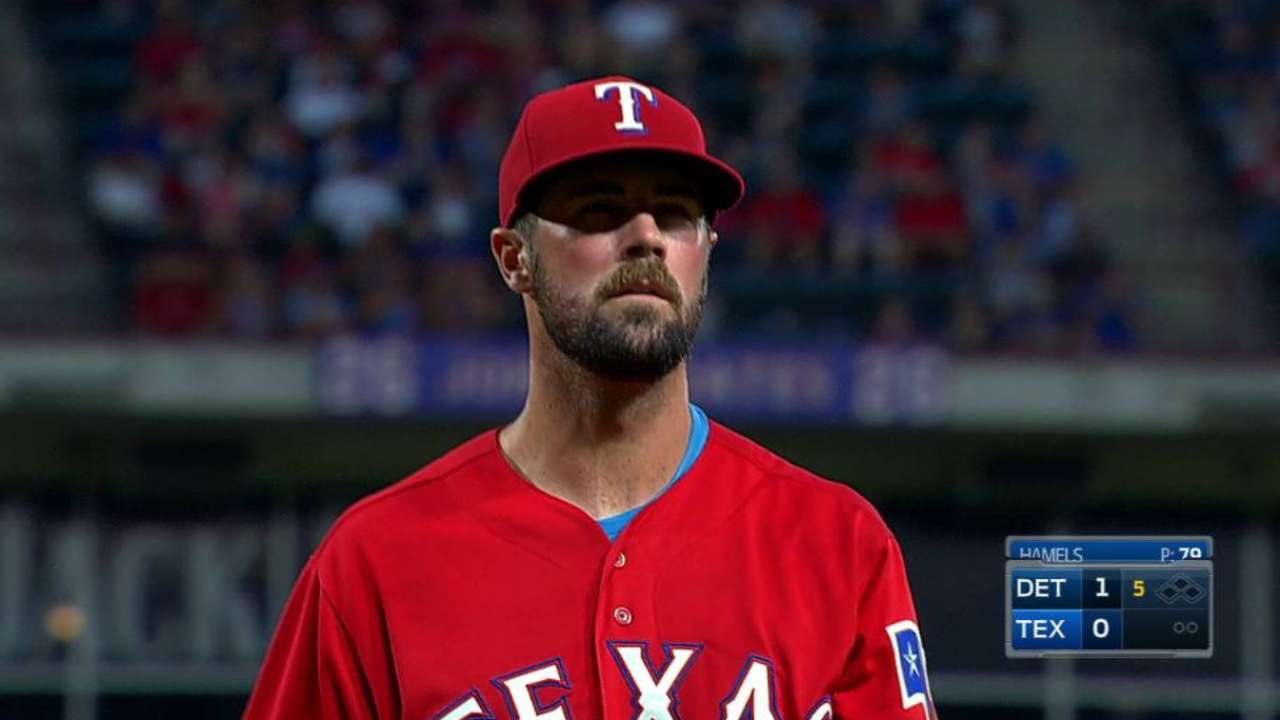 Hamels gave up just one more run over his seven innings. He picked up his fifth quality start in six outings since the All-Star break. The Rangers gave him just three hits in support and didn't get a hit between the third and the ninth innings.
The 14 hits allowed by Hamels matched a club record, last done by Matt Harrison on April 27, 2012. Bobby Witt (1996) and Dennis "Oil Can" Boyd (1991) are the only other two players in club history to allow that many hits in a game.
"Baseball is a funny game and sometimes you have [bad] outcomes when making pitches," Hamels said. "Sometimes those hits just make their way to no-man's land, but that's what good hitters do."
Ryan Posner is a reporter for MLB.com based in Texas. This story was not subject to the approval of Major League Baseball or its clubs.