Youth powers Yanks in win against Rays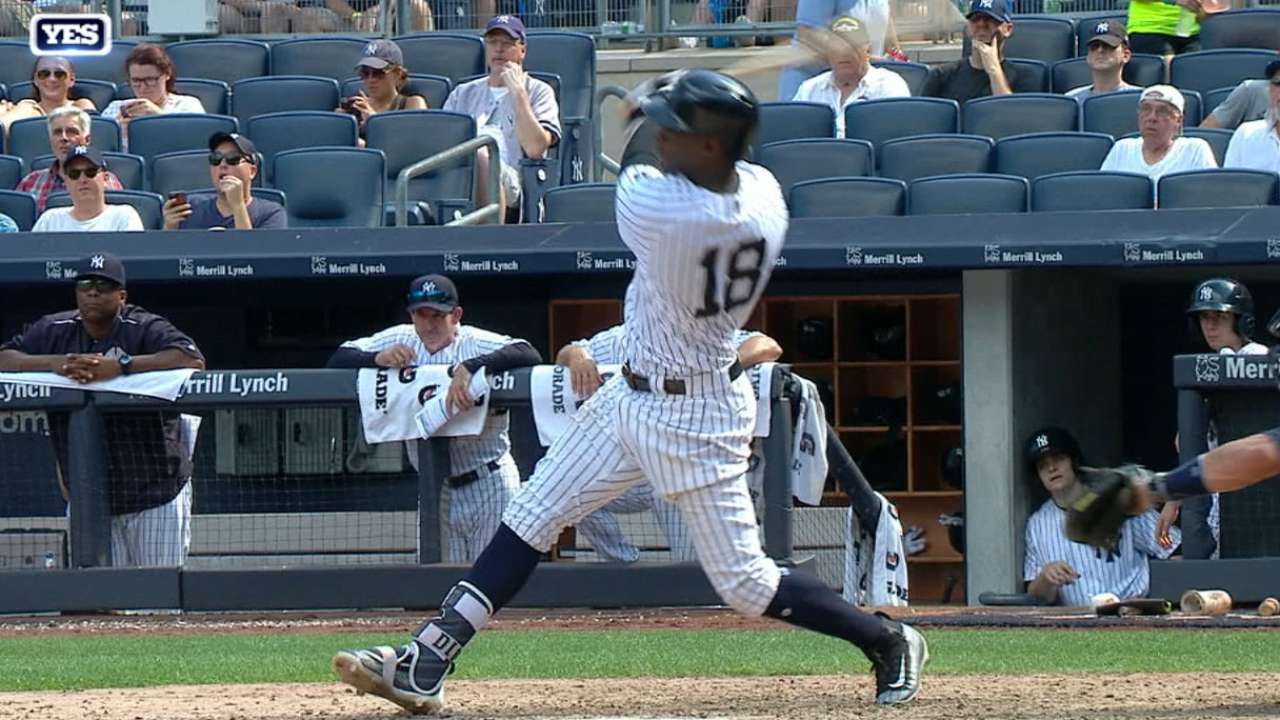 NEW YORK -- All season, Yankees manager Joe Girardi and general manager Brian Cashman have vowed that the Yanks can get younger and still compete at a high level. On Saturday, the team backed up that notion.
Behind five home runs, two of which were hit by players making their Major League debuts, the Yankees defeated the Rays, 8-4, for their fourth straight win. The two rookies, Tyler Austin and Aaron Judge, started at first base and right field, respectively, and went back to back in the second inning, becoming the first pair of teammates in MLB history to record their first career home runs in their first at-bat in the same game. Both finished 2-for-4 with a home run and a single.
"I don't think I could've asked for anything better," Austin said. "Especially with us coming out on top with a win today, I think that was pretty awesome."
• Yankees promote prospects Judge, Austin
"I don't know those guys too well," Rays starter Matt Andriese said. "I just went out there with a little game plan that we came up with. I mean, good for those guys."
Despite a less-than-stellar fourth in which he allowed three runs on four hits, Masahiro Tanaka settled down and pitched a solid game for the Yankees, allowing four runs in seven innings. Rays first baseman Brad Miller was his nemesis for the afternoon, notching his 21st and 22nd home runs of the season to drive in all four of the Rays' runs.
• Bloom: Farewell A-Rod, hello Yanks' new era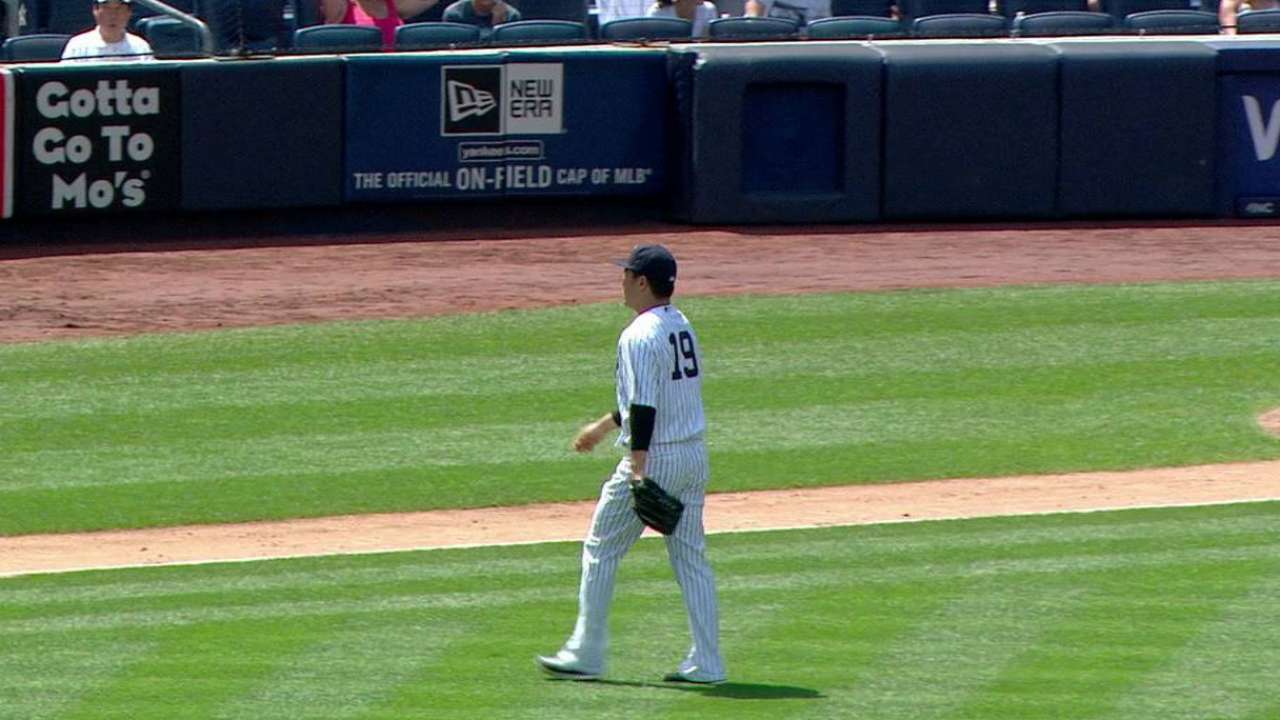 MOMENTS THAT MATTERED
Taboo bunt pays off: Tanaka had a perfect game going, retiring the first 10 hitters before Kevin Kiermaier dropped down a bunt single with one out in the fourth. The play, which some who follow baseball consider against the unwritten rules, broke up the perfecto and ignited a rally. Evan Longoria followed with a single to right before Miller hit a three-run homer to left, giving the Rays a 3-2 lead. More >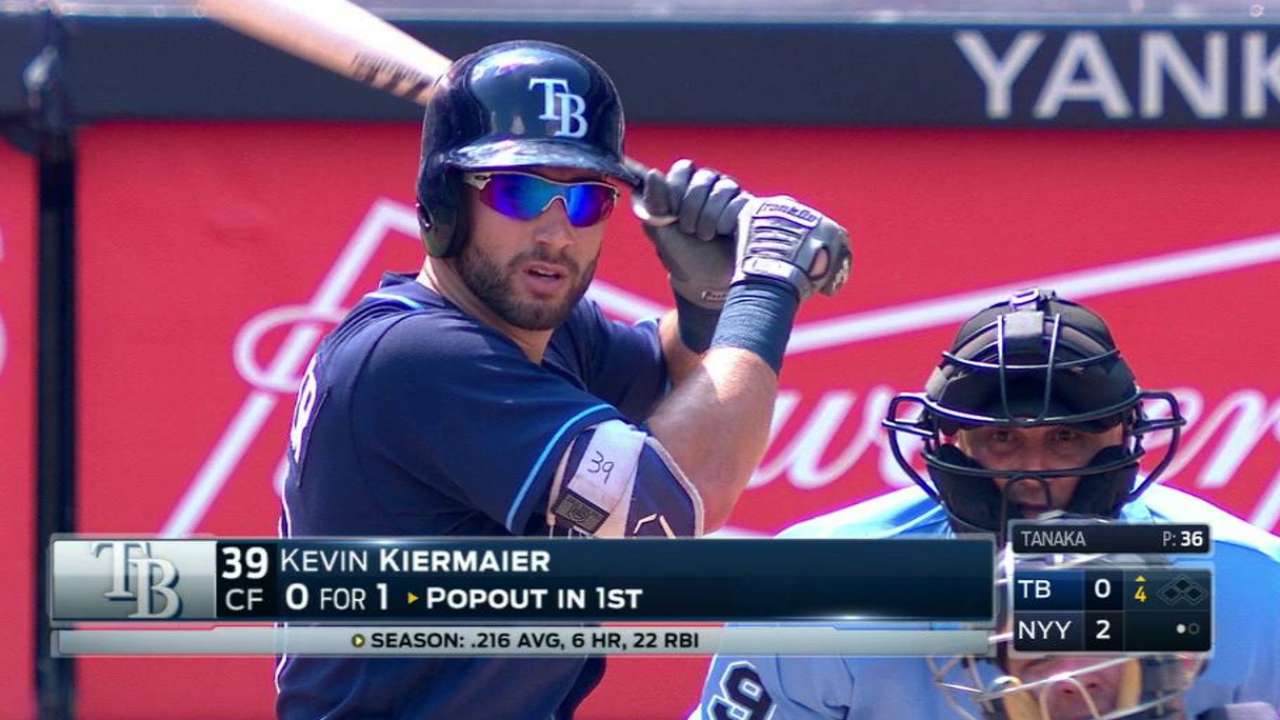 Rookie fever: Hitting seventh and eighth in the lineup for their Major League debuts, Austin and Judge started their careers off by launching back-to-back home runs. Austin took advantage of the short porch in right field, sneaking it over the fence. While there was doubt with Austin's shot, there was none with Judge's. He launched it a projected 446 feet, tied for the longest a Yankees player has hit a ball at home in the Statcast™ era. More >
"It was exciting," Judge said. "Tyler went out there and he got down 0-2 really quick, but he battled and had a great at-bat and was able to hit one out. I was ecstatic on deck and I was like, 'I've just got to make contact now.' What a day. That's all I can really say."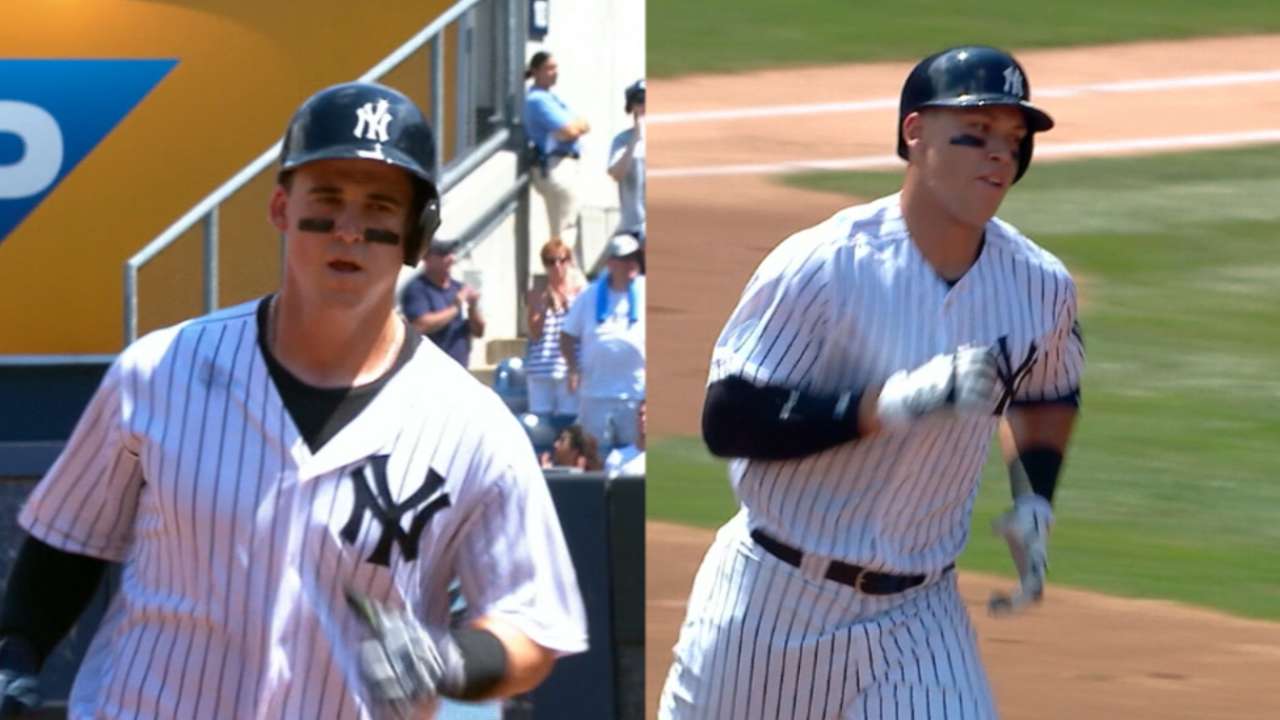 Miller's power: After hitting a three-run homer in the fourth, Miller added a solo shot in the sixth. The multihomer game was the sixth of Miller's career and his first since May 16, 2015. It was the ninth multihomer game for a Ray this season.
"I haven't had much success off [Tanaka]," Miller said. "... He's a pitcher. He's a really good pitcher. He paints and he can throw three or four different pitches in there anytime. So you have to be ready when a good one comes in."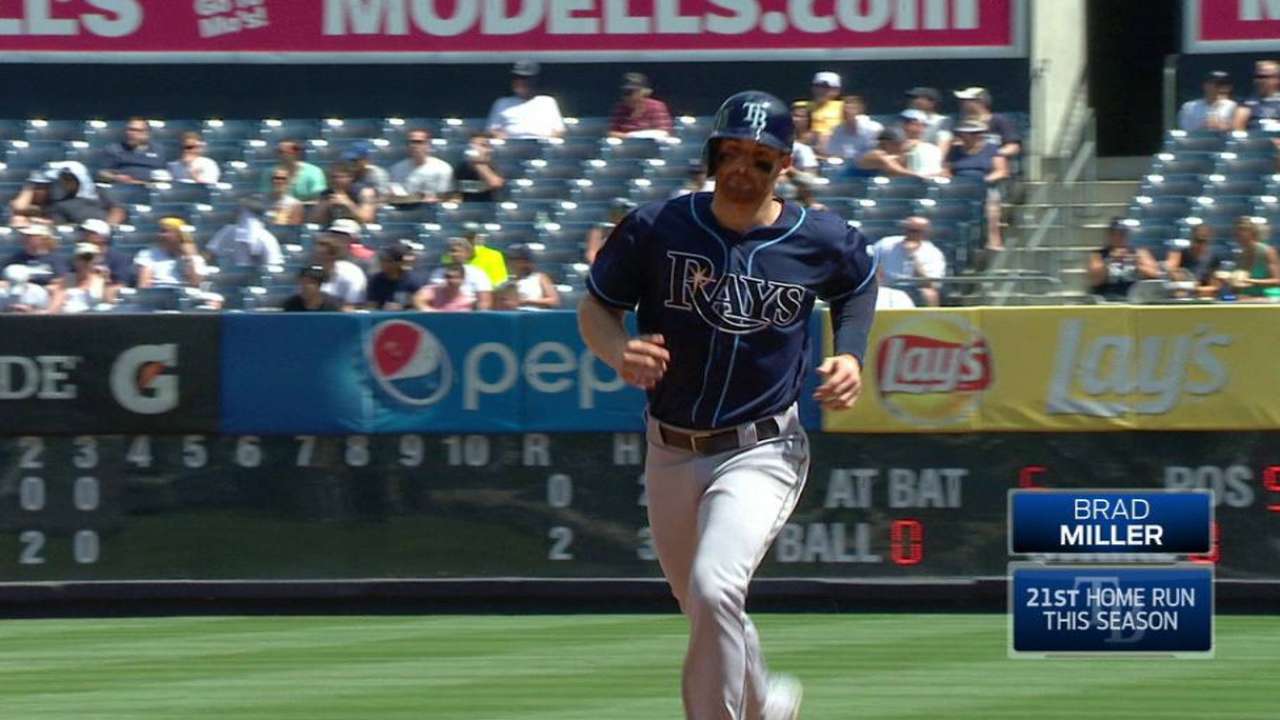 Hicksy heats up: Judge wasn't the only Aaron who had a productive afternoon for the Yankees. Starting in left field, Aaron Hicks launched his sixth home run of the season in the fifth inning, a three-run shot that landed in the second deck in right field. Since Aug. 2, the day after the Yankees traded Carlos Beltran, Hicks is hitting .314 with three home runs and six RBIs in 11 games. Prior to that day, Hicks was hitting .185 with the same amount of home runs in 87 games.
"I've been hitting the ball more solid," Hicks said. "I've been putting the ball in play more, and with that I've been having better odds of getting hits and succeeding."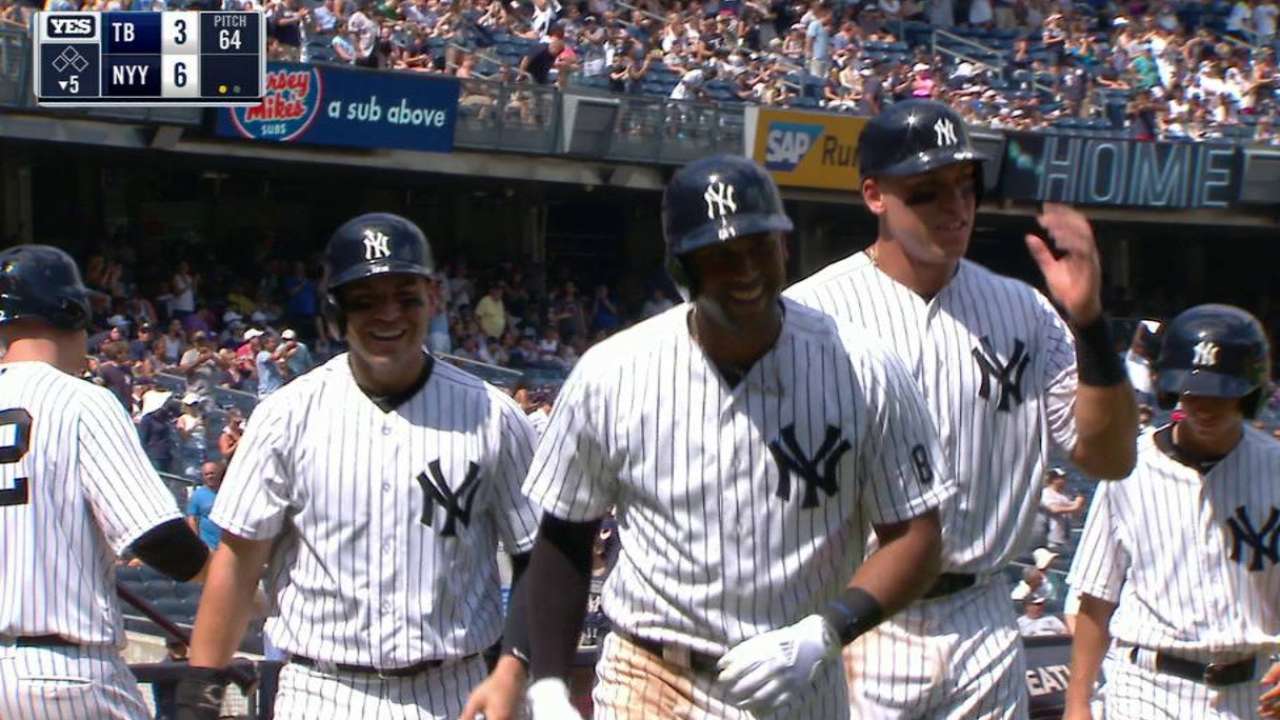 QUOTABLE
"We didn't make many good pitches today. There's no denying that. Too many hittable pitches. Too many pitches that they're capable of hitting out of the ballpark, and they did." -- Rays manager Kevin Cash, on Saturday's pitching effort
"There's not so many things you can say after something like that. That thing was hit a ton. I was just really excited for him. It's not every day that you get to do something like that." -- Austin, on watching Judge's moonshot to center field
SOUND SMART WITH YOUR FRIENDS
With his stolen base in the sixth inning, Austin became the first American League player to hit a home run and steal a base in his Major League debut since Bert Campaneris on July 23, 1964.
Andriese surrendered four home runs, becoming the second Rays starter to allow four home runs in a game this season. Chris Archer allowed four on April 8 against the Orioles in Baltimore.
WHAT'S NEXT
Rays: Jake Odorizzi (6-5, 3.69 ERA) will make his 25th start during Sunday's series finale against the Yankees at 1:05 p.m. ET. He's been on a roll lately, leading AL starters with a 1.13 ERA since the All-Star break, lowering his season ERA from 4.47 to 3.69.
Yankees: The Yanks will send Luis Severino (1-7, 6.42 ERA), getting his third chance in the starting rotation this season, to the mound on Sunday. Severino spent one day in the Minor Leagues early in the week before Nathan Eovaldi's elbow injury put the Yankees in need of a starter.
Watch every out-of-market regular-season game live on MLB.TV.
Bill Chastain has covered the Rays for MLB.com since 2005.

Nick Suss is a reporter for MLB.com based in New York.

This story was not subject to the approval of Major League Baseball or its clubs.