Dodgers double up Bucs, keep pace with SF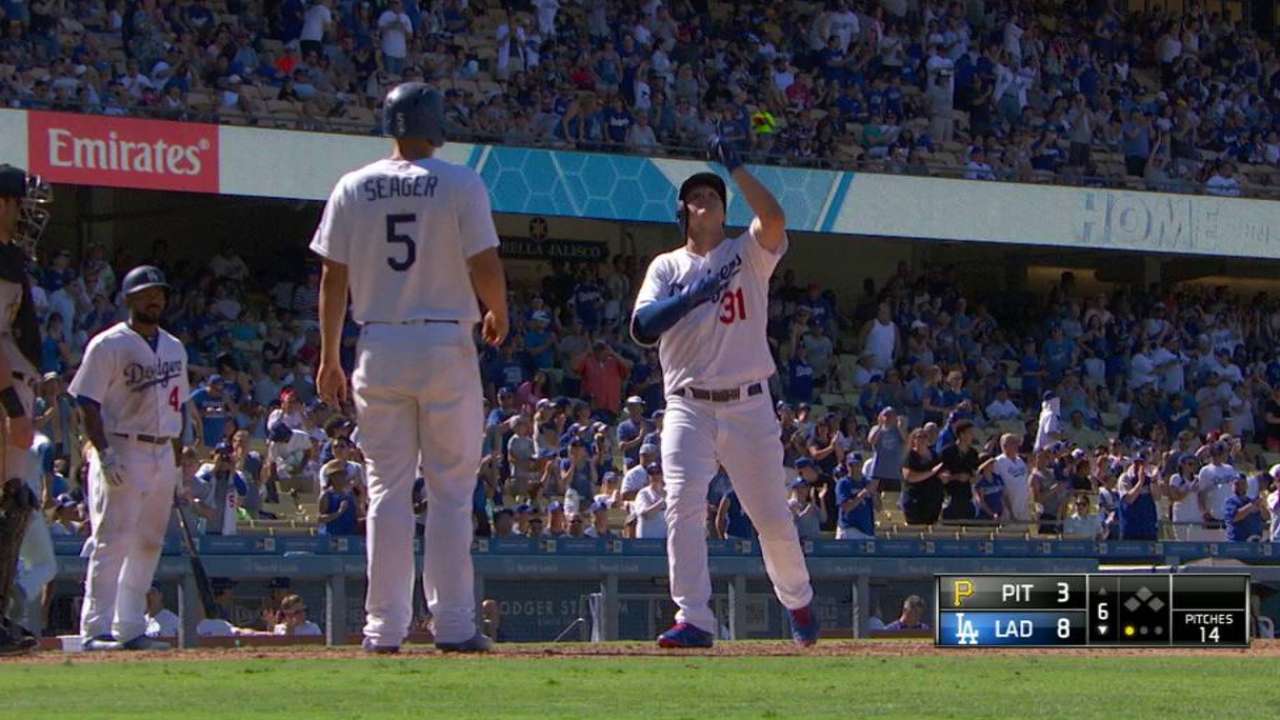 LOS ANGELES -- Joc Pederson, Howie Kendrick, and Chase Utley all had multiple extra-base hits as the Dodgers overcame Brandon McCarthy's short start and outlasted the Pirates, 8-4, on Saturday at Dodger Stadium.
With the victory, the Dodgers remain one game back of the National League West-leading Giants, who beat the Orioles. The Pirates are 1 1/2 games behind the Cardinals for the second NL Wild Card.
McCarthy entered the game having walked a career-high five batters in his past two starts and managed to perform that feat again within two innings. After walking five -- two with the bases loaded -- and hitting a batter, he was pulled two outs into the second with what the Dodgers called right hip tightness.
• LA's McCarthy says he's heading back to DL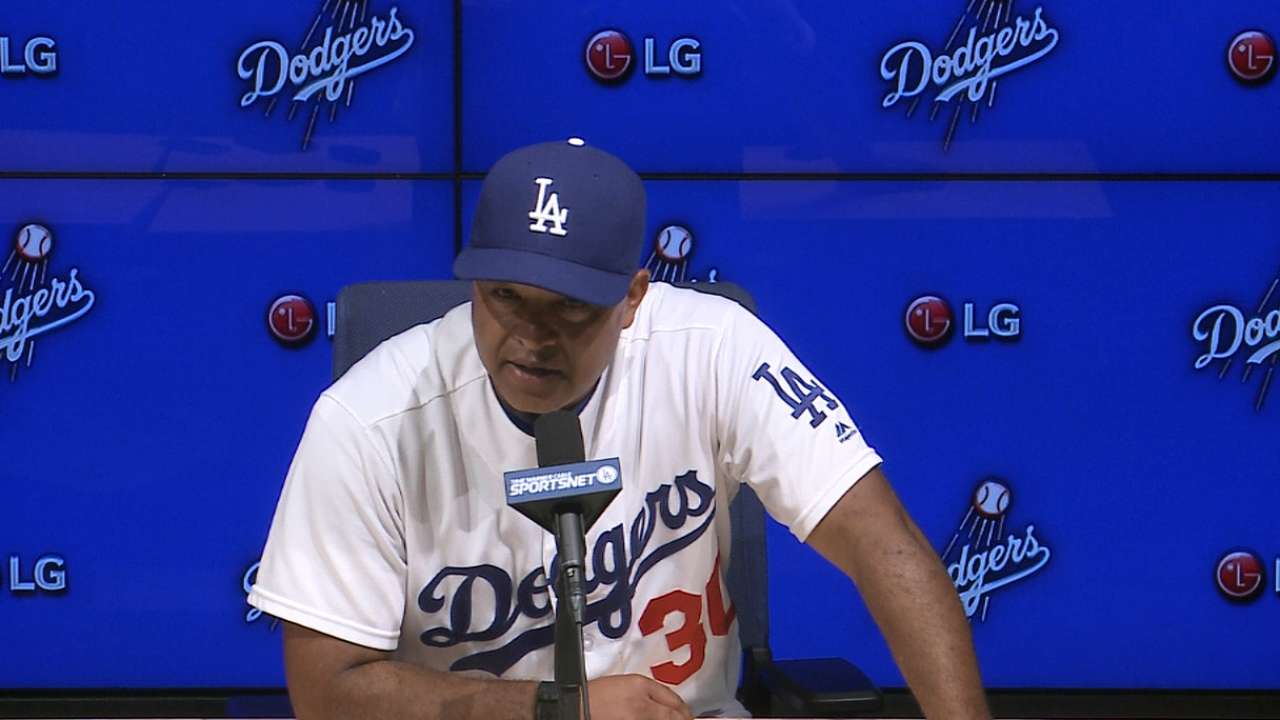 Manager Dave Roberts said after the game that McCarthy has been dealing with the issue since an Aug. 2 start while McCarthy said he expected to go on the disabled list.
"Something's in there, just can't really work through right now. Don't know what that's getting in the way of, but it just keeps going," McCarthy said.
Coming away with just three earned runs from McCarthy's 1 2/3 innings was just the start of a miserable day on offense for Pittsburgh, which tied a franchise single-game record with 18 men left on base and went 1-for-14 with runners in scoring position.
"A ball in the gap would have been nice. We didn't get it," Pirates manager Clint Hurdle said. "We got a couple walks, plated a couple runs, kept stretching things out. We just weren't able to score."
• Bucs tie club mark with 18 stranded runners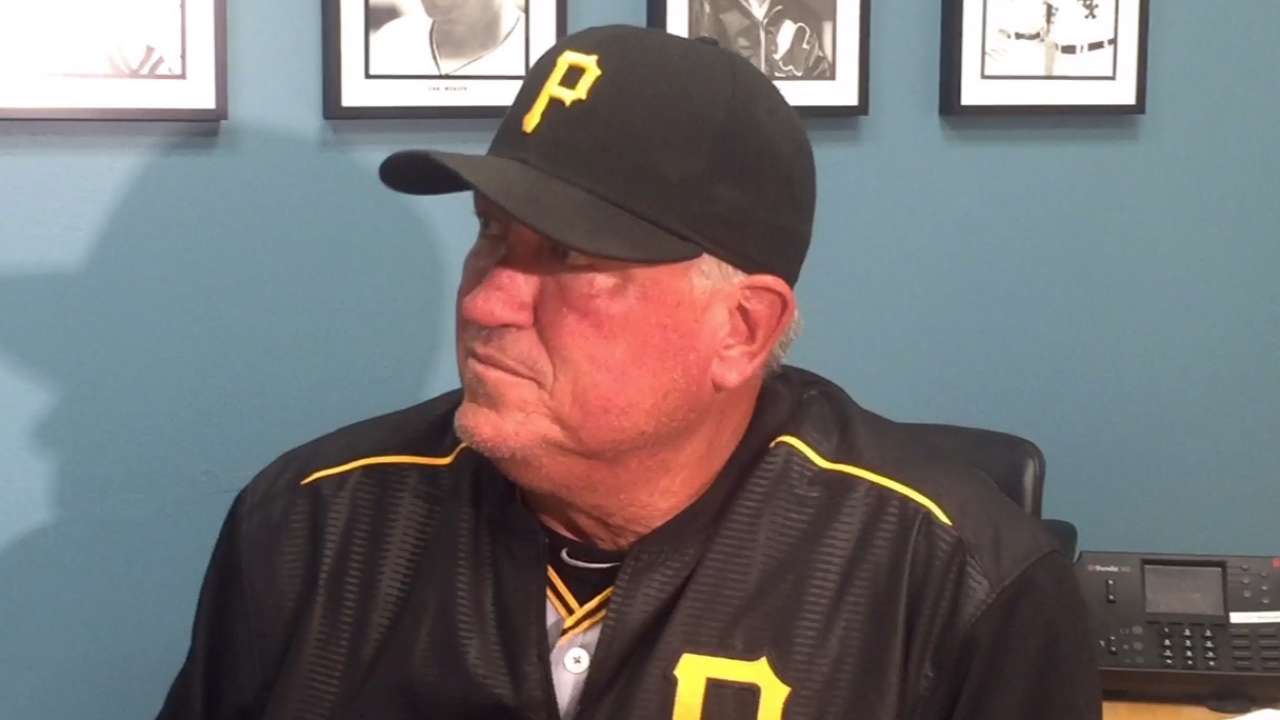 The flip side of that is the Dodgers walked 11, the team's highest total in a nine-inning game since May 25, 2009.
While the Dodgers' bullpen managed to limit the damage, allowing just one run in 7 1/3 innings, it was a different story for Pittsburgh starter Gerrit Cole. The UCLA graduate allowed a career high 12 hits and exited in the fourth inning after allowing six runs (four earned). It would take until the seventh inning for the Pirates to throw a scoreless frame as the first seven hitters in Los Angeles' starting lineup all had multiple hits.
"I just thought they capitalized on mistakes," Cole said. "They were able to keep the line moving on us. ... It just seemed like I got punished today whether it was a good pitch or whether it was a bad pitch."
MOMENTS THAT MATTERED
Pederson power: A day after hitting two doubles, Pederson went 3-for-5 with a double and his first homer of August to pace the Dodgers' offense and finish a triple short of the cycle. The strong day improved his slugging percentage on the season to .500 and further showed the young outfielder is rediscovering his power stroke in his sophomore year.
"We're just grinding as a team and putting together quality at-bats," Pederson said. "We've been hitting balls hard for a while now and it was nice to get a game where everyone got to benefit from it."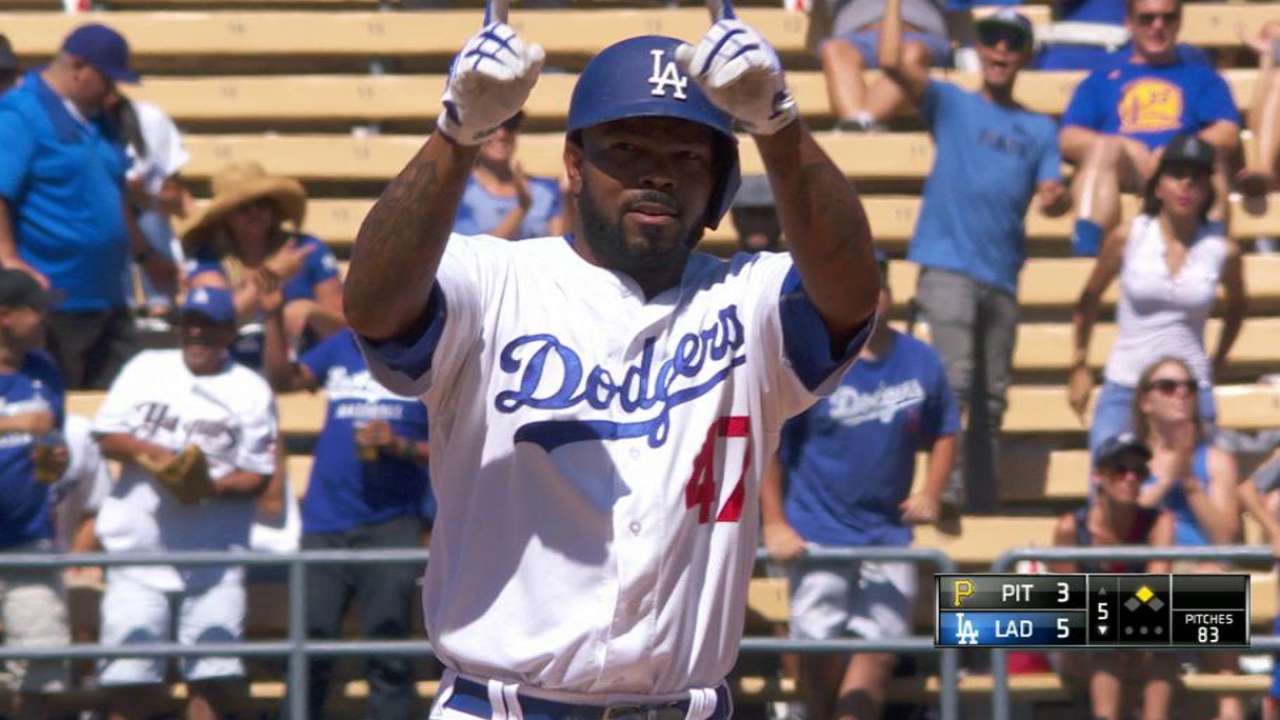 Neverending inning: Cole had a chance to escape the third quickly, retiring the first batter he faced and inducing a double-play ball by Pederson. But rookie Adam Frazier didn't touch second base while holding the ball, so the Pirates only recorded one out on the play instead of ending the inning. Then Jung Ho Kang misplayed a Kendrick grounder, logging two errors on one play as he booted the ball then threw wildly past John Jaso at first base. Adrian Gonzalez scored on the play, then Cole gave up another hit -- one of a career-high 12 -- before finally escaping.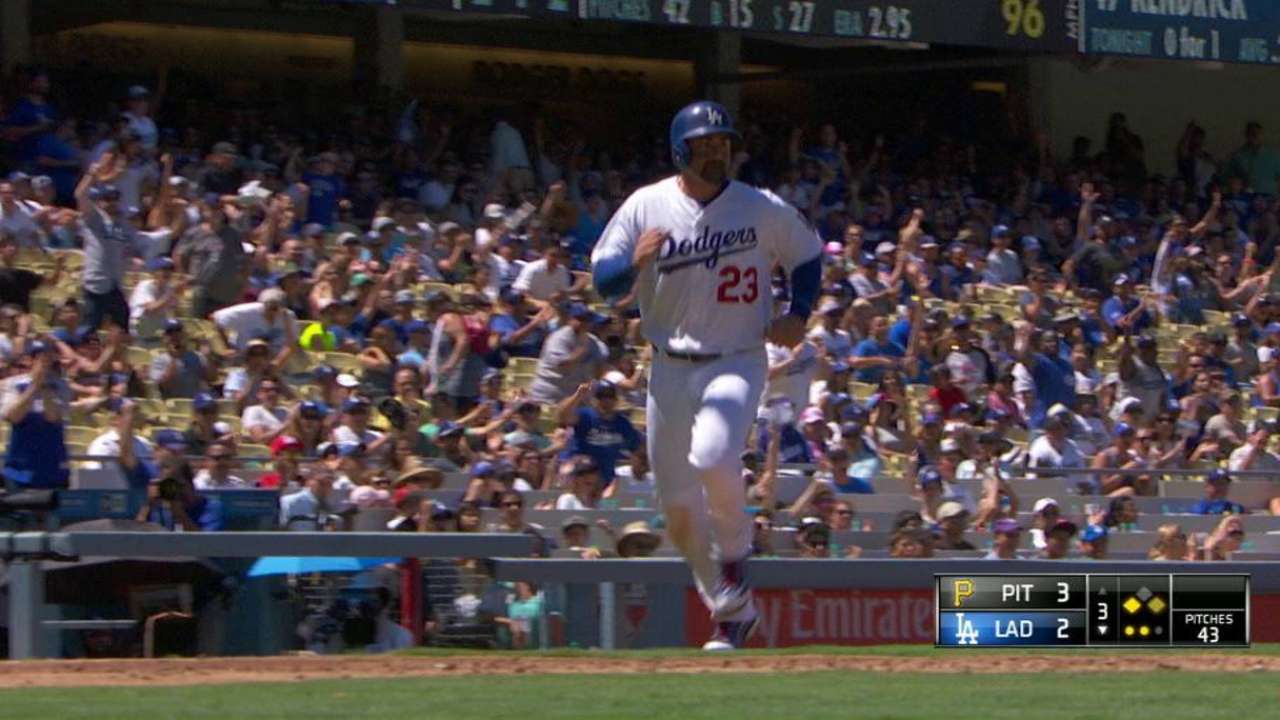 "One turned into two. That can happen," Hurdle said of Kang's misplay. "We've got to keep working with him, see if we can slow him down and make plays. One thing at a time. I think sometimes it can be confidence also when you're out there."
Any role needed: In his second career relief appearance and first time pitching since a spot start Monday, Julio Urias threw 2 2/3 scoreless innings and picked up his third career win. Runners reached second base in every inning he pitched, but the 20-year-old found a way to get out of trouble until Roberts pulled him in the sixth for Joe Blanton.
"They told me to be ready for any situation and the truth is I was very comfortable," Urias said. "I try to make the best of whatever the opportunity is and the most important part is that we win. That's what we've been doing."
Zero one, two: Making his first relief appearance since being pulled from Pittsburgh's rotation, Jeff Locke did something no other Pirates pitcher could accomplish Saturday afternoon. Locke threw a scoreless seventh, the first inning in which the Dodgers did not score. Locke gave up two hits, but Gonzalez flied out to deep left field to strand both runners. He came back out for the eighth and pitched a perfect inning.
QUOTABLE
"I think it's more a credit to the hitters that they had and their approach today. If it was a good pitch, it was falling in. If it was a pitch middle-down, it was falling in. They were aggressive and they were putting good swings on everything." -- Cole
SOUND SMART WITH YOUR FRIENDS
Pirates left fielder Starling Marte stole second base in the first, his 40th of the season and one shy of the career-high mark he set in 2013. The last Pirate to record multiple 40-steal seasons was Tony Womack, who stole 60 in 1997 and 58 in '98. Marte later left with upper back tightness. More >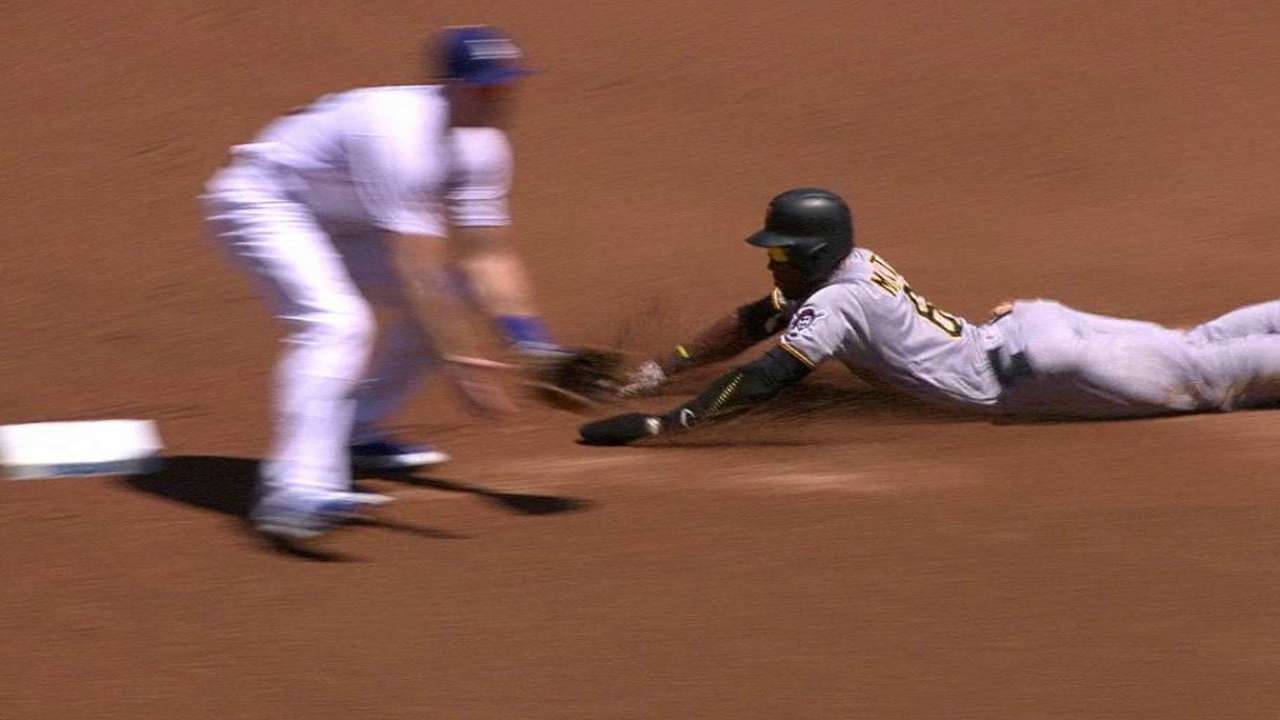 AFTER FURTHER REVIEW
With Gonzalez on first and one out, Pederson seemed to hit into a 6-4-3 double play and end the third inning. However, the Dodgers put in a late challenge and argued that Frazier never touched second base while holding the ball. The call on the field was overturned and Gonzalez scored on an error by Kang in the next at-bat to tie the game.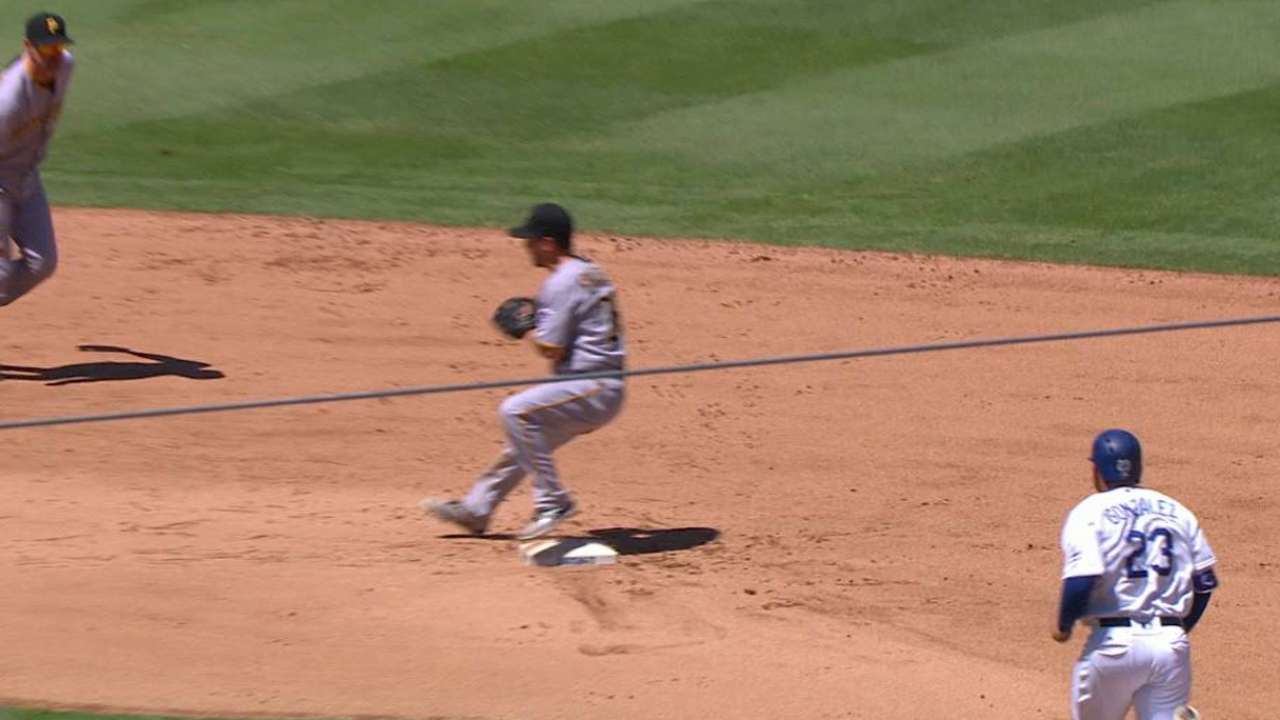 The Dodgers had another successful challenge in the fifth when Kendrick was initially ruled out at home on a bunt from Urias. Home-plate umpire Jim Joyce's call was overturned, ruling Kendrick safe and giving the Dodgers a 6-3 lead.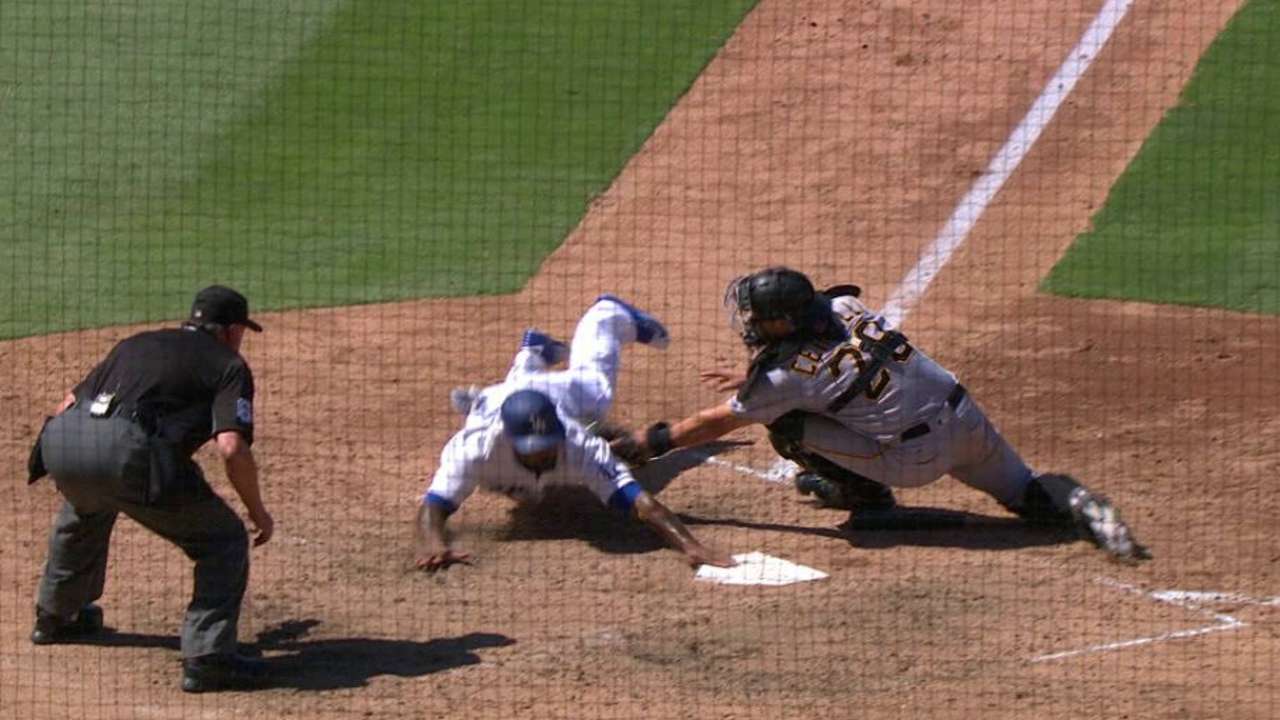 WHAT'S NEXT
Pirates: Rookie Chad Kuhl will make his second start since rejoining the rotation as the Pirates wrap up a three-game series against the Dodgers at 4:10 p.m. ET on Sunday. Kuhl hasn't shown his best sinker in the Majors, but he's competed well enough to carry a 2-0 record and 3.91 ERA through his first five starts, all Pirates victories.
Dodgers: Brett Anderson will make his return after missing five months due to a back surgery in March. The southpaw topped out at 71 pitches in five innings in his final rehab start and will take the mound at 1:10 p.m. PT.
Watch every out-of-market regular-season game live on MLB.TV.
Adam Berry has covered the Pirates for MLB.com since 2015. Follow him on Twitter at @adamdberry.

This story was not subject to the approval of Major League Baseball or its clubs.