Alonso's bat starting to heat up for A's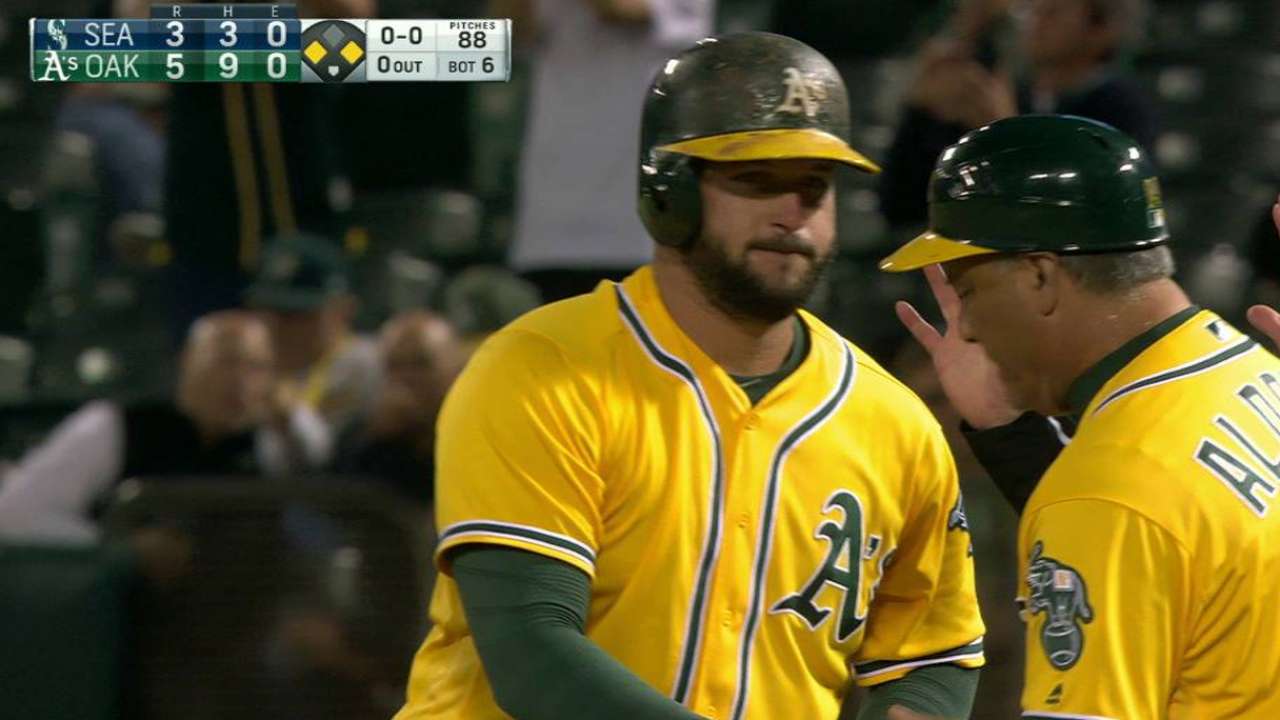 OAKLAND -- A familiar scene unfolded for the A's in the sixth inning of their 6-3 win over the Mariners on Friday night at the Coliseum.
Yonder Alonso came to the plate with the bases loaded and no outs in a tie game. He had never faced Mariners starter Joe Wieland, who was called up from Triple-A to make a spot start, prior to Friday's game. The A's didn't have much information on the righty other than limited Triple-A video, but Alonso had picked up enough in his previous two at-bats.
"I don't know him well," Alonso said. "I've never faced him. He had his changeup going later on in the game. He has a sneaky fastball and a real good curveball."
But Alonso has shown a knack for delivering with runners on base recently. He just missed a 1-1 Wieland fastball, fouling it off. Wieland threw him a changeup with two strikes and Alonso made the most of it, hitting a two-run single through the right side of the infield to give the A's a 5-3 lead.
"I was just trying to get a strike and hopefully barrel it up in the air up there," Alonso said. "I got lucky because those guys play the shift very well."
Alonso went 2-for-4 with two RBIs, and is hitting .361 over his last 11 games, including five multi-hit games during that stretch and eight RBIs. He had the lone RBI in Oakland's 1-0 win over Baltimore Wednesday, and has hit in several different spots within manager Bob Melvin's order.
"The last three weeks or so he's probably swung the bat better than anybody we have," Melvin said.
Alonso was one of several A's hitters to solve Wieland Friday. Designated hitter Khris Davis, hit his career-high 28th homer down the right field line in the first inning, a two-run shot to make it 3-0. Both Davis and Alonso reached base in the sixth, a part of a five-hit rally that knocked Wieland out of the game.
"He's out of control," Alonso said. "He's been our most productive hitter for power. He's a guy that every single day he can wow you, not only in batting practice but in the game. He's a guy that comes ready to play every single day."
Marcus Semien, slotted two spots ahead of them, went 4-for-4, tying his career high for hits in a game. Both he and Alonso have moved around in the order, too, with Semien moving to the two-hole following an injury to Jed Lowrie, and Alonso moving among multiple spots in the middle of the order.
Alonso's average has risen 50 points since May 31, and currently sits at .259. And while it's taken several contributions to help the A's win four of their last five, he's solidified his role in recent weeks.
"I'm just trying to stay consistent and make sure I get my work in as much as possible," Alonso said. "Just continue to be there for my guys at the plate."
Mark Chiarelli is a reporter for MLB,com based in the Bay Area. This story was not subject to the approval of Major League Baseball or its clubs.