Cutch shows vintage form at plate, in field
Pirates center fielder crucial to team's run down the stretch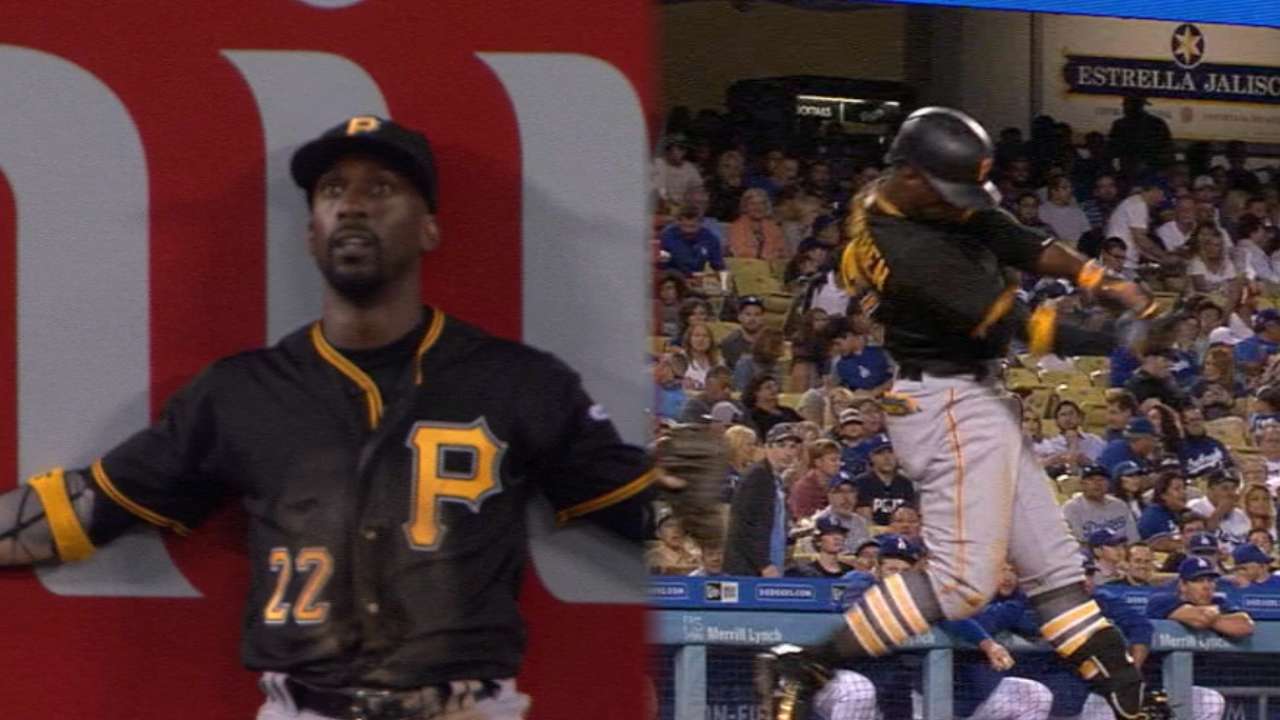 LOS ANGELES -- While Andrew McCutchen has been mired in a prolonged slump and the Pirates hovered just out of the Wild Card picture, one optimistic thought prevailed: If McCutchen gets back on track, he's capable of almost single-handedly pushing Pittsburgh back into the postseason.
That may be a tall order, but it played out Friday night at Dodger Stadium. McCutchen homered to the opposite field, pulled an RBI single to left, stole a base and made a highlight-reel grab in center, turning in a fine all-around game in a 5-1 win that pulled the Pirates within one game of the second National League Wild Card spot.
It's unfair to assume one night might signal the start of a turnaround. McCutchen has had strong games and solid stretches throughout an overall disappointing offensive season. McCutchen's third-inning home run off Ross Stripling, however, could bode well for the former MVP.
"There's nothing like being able to do that, drive a ball to the opposite side, and to be able to do it with some authority is always good," McCutchen said. "It lets me know I'm where I need to be. I just want to stay there."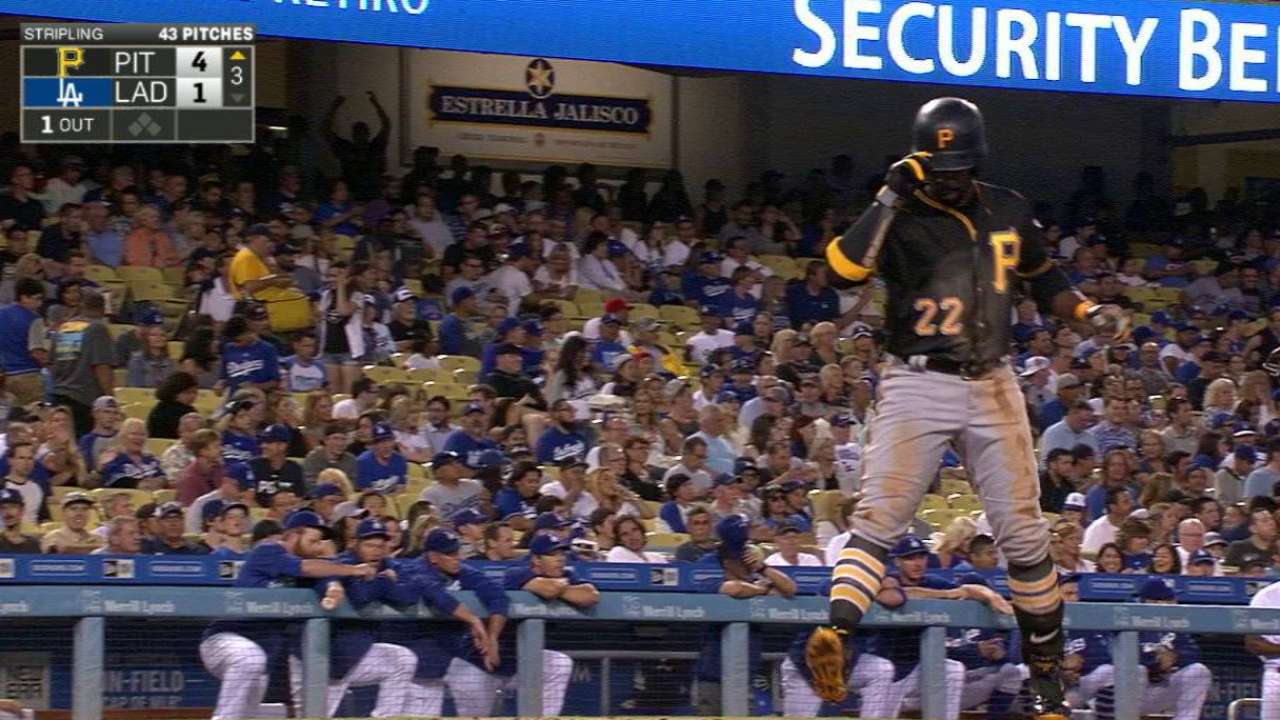 Pirates manager Clint Hurdle has been careful with his comments about McCutchen since benching him for a series in Atlanta, twice saying he will only talk about McCutchen's progress with the man himself. But the solo shot, McCutchen's 16th of the season, caught Hurdle's eye.
"Any time a player can square up a ball here at Dodger Stadium and hit it out to the opposite field," Hurdle said, "it gets your attention a little bit."
Since the three-game break in Atlanta, McCutchen has shown signs that he's ready to break out of a season-long slump. For one, he drew seven walks and only struck out four times in his previous six games before Friday.
He stole a base in his first game back and swiped another after ripping a hard, ground-ball RBI single to left field in the first inning.
"In order for me to steal bases, I've got to get on base," McCutchen said. "I had that opportunity to be able to go, and I was able to do that."
McCutchen also made a Gold Glove-caliber play in center field, hustling back 53 feet, according to Statcast™, and leaping to snag a 106.8-mph line drive off the bat of Yasmani Grandal.
"Got somewhat of a late break on it, but I was able to make it up and learn from the last time [Tuesday] that happened to me at home," McCutchen said. "I knew this time, 'Hey, jump.'"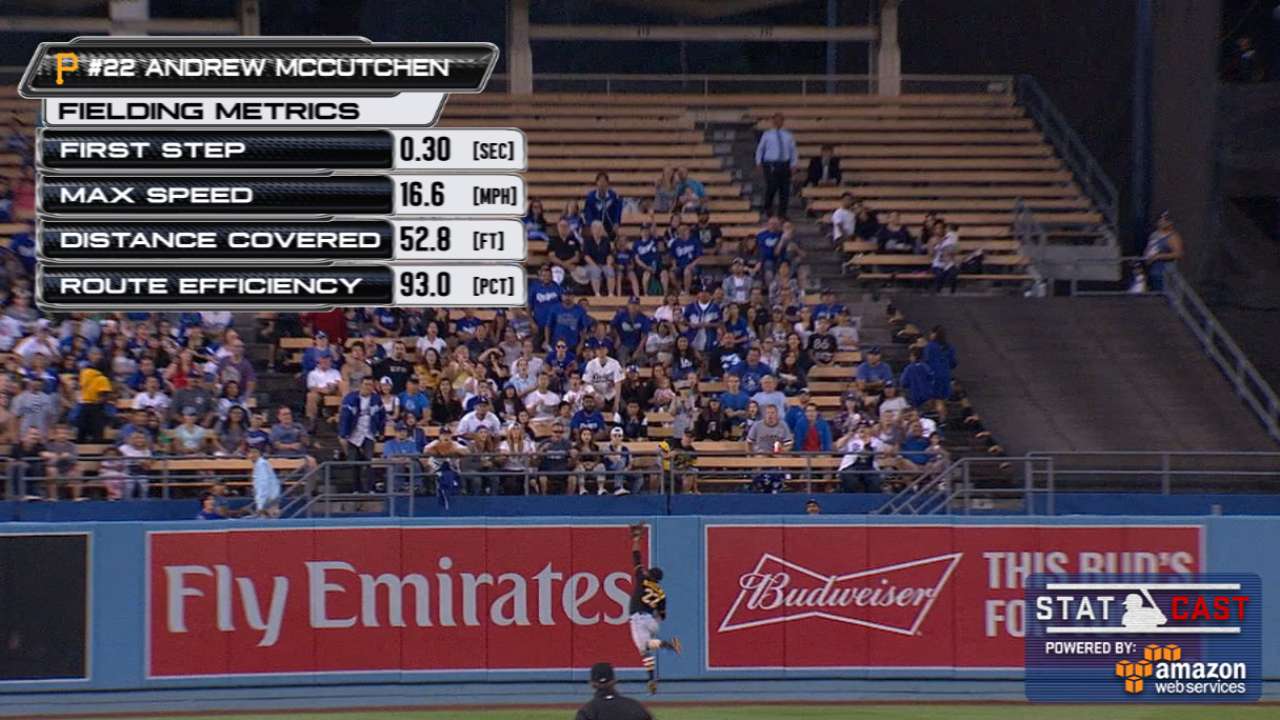 Starter Ivan Nova, who clapped into his glove on the mound after McCutchen tumbled and came up with the ball, called the play "amazing."
Others might just call it vintage Cutch.
"I was able to make some plays out there in the outfield," he said. "We were all able to come together as a team, play good defense, play good all-around baseball and get a win against a really good team."
Adam Berry has covered the Pirates for MLB.com since 2015. Follow him on Twitter at @adamdberry. This story was not subject to the approval of Major League Baseball or its clubs.