Werth's RBI double extends on-base streak to 41
Outfielder two short of matching Zimmerman's club record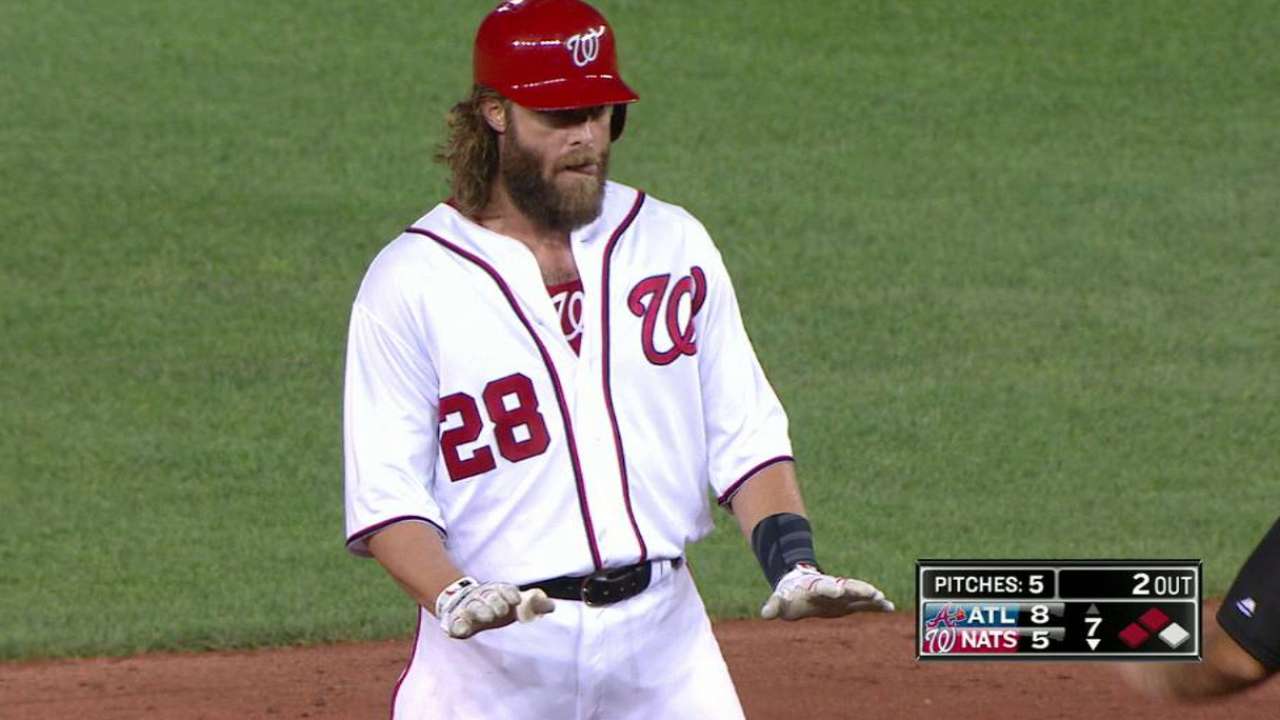 WASHINGTON -- With a seventh-inning RBI double off Braves reliever Jose Ramirez, Jayson Werth extended his on-base streak to 41 games in the Nationals' 8-5 loss on Friday.
The outfielder has reached base in every game since June 20. Werth's streak is the longest of his career and the longest in the Majors this season. The Nationals record is 43 games, set by Ryan Zimmerman in 2009.
The Major League record for the longest on-base streak is 84 games by Red Sox Hall of Famer Ted Williams in 1949. George Van Haltren holds the National League record of 60, achieved for the Pittsburgh Pirates in 1893.
After grounding out in his first at-bat on Friday and striking out in his next two, Werth worked a 2-2 count off Ramirez, then sliced a fly ball off the right-field wall for a run-scoring double.
That streak-extending at-bat was another example of Werth taking pitches until he got one to hit. The ball he knocked for a double was the fifth pitch of the plate appearance, but the first he swung at.
Werth said after Wednesday's game that his recent streak is a result of his return to the patient style that has earned him success throughout his career.
"Just getting back to being myself, I think that's what it comes down to," Werth said. "I've been a pretty good player over the course of my career, and I think it was a product of having good at-bats. It is what it is, whether it's a streak or it's not a streak, I feel like myself up there. I'm the same player I've been since I got to the league."
Werth, batting second in the order, has been hitting like his old self for almost three months now. Since his OPS dropped to .656 on May 28, the veteran is hitting .279 with an OPS near .900 and 25 extra-base hits.
Though Werth went only 1-for-5 on Friday, his double was his fourth extra-base hit in his last three games. He homered against the Indians on Tuesday and Wednesday, and also doubled on Wednesday.
On Wednesday, manager Dusty Baker praised Werth for adapting to his spot in the lineup and boosting the team lately.
"He's been around long enough to understand how to do almost anything in the order," Baker said. "Boy, we'd sure like to see him get hot."
Alex Putterman is a reporter for MLB.com based in Washington. This story was not subject to the approval of Major League Baseball or its clubs.