MLB.com Columnist
Terence Moore
Has there ever been a bigger year for goodbyes?
1976 (Aaron, Robinson) and 1983 (Bench, Yaz) would challenge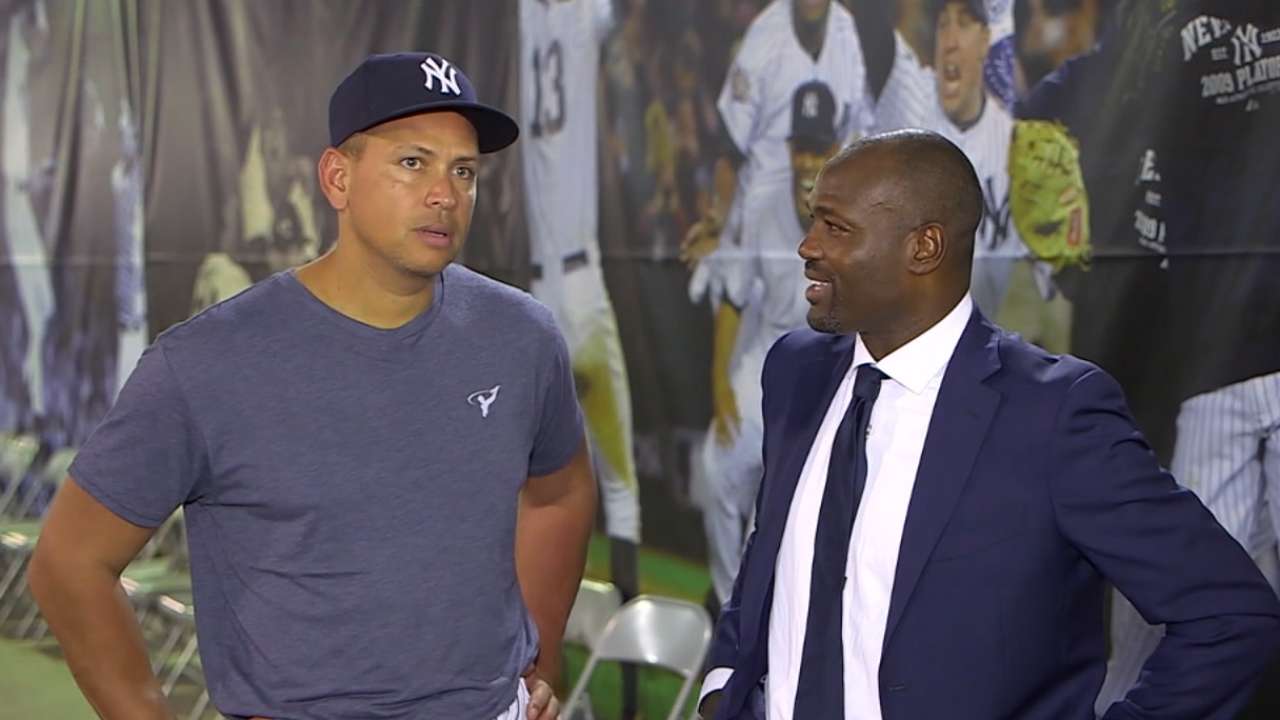 To paraphrase the late Yogi Berra, retirement for professional athletes isn't final until it's final. So after Alex Rodriguez said Sunday that he'll end his career with both the Yankees and Major League Baseball on Friday night in the Bronx, I had this thought: If A-Rod really is gone, has there ever been a season with so many prominent folks in the game saying goodbye?
I'm still thinking. I was guessing this is unprecedented.
"Well, probably not," said John Thorn, MLB's official historian who keeps the rest of us in check. "It's something I would research, and I would be reluctant to go with an anecdotal sense of it. My guess is that all present-centered notions like this tend to get exploded upon examination."
All I know is that, before Rodriguez gave his retirement plans through watery eyes during a news conference at Yankee Stadium, his teammate, Mark Teixeira, foreshadowed A-Rod's tears last Friday by sobbing like crazy while telling reporters that he won't play baseball again beyond this season. Rodriguez's legacy of greatness on the field is complicated by his PED controversies, but Teixeira leaves as the smooth-fielding first baseman with five Gold Gloves and a solid bat that produced three Silver Slugger Awards.
Then came the normally stoic Prince Fielder choking on his words Wednesday as he announced that his baseball days were over with the Rangers and everybody else. For perspective, Rodriguez is 41 and Teixeira is 36, and their struggles at the plate this season reflected their ages. In contrast, Fielder is 32, and although he also had offensive issues during the year, they were mostly attributable to his series of neck surgeries. Prior to joining the Rangers for the 2014 season, he was as durable as anybody in baseball. He'd played in at least 157 games during each of the previous eight years. Now, unless he heals enough to attempt a comeback, he'll finish with the same amount of career home runs as his father, Cecil Fielder, who ripped 319.
In contrast to Fielder, Rodriguez and Teixeira, David Ortiz informed Red Sox Nation and the rest of the universe before the season that The Big Papi farewell tour was in progress.
What a glorious ending.
Despite operating with 40-year-old legs, arms and everything else, Ortiz remains among the game's best sluggers. He leads the Major Leagues in slugging percentage (.612), OPS (1.013) and doubles (37). Not only that, Papi is hitting .307 with 25 home runs and 88 RBIs. In fact, he's cruising toward his 10th season out of his 20 overall with 100 or more RBIs.
Vin Scully is nearly gone, too. Just like Ortiz, he told folks months ago that he's leaving as the eternal voice of the Dodgers. And, just like Ortiz, Scully remains awesome. At 88, he is as captivating now during his broadcasts as he was when he began with the Brooklyn Dodgers in 1950. Since then, he hasn't missed a season, and he rarely has missed a game.
Scully can't retire, can he? If nothing else, he'll likely return each season to broadcast a homestand or three around Chavez Ravine.
No question, Fielder is ailing these days. He's entering his third week of wearing a huge neck brace to protect himself after undergoing his second stint with cervical fusion. It's just that Peyton Manning also had multiple neck surgeries, and he returned to the NFL to help the Denver Broncos win the Super Bowl last season. He retired for good after that, or so he said.
As for Rodriguez, there already is speculation that he has changed his mind about retiring and that he wishes to join his hometown Marlins. I told you about Ortiz's numbers, and let's just say they aren't those of a retiree in waiting. Teixeira? He didn't just quit the Yankees after his announcement. He remains in their starting lineup until the end of the season.
After that, who knows?
I'm still thinking, by the way. Now I'm remembering that I wrote a couple of lengthy pieces for the San Francisco Examiner in 1983 on the final days of Baseball Hall of Famers Johnny Bench and Carl Yastrzemski. As a result, I'm thinking and remembering some more.
Actually, I'm thinking, remembering and checking. Along with Bench and Yastrzemski, Hall of Famers Gaylord Perry and Ferguson Jenkins also retired in 1983, and the same goes for perennial All-Stars Jim Kaat and Bert Campaneris. With apologies to this current group of self-proclaimed baseball retirees, that group of 33 years ago tops this one on the elite scale.
I'm still checking, and there also was 1976. Yikes. Ever hear of Hank Aaron? What about Frank Robinson and Billy Williams? Those first-ballot Hall of Famers retired that season, and they were joined by prominent players such as Bill Freehan, Tony Oliva, John "Blue Moon" Odom and Tommy Davis.
I'm sure there are more examples from other years, and I didn't even check for the equivalency of a Scully leaving during those times.
So Thorn was correct again. Especially since this 2016 group is only unofficially retired.
Terence Moore is a national columnist for MLB.com. This story was not subject to the approval of Major League Baseball or its clubs.