Puig wants to become better player, teammate
Dodgers outfielder speaks with reporters about Triple-A assignment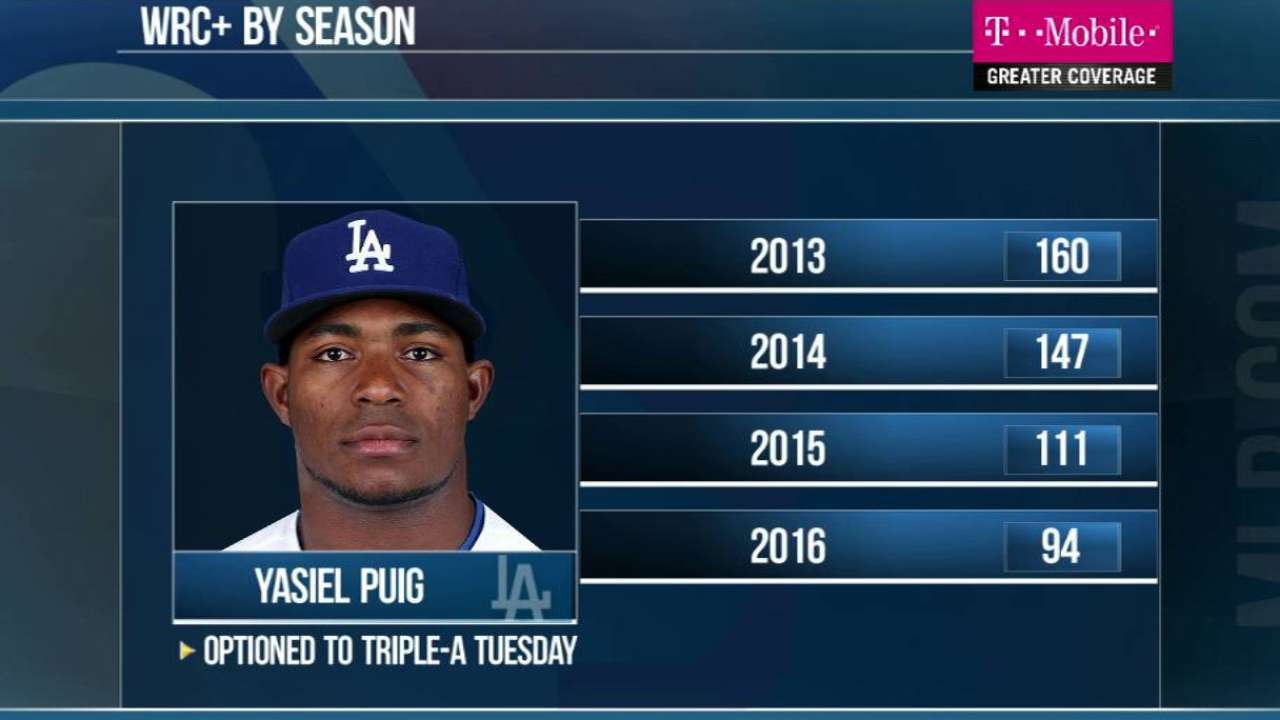 LOS ANGELES -- Yasiel Puig stated two simple goals as he spoke to reporters in an informal press conference Friday. He was in Oklahoma City to become a better player and a better teammate.
"I'm here because I was not doing the right things over there," Puig said through an interpreter. "I'm here to improve myself. I'm here to become a better athlete again. That's their decision, if I have to go back to the big club. Right now, I'm going to focus on being better around the plate and being a better athlete."
Puig was demoted to Triple-A last week, due to a lack of on-field performance and his off-field behavior. He openly admitted his play had declined, saying "I'm going to do my best to become the player that I was."
He later added that his actions were why he was in the Minors.
The outfielder's demotion ended a two-week period of trade speculation and several games missed due to a hamstring problem. In the end, Puig wasn't traded, but he was still replaced by Josh Reddick, whom the Dodgers acquired in a five-player deal with Oakland.
So far, Puig has shown success at the plate with Oklahoma City. In four games since getting demoted, he's slugging 1.000 and went 3-for-5 with a homer and triple in Friday's game against El Paso.
Off the field is a more mixed story.
"My friends back in LA, they texted me and they told me 'This could happen to anyone. What you need to do right now is focus, do what you need to, and be a better teammate and support your team.'"
Puig's efforts as a teammate have been a hit-or-miss affair so far in Oklahoma City. On one hand, he spent Thursday night playing Pokemon Go around the city with teammates.
On the other hand, he shared video of the team's Monday night outing on a party bus via Snapchat and drew a public show of disapproval in a statement from Dodgers president of baseball operations Andrew Friedman, who said the incident would be addressed internally.
"I really didn't know how to use Snapchat. I was just playing around with my teammates," Puig said when asked about the incident.
Jack Baer is a reporter for MLB.com based in Los Angeles. This story was not subject to the approval of Major League Baseball or its clubs.