Irish American Baseball HOF inducts 6 members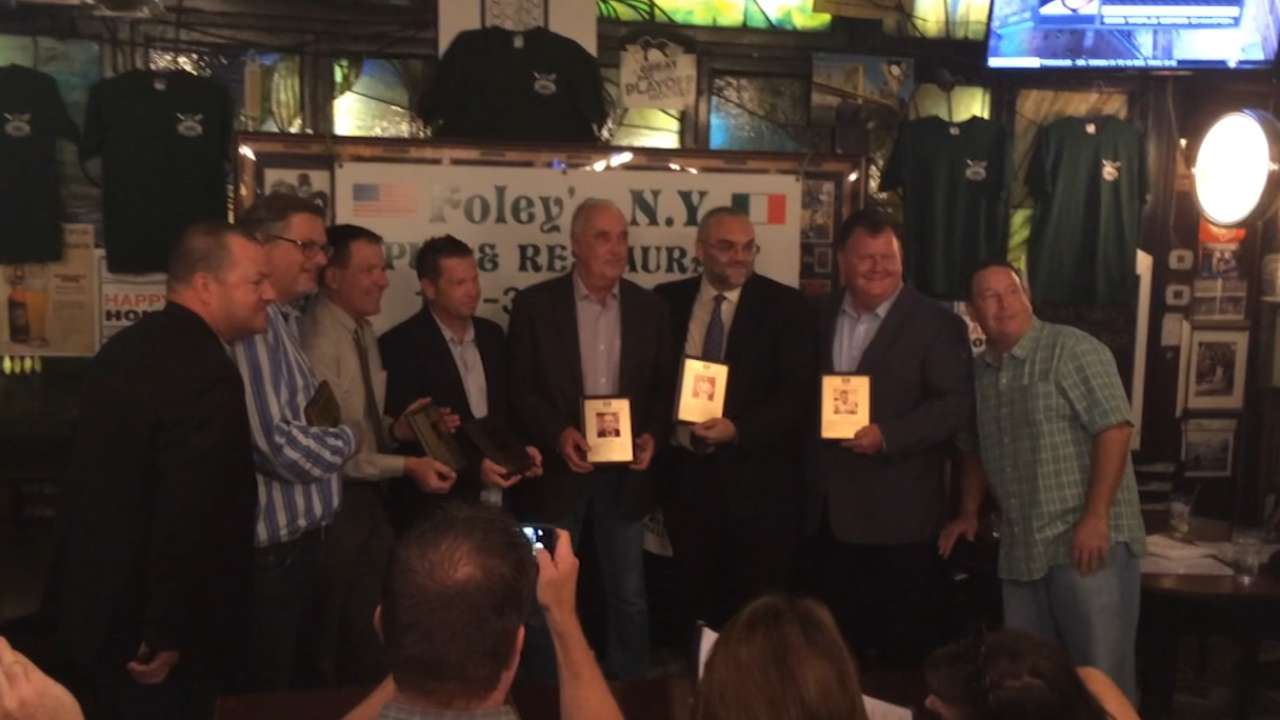 NEW YORK -- The Irish American Baseball Hall of Fame Induction Ceremony took place Friday afternoon at Foley's NY Pub and Restaurant in Manhattan.
Inductees for this year's class included Ed Coleman, radio reporter/host for the Mets; Guy Gallagher, the Rays' visiting clubhouse manager; Andy Leonard, Irish-American baseball pioneer; Kevin Millar, former Major Leaguer and current MLB Network host; Dave Wills, the Rays radio announcer; and Mike Vaccaro, lead sports columnist for The New York Post.
For years, the basebal-centric Irish pub has served as a living, breathing shrine to the national pastime, with a cold beer or two included.
"It's a great honor for me," said Vaccaro, who noted that his last name might not be Irish, but that his mother Ann's maiden name was McMahon. "...I like to think the storytelling part of my soul came from Ireland. And I love this bar very much. It's a place where you can come and just relax. Just throw the world away and talk some baseball. To be a part of the wall here on a permanent basis is about as great of an honor I've been asked for."
Wills allowed that Foley's has been "one of the places that I have frequented."
"So I've seen some of the names on the board, some of the other broadcasters like Vin Scully and Dave O'Brien, Tim McCarver. And great players who have been in Major League Baseball.
"It's a little weird. It's a little bit like the old Sesame Street. One of these things is not like the other. One of these things might not belong. But very proud of my Irish heritage and the fact I can get in there."
Wills could have been a spokesman for the group when he talked about Foley's baseball heritage.
"It's an incredible place," Wills said. "It's like a museum that also happens to have beer. And there's all kinds of great memorabilia hanging from the rafters. Hanging from the walls. Bobbleheads. There's great pictures. There's all kinds of great and interesting stuff.
"You don't even have to be a baseball fan to want to go there. But you do want to check it out. There's all kinds of stuff. Other sports as well. One of my favorite places to go when I'm in New York City."
Bill Chastain has covered the Rays for MLB.com since 2005. This story was not subject to the approval of Major League Baseball or its clubs.