Hanley makes smashing return to lineup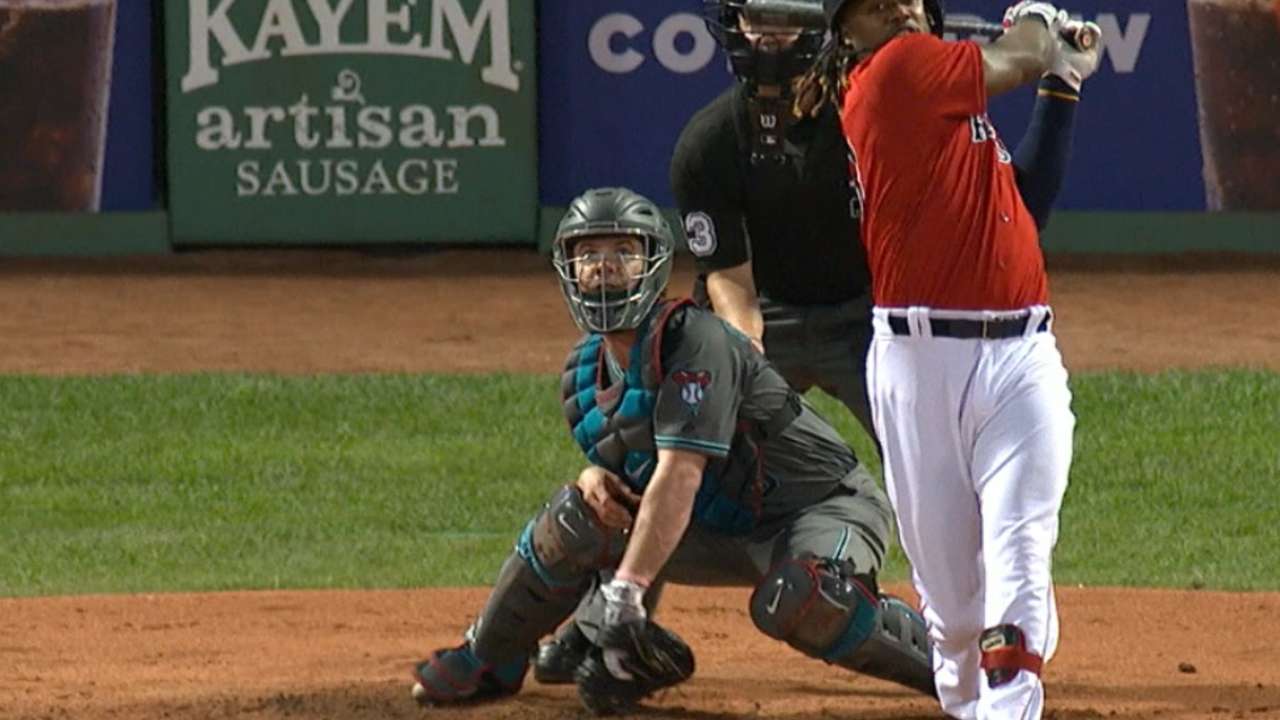 BOSTON -- Hanley Ramirez gave bench coach Torey Lovullo the message even before he left Fenway Park on Thursday night.
"I told Torey last night I would be in the lineup [on Friday]," Ramirez said. "I told you guys, too. I never doubted myself and we came away with a win."
Yes, the win. The Red Sox downed the D-backs, 9-4, on Friday, thanks in large part to Ramirez's impressive power outburst in the first two innings.
The Red Sox are 2 1/2 games back of the Orioles in the American League East and hold a 1 1/2-game lead over the Tigers for the second AL Wild Card.
The first baseman smashed a three-run homer over the Green Monster in the first, and then a three-run rocket to center in the second.
Two homers and six RBIs from the same man who was writhing in back pain after Gary Sanchez from the Yankees had inadvertently run into Ramierz on Thursday night.
The Red Sox are buckling up for the home stretch of their season, and the veteran players have set a tone the last couple of days.
"I don't think I have to be 100 percent to play at this point in the season to go out there," said Ramirez. "We know where we are. We're right there. It's go time."
First, there was David Ortiz hitting a 99-mph fastball off his right shin in the bottom of the ninth inning and being helped off the field on Wednesday, and returning to the starting lineup Thursday. And then there was Ramirez, who suffered his injury in the eighth inning on Thursday, and gave no thought to asking for a night off.
"I mean, I think he's our leader and he's 40 years old and he's like, 'I'm in there today.' But I never thought about that," said Ramirez. "I just went home and iced it. I got to give credit to the medical staff. They spent an hour with me today to try to make me feel better and be in the lineup. They did a good job."
Mookie Betts (right calf) was also back in the lineup after missing one game. And Jackie Bradley Jr. has been quietly playing through a right big toe injury that has hindered his mobility a bit.
"Yeah, we're at that time of the year where, regardless of the ailment of the individual -- and we've got a long list right now -- they know it's time to push," said manager John Farrell. "We've got to find ways to get guys off their feet when we can. As I mentioned before the game, we're in the thick of this, and guys aren't going to feel 100 percent, but it was good to see Hanley respond like he did."
Ian Browne has covered the Red Sox for MLB.com since 2002. Follow him on Twitter @IanMBrowne and Facebook. This story was not subject to the approval of Major League Baseball or its clubs.