Cuthbert's clutch triple fuels Royals' 2-run 6th
Rookie third baseman plates tying run in rubber-game win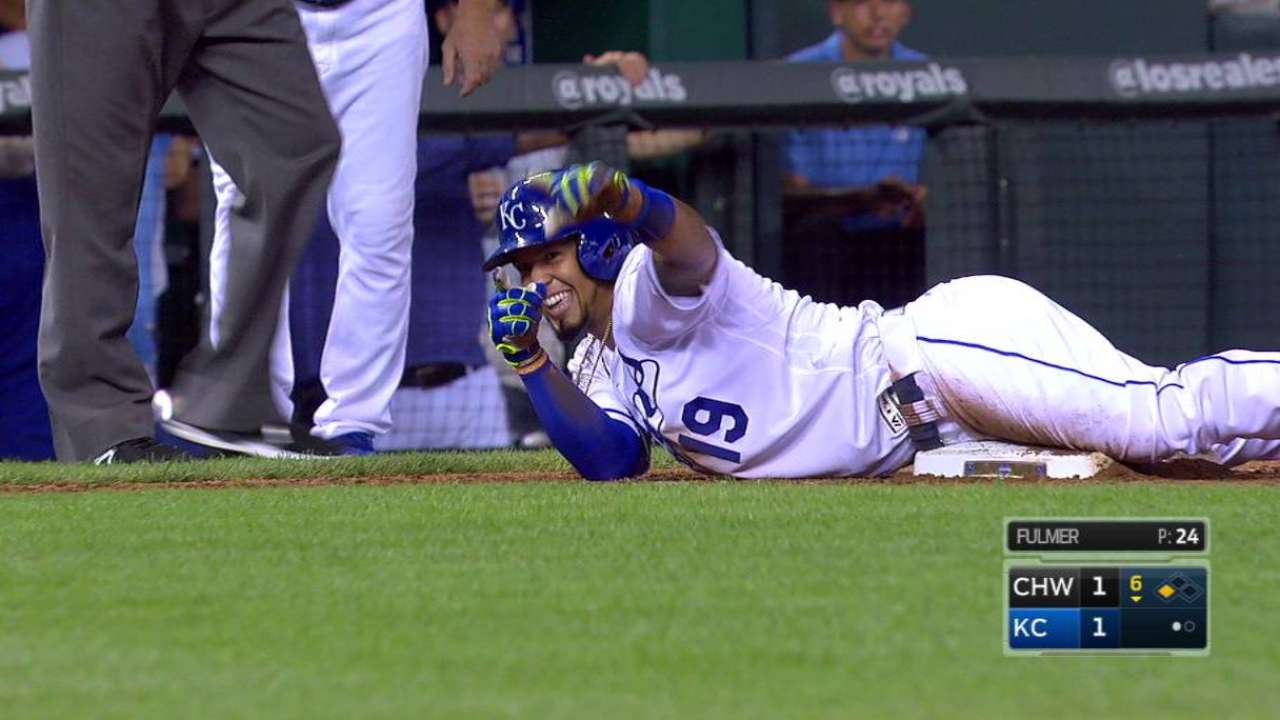 KANSAS CITY -- When Royals manager Ned Yost moved Cheslor Cuthbert up to the No. 2 spot in the batting order on July 19, he wasn't asking for anything extra. Yost was happy with Cuthbert's production and was trying to do what was best for the offense.
Almost one month later, Cuthbert has developed into one of the most consistent hitters on the team. He went 2-for-4 in a 2-1 win over the White Sox on Thursday, plating the tying run with a triple in the sixth and scoring the go-ahead run on Eric Hosmer's single.
"Ches has been giving us great at-bats," Yost said. "Very seldom will he chase out of the zone. He just puts good swings on the ball."
While Cuthbert's triple was a pivotal hit in the game, it also added to some personal accolades for the rookie third baseman. Having already extended his hitting streak to seven games with a first-inning single, the triple represented Cuthbert's fifth straight game with an extra-base hit and his fourth straight multi-hit game.
"He's hot. Everything he hits is on the barrel and hard," White Sox manager Robin Ventura said. "When a guy is in that kind of groove, he's tough to stop."
And while Cuthbert is known for his patience at the plate, it was a first-pitch cutter away that he was able to crank to center to tie the game.
"I just go up aggressive, looking for a good pitch," Cuthbert said.
But more than just his aggressiveness, Cuthbert has become one of the toughest outs in the Major Leagues since the All-Star break. He's hitting .347 in 26 games in that stretch, and entered Thursday with the fourth-most hits in the American League in that period.
"You can't pitch him one way," Yost said. "He can drive the ball down the right-field line as well as the left-field line, and everywhere in between."
Cuthbert shifted the credit to Royals left-hander Danny Duffy, who gave up one run in a complete-game win. Cuthbert noted that Duffy was dynamic, and kept the score down until the offense finally broke through.
"He kept us in the game until the [sixth]," Cuthbert said.
Duffy said he wanted to do his part after being energized by the two-run sixth.
"Once we scored those two runs, I kind of felt another gear," Duffy said. "I wanted to protect the lead that my team just gave me more than just keeping [the White Sox] off the board."
Scott Chasen is a reporter for MLB.com based in Kansas City. This story was not subject to the approval of Major League Baseball or its clubs.