Scoring every frame rarer than perfect game
Brewers become 19th team in 116 years to accomplish rare feat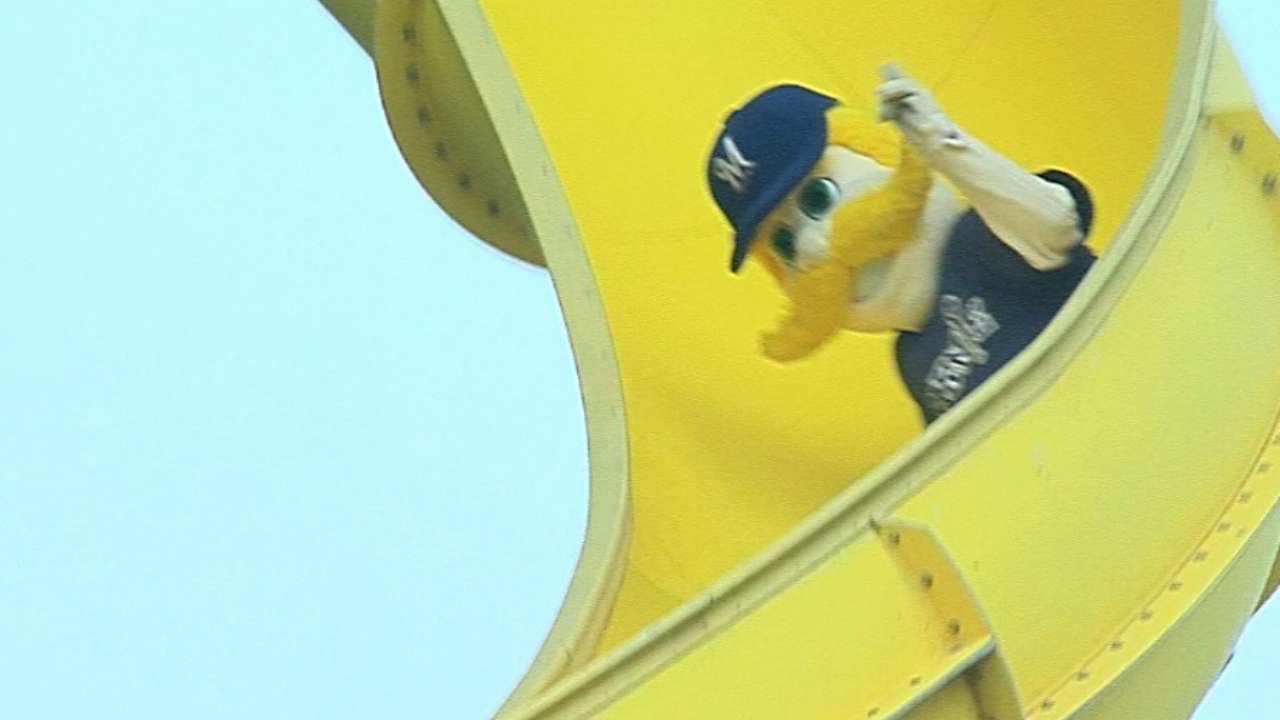 MILWAUKEE -- This was a feat rarer than a perfect game, and yet many of the players involved didn't realize it was happening.
When Orlando Arcia's triple bounced past diving Braves center fielder Ender Inciarte in the eighth, and Jonathan Villar motored home from first for the final run of Milwaukee's 11-3 win at Miller Park on Thursday, the Brewers became the 19th team in the last 116 years to score in every inning they came to bat.
In the same span, there have been 21 perfect games, including one in the postseason.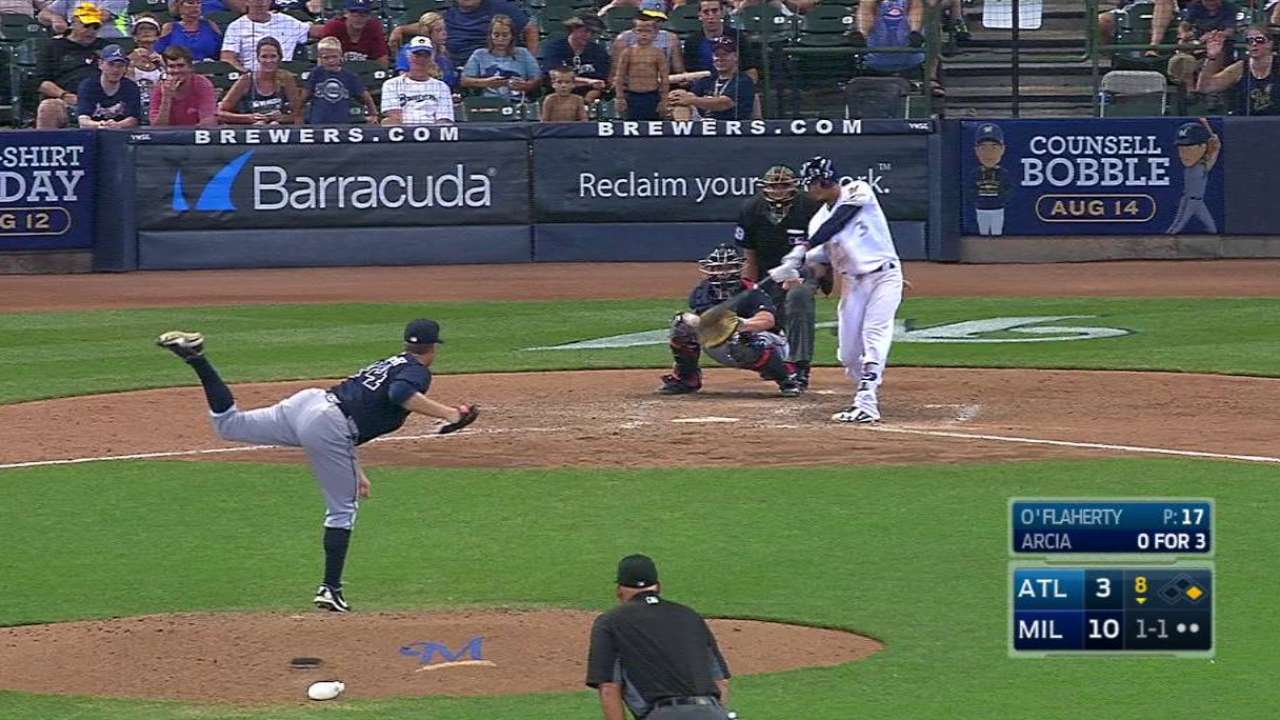 "I didn't know until their first-base coach [the Braves' Eddie Perez] mentioned it in the ninth," said Brewers first baseman Chris Carter, who hit a two-run home run and scored twice. "I looked and I was like, 'Oh yeah, we did score every inning.' I didn't even notice that. That's pretty cool."
Said outfielder Keon Broxton: "I had no idea that was happening."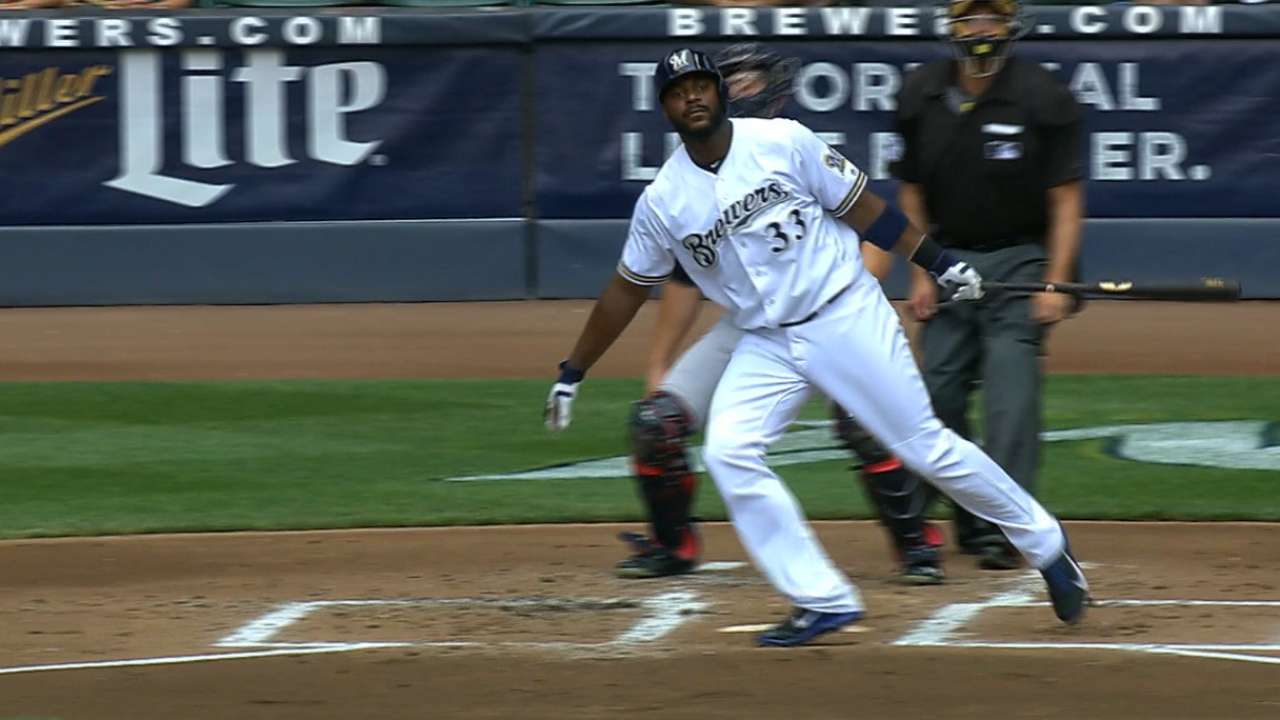 The Brewers scored a pair of runs in the first inning on Carter's off-balance homer, then made it 3-0 in the second when the Braves threw out Manny Pina stealing second and Broxton scampered home on a fielder's choice. They scored one run apiece from the second inning through the fifth, three in the sixth on Pina's bases-clearing double -- his first three RBIs in the Majors -- and a run apiece in the seventh and eighth.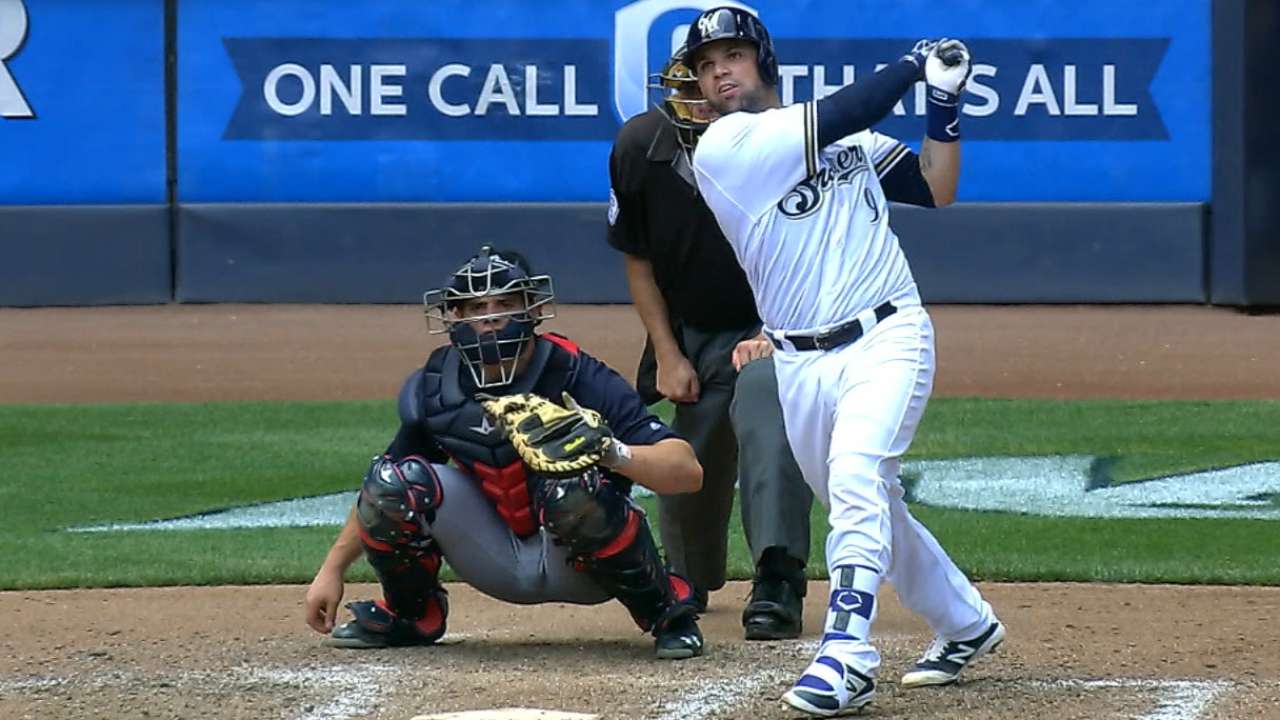 With Ryan Braun resting his surgically-repaired back, every Brewers position player had at least one hit, including three apiece from Villar and Hernan Perez. Carter, Perez and Scooter Gennett homered. Four different players scored multiple runs.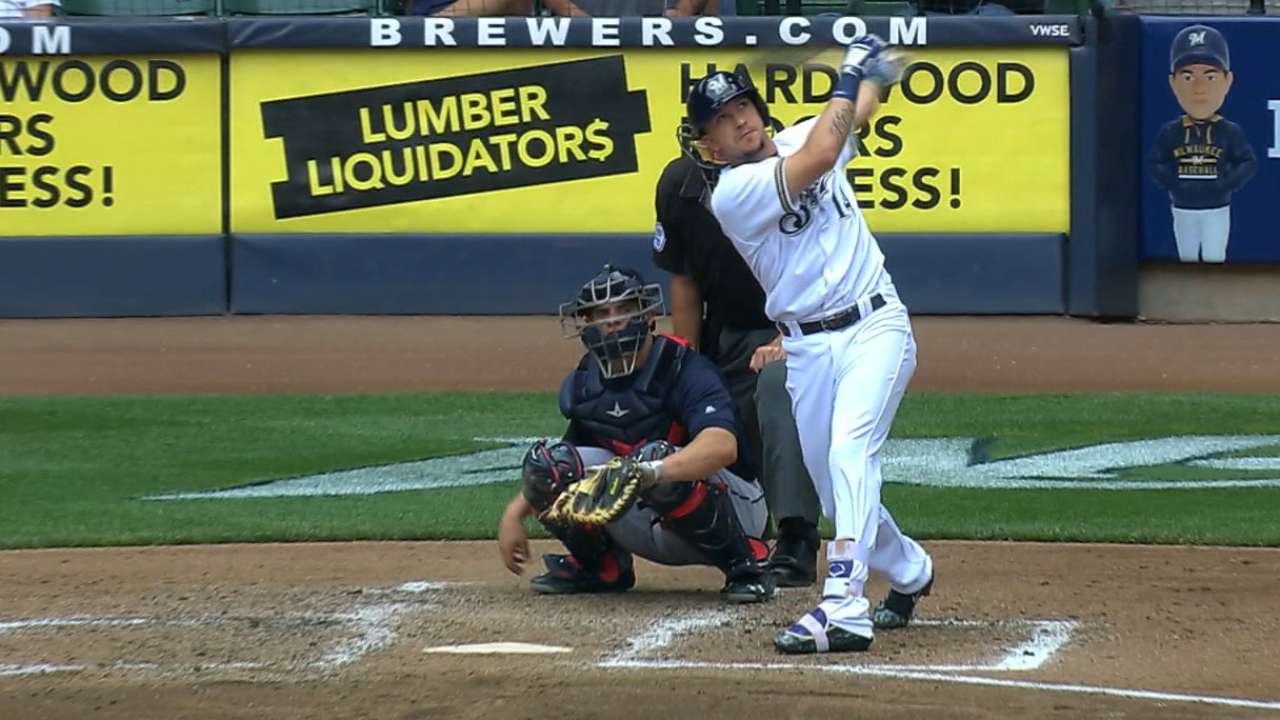 "We were talking about it a little bit in the dugout," said Arcia, who logged his first career triple and his first stolen base. "My last at-bat, I wasn't even thinking about it."
When he saw the baseball bounce past Inciarte, his eyes widened.
"I really thought he was going to catch it," Arcia said. "Once it dropped, I really had to turn it on. I had to get going. At first, of course [he thought about an inside-the-park home run]. But once I was running to second and I saw he was picking up the ball, I saw [third-base coach] Eddie Sedar giving me the stop sign."
"That was amazing, man," Pina said. "When you play, you just go play and have fun, play hard. The history happens when you are playing."
Before the Brewers, the Tigers were the last team to score in every inning at-bat, during a home Interleague win over the Rockies in August 2014. Before that, it had not been done since the Yankees beat the Blue Jays at old Yankee Stadium in August 2006.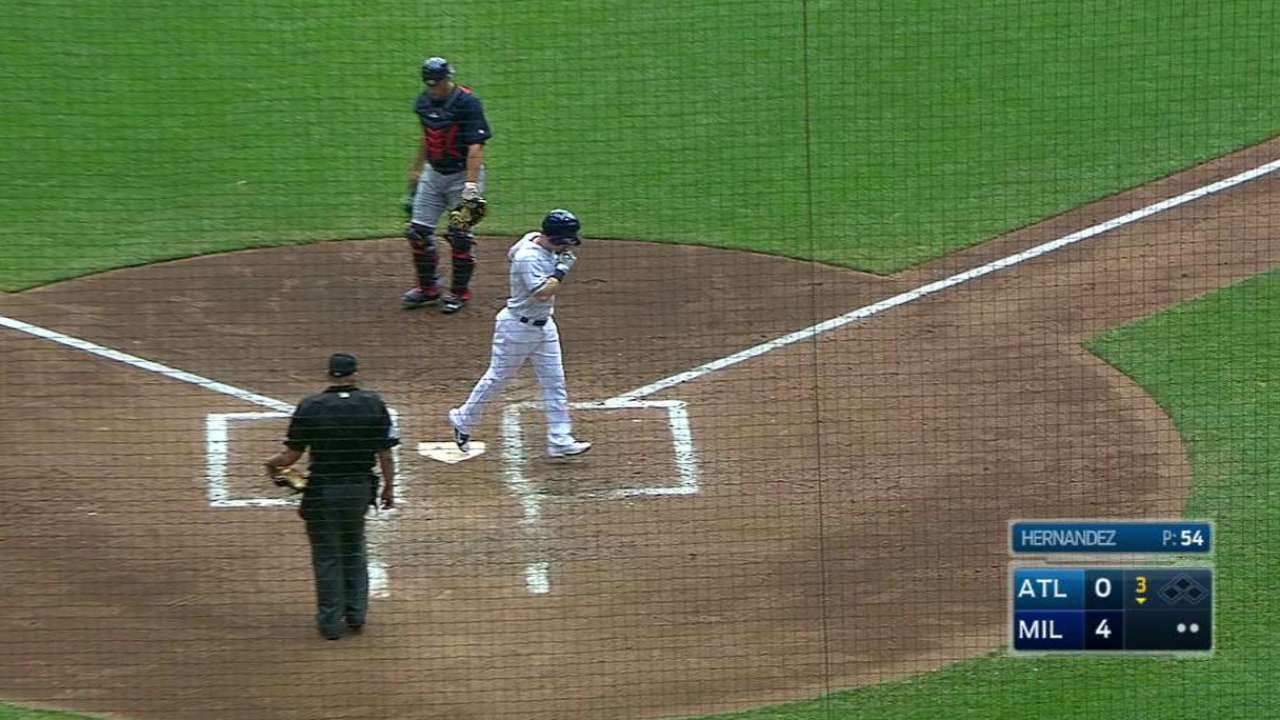 According to data from the Baseball Almanac, the Brewers had never scored in every inning of a game.
"I don't know if the players were talking about it; I mean, you saw it on the scoreboard," Brewers manager Craig Counsell said. "You don't see that look on the scoreboard -- ever."
Brewers' scoring plays
1st: Carter hits two-out, two-run home run
2nd: Broxton scores on fielder's choice when Pina is caught stealing second
3rd: Gennett hits a solo home run
4th: Perez hits a solo home run
5th: Arcia walks and later scored on Gennett's single
6th: Pina hits a three-run double to right-center field
7th: Kirk Nieuwenhuis doubles and scores on Perez's single
8th: Villar reaches on fielder's choice and scores on Arcia's triple
Adam McCalvy has covered the Brewers for MLB.com since 2001. Follow him on Twitter @AdamMcCalvy, like him on Facebook and listen to his podcast. This story was not subject to the approval of Major League Baseball or its clubs.