CarGo's pinch-hit double runs hit streak to 18
Rockies RF plans to be in starting lineup Friday; Qualls set to begin rehab assignment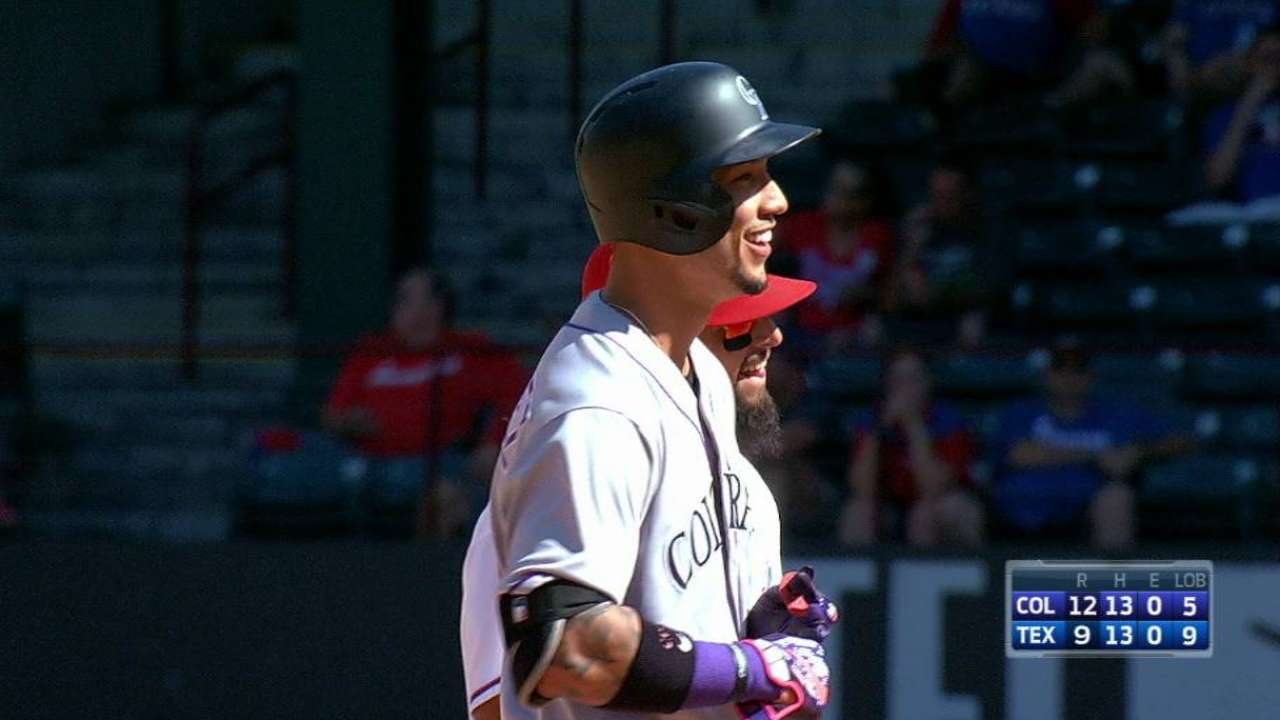 ARLINGTON -- Rockies All-Star Carlos Gonzalez needed to heal. He didn't need batting practice.
Gonzalez suffered a left ankle sprain on Aug. 3, and since inflammation forced him to be removed from a game Monday he hadn't done anything but hit off a tee. The two times he attempted to play, he didn't do any pregame hitting.
But on his first swing Thursday afternoon, on a 97-mph fastball from Rangers reliever Matt Bush, Gonzalez delivered a pinch-hit three-run double in the eighth inning to give the Rockies a 12-9 victory and end a four-game losing streak.
"Everybody's giving me a hard time because I haven't seen a pitch, not even in BP," Gonzalez said. "I hit off the tee yesterday a little bit and I hit off the tee today. Then I jumped in there and Bush threw 97 first pitch [for a ball] and I said, 'OK, wake-up call right now."
On the next pitch, Gonzalez helped put an end to the Rockies' recent nightmares of late losses by lining his double into the left-center-field gap.
Gonzalez's double, which lifted his RBI total to 79, ran his career-best single-season hit streak to 18 games. Gonzalez had a 21-game hitting streak earlier this year that started with the last 10 games of last season.
In other words, he has hit enough that he doesn't need a lot of practice.
"The mental part is really important, too, just trying to stay focused, watch the game and pretend that you're still in there, and at some point you're going to have a chance to help the team," Gonzalez said.
Gonzalez added that he plans to be in the starting lineup Friday night in the opener of a three-game series at Philadelphia.
Qualls to begin rehab assignment
Righty reliever Chad Qualls, who hasn't pitched since July 15 because of a bout with colitis that cost him 16 pounds, fared well in a 25-pitch simulated game Wednesday and will pitch for Triple-A Albuquerque on Saturday and Monday on a rehab assignment. The team happens to be playing in Colorado Springs, so Qualls (2-0, 5.61 ERA in 36 games) can commute from his Denver home.
"I wanted to try to lose a couple pounds to get a little lighter on my feet, but I didn't mean to lose 16 pounds getting sick," Qualls said. "I feel good, though. I feel a little but lighter."
Not the homecoming he wanted
Story is from Irving, Texas. Before the season, he circled the two-game series at Globe Life Park. The only good part about having his thumb stitched and his hand and forearm heavily wrapped as a result of the surgery is that he can spend time with family and friends.
"Time is limited because we just have two games here, and one of them is a day game, but I got to hang out with friends and family," Story said. "When I saw the schedule, I was looking forward to these days for a long time. It's unfortunate, the timing of it. We were playing well and this trip was right around the corner."
Story, who hopes the Rockies can make the playoffs and he can return, said the stitches will be removed when the team returns to Denver after Sunday's game in Philadelphia.
Thomas Harding has covered the Rockies since 2000, and for MLB.com since 2002. Follow him on Twitter @harding_at_mlb, listen to podcasts and like his Facebook page. This story was not subject to the approval of Major League Baseball or its clubs.