Inbox: More moves coming for Blue Jays?
Beat reporter Gregor Chisholm answers questions from Toronto fans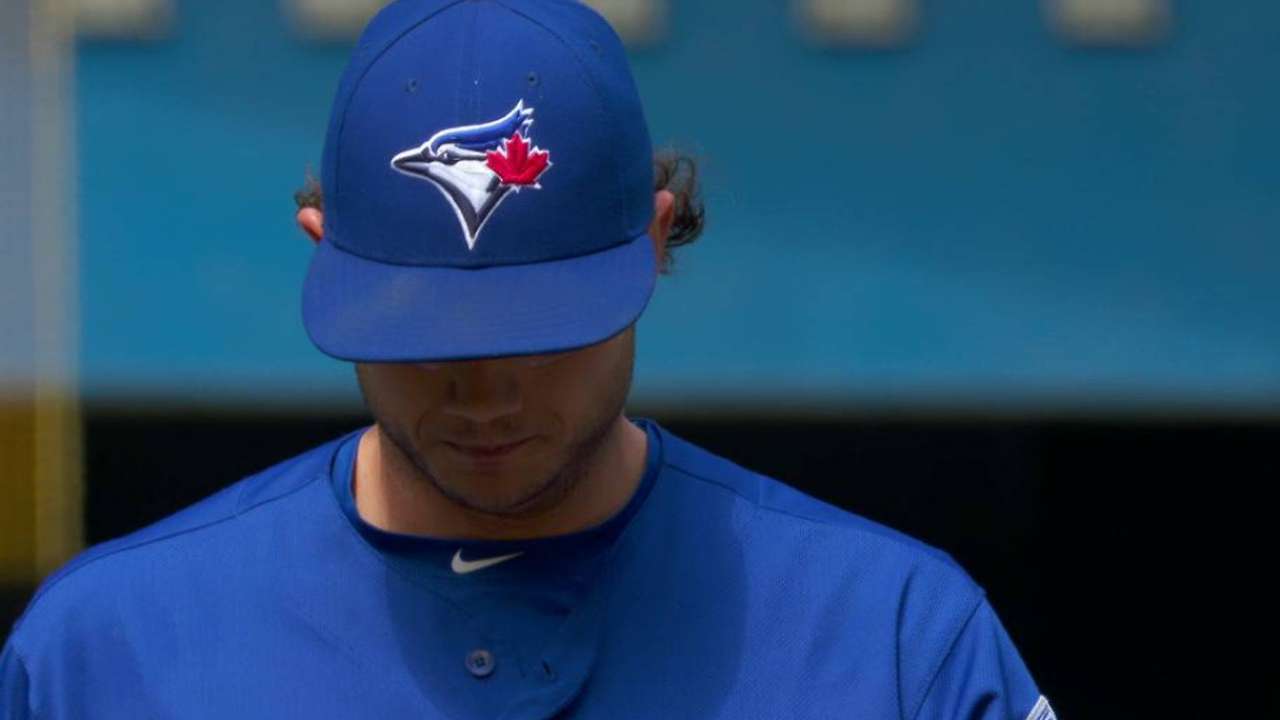 With the deadline for a player to be eligible for the postseason roster approaching on Aug. 31, do you think general manager Ross Atkins will make any more moves?
-- Mike C., Toronto
I think there's a strong possibility the Blue Jays will look to do some minor tinkering in the bullpen. A second lefty would really help stabilize the middle innings and provide some insurance in case Brett Cecil struggles like he did in the first half of the season.
Pitchers to keep an eye on include Colorado's Boone Logan and Jake McGee, Oakland's Sean Doolittle, or former Jays lefty Marc Rzepczynski. Francisco Liriano also could be an internal option later in the year if Toronto finds a way to manage Aaron Sanchez's innings out of the rotation.
• Submit a question to the Blue Jays Inbox
The need for another right-handed reliever depends entirely on the performance of Joaquin Benoit; the veteran has gotten off to a strong start in a Blue Jays uniform. Sanchez's potential transition to the bullpen later in the year serves as another internal option.
Which players in the Minor League system do you see as potential callups for September?
-- Derek, Panama
This will not be the year that the Blue Jays promote a lot of prospects. Toronto intends on taking a patient approach with the next wave of talent. A more likely scenario is for the club to promote players who have been here before. Aaron Loup, Bo Schultz, Danny Barnes and Mike Bolsinger are among those essentially guaranteed of a job in September, while Chad Girodo seems like a realistic possibility.
Position players likely to make the jump are catcher Erik Kratz and infielder Ryan Goins. Dalton Pompey also should head north when his Minor League season comes to an end, but his speed won't be needed quite as much as it was a year ago, with Melvin Upton Jr. and Ezequiel Carrera also on the roster. Chris Colabello is not eligible for postseason play, so it remains to be seen whether he will be called to the bigs in September.
Do you get the sense the Blue Jays will be willing to increase payroll next season?
-- Matt, Windsor, Nova Scotia
There were some encouraging signs before the non-waiver Trade Deadline that could indicate payroll is going to receive a bump. President Mark Shapiro was open about the fact that prior to the Deadline, he received clearance for several deals that added to the payroll.
Then consider that the Blue Jays were willing to take on Liriano's $13.67 million contract for the 2017 season. Toronto has approximately $105 committed to eight players next year, with another $3 million on the way to Jason Grilli in the form of a club option. Add in the money for arbitration and pre-arbitration players, and the salary number quickly jumps to the $115 million range on a team with eight free agents on the 25-man roster.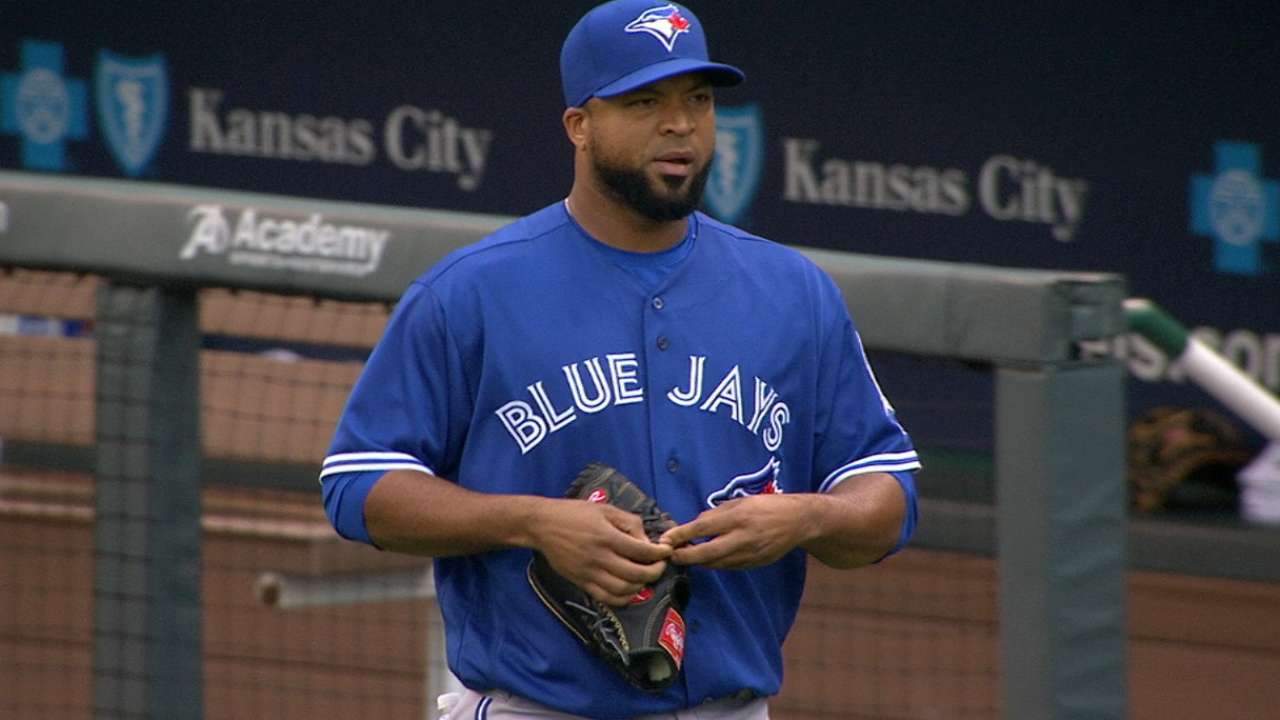 Realistically, the Blue Jays need two outfielders and a first baseman/DH while also overhauling the bullpen. That would be tough to do on this year's Opening Day payroll of approximately $135 million, but a range of $150 million-$160 million should be enough for this club to accomplish its goals. It's doubtful that Toronto would have agreed to take on Liriano unless there was some indication that payroll is going up.
Do you think the Blue Jays will sign R.A. Dickey for the 2017 season? Perhaps another qualifying offer?
-- Dom, Kingston, Ontario
It's hard to envision a scenario in which Dickey returns. Toronto currently has five starters under club control for 2017: Sanchez, Marco Estrada, J.A. Happ, Marcus Stroman and Liriano. The Blue Jays will most likely explore depth options and swingmen-type of relievers as opposed to guaranteeing an expensive contract.
The only way Dickey would get a qualifying offer is if Toronto was confident he could be dealt elsewhere. That likely will be a risk the Blue Jays will not be willing to take, and Dickey's fourth season in Toronto is all but guaranteed of being his last.
Not to focus on next year already, but I wonder what your thoughts are on Jose Bautista and a potential qualifying offer. Do you think he'd consider accepting one for a one-year value rebuilder?
-- Angus, Ontario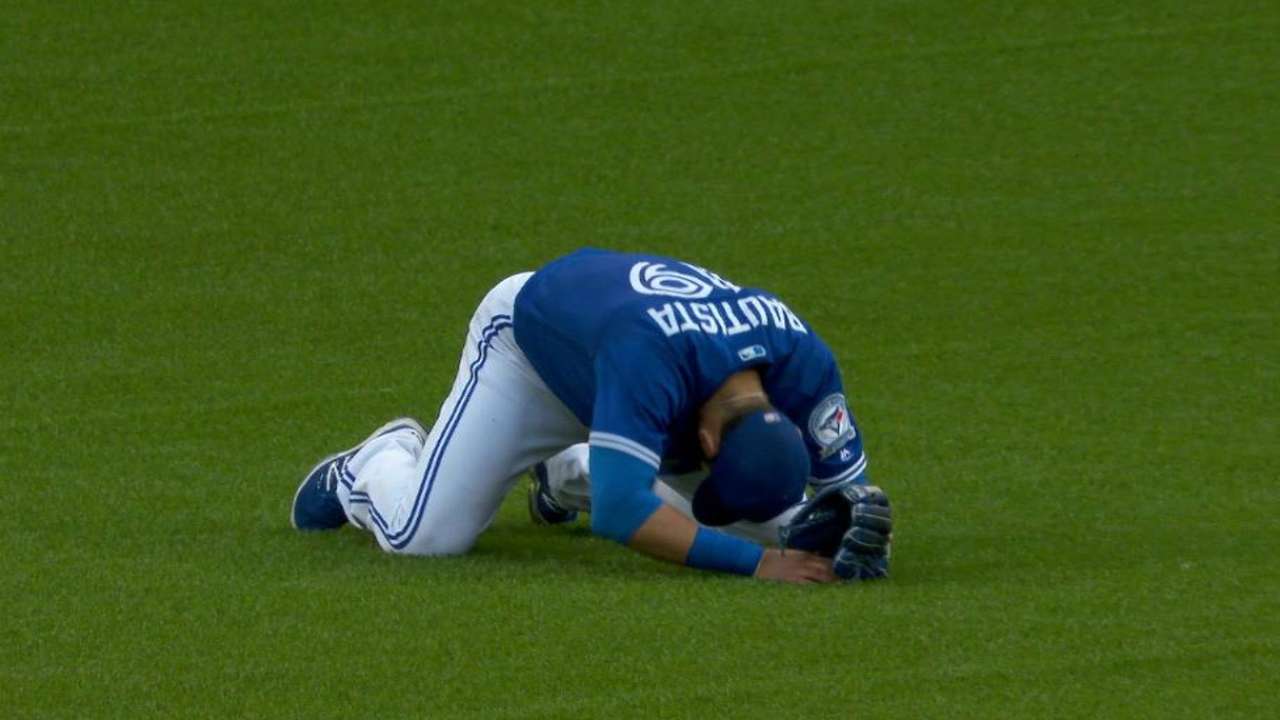 Bautista's value took yet another hit this week when was placed on the 15-day disabled list with a left knee injury. It's his second stint on the DL this year, and the timing could not be much worse with less than two months remaining in the regular season. Bautista is still a virtual lock to receive a qualifying offer, but it seems pretty unlikely that he would actually consider accepting it.
Bautista will be 36 when he hits free agency. Delaying free agency for another year would give him a chance to rebuild some of his lost value, but he also would be another year older. If Bautista can get some long-term security now, it would probably make the most sense to lock it in.
Gregor Chisholm has covered the Blue Jays for MLB.com since 2011. Follow him on Twitter @gregorMLB and Facebook, and listen to his podcast. This story was not subject to the approval of Major League Baseball or its clubs.