Strasburg looks back on Olympics experience
Nationals' ace was Team USA's only college player in Beijing
WASHINGTON -- It's the experience that sticks with so many who have the opportunity to compete in the Olympics, walking around the Olympic Village and realizing they are among the best athletes in the world. That's what stood out to Stephen Strasburg as he reflected on being a part of the 2008 Olympic Games in Beijing.
There he was at 20 years old, having just finished his sophomore year at San Diego State, walking among stars such as Spain's Rafael Nadal or Germany's Dirk Nowitzki, or riding back on the same shuttle bus as Team USA's gold medal-winning volleyball duo of Misty May-Treanor and Kerri Walsh.
"That's a pretty neat experience," Strasburg said. "Just little things like that, there's nothing like it."
The International Olympic Committee announced Aug. 3 that baseball and softball would be among the five sports added for the Tokyo Games in 2020. Baseball and softball will be returning for the first time since those '08 Olympics in Beijing, when Strasburg won a bronze medal as a member of Team USA.
• Team USA wins bronze medal at 2008 Olympics
Those games will almost certainly not include talent from Major League Baseball, considering they take place during the MLB season. But Strasburg would be in favor of baseball finding a way to incorporate an Olympic break into the baseball season, similar to the way the National Hockey League does so with the Winter Olympics.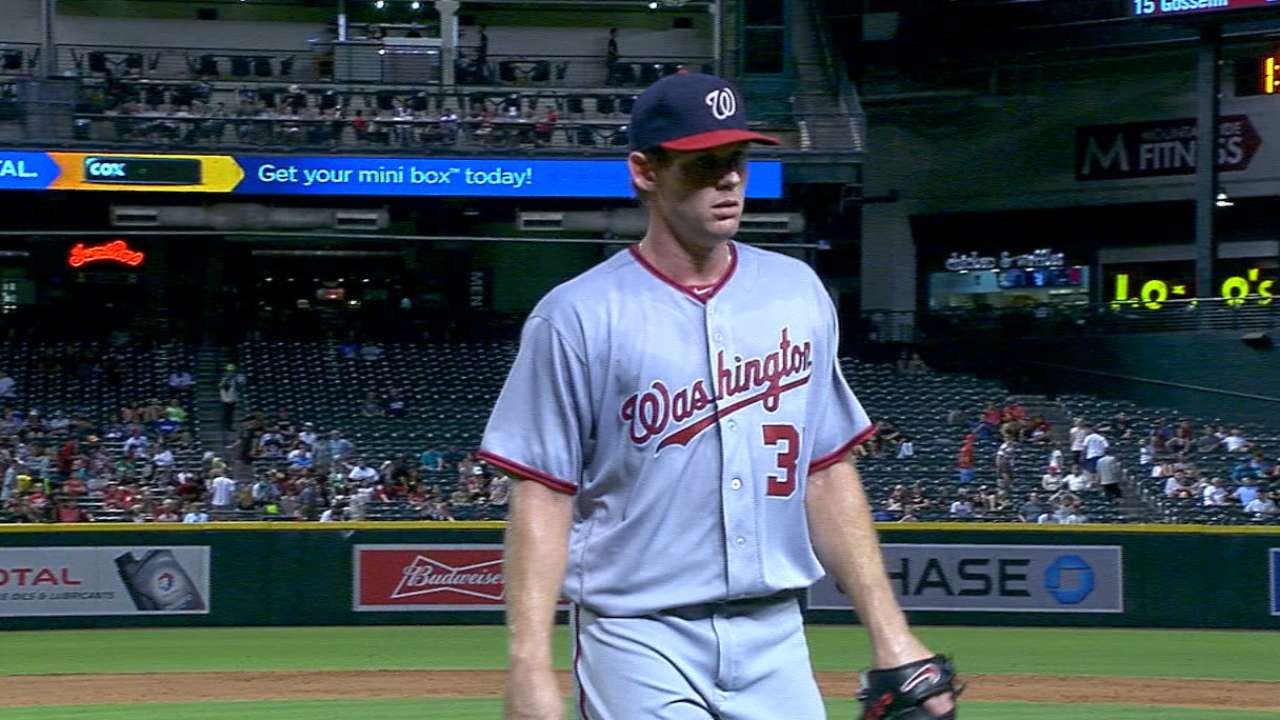 "I think if baseball had a way to do it, I think it shouldn't be just all about money, because there's nothing like representing your country in the Olympics," Strasburg said. "The World Baseball Classic is great, but in my personal opinion, I don't think it has anywhere near the same feelings as being out there in the Olympics."
Strasburg began that summer of 2008 by pitching for Team USA in the World University Baseball Championship -- an international competition for players 23 and younger -- when he received a call from USA Baseball president Mike Gaski, asking him to join the Olympic team as well.
Strasburg was the only college player selected to the team, which was managed by Davey Johnson, the right-hander's future manager with the Nationals. Strasburg described Johnson as the same in 2008 as he was during his three years ('11-13) as the manager in Washington: "easygoing, loose and charismatic." The rest of Team USA's roster featured mostly Minor Leaguers, some of whom eventually made it to the Majors, such as Jake Arrieta, Dexter Fowler, Trevor Cahill and Brett Anderson.
"I was just kind of the youngest of the young guys trying to do my thing," Strasburg said. "It was interesting to see ... the professional side of it and how they go about their business and preparation."
Team USA lost its opening game against South Korea, which would go on to win the gold medal. Strasburg watched from the dugout during that game, but he remembered being surprised at how good the Koreans were.
Strasburg made his first start in Team USA's next game against the Netherlands, and he pitched a gem. He carried a no-hitter through six innings until he allowed a two-out single in the seventh. It was the only hit Strasburg gave up in seven scoreless innings, and he struck out 11. Team USA won, 7-0, in a game shortened to eight innings because of rain.
"I wasn't nervous," Strasburg said. "I think I was just kind of young enough to not really understand the significance of it."
Strasburg's next start was scheduled to be against Japan and right-handed phenom Yu Darvish. However, the United States had already clinched a spot in the medal round, so Johnson decided to hold Strasburg back to face Cuba in the semifinals. The Cuban lineup, which included Hector Olivera and Yulieski Gurriel (who recently signed with the Astros), tagged Strasburg for three runs on six hits in four innings as Cuba coasted to a 10-2 victory.
Strasburg finished the Olympics with a 1-1 record and a 1.67 ERA. In addition to Team USA's bronze medal, he was awarded the USA Baseball Richard W. "Dick" Case Award for Player of the Year.
Strasburg was still one year away from being selected No. 1 overall by the Nationals in 2009, but in his first taste of elite competition, there were already signs of the pitcher he would later become, one certainly deserving to walk among the rest of those Olympic stars.
Jamal Collier covers the Nationals for MLB.com. Follow him on Twitter at @jamalcollier. This story was not subject to the approval of Major League Baseball or its clubs.