Samardzija's new curveball is a blast from his past
Hitters have .182 average against righty's curve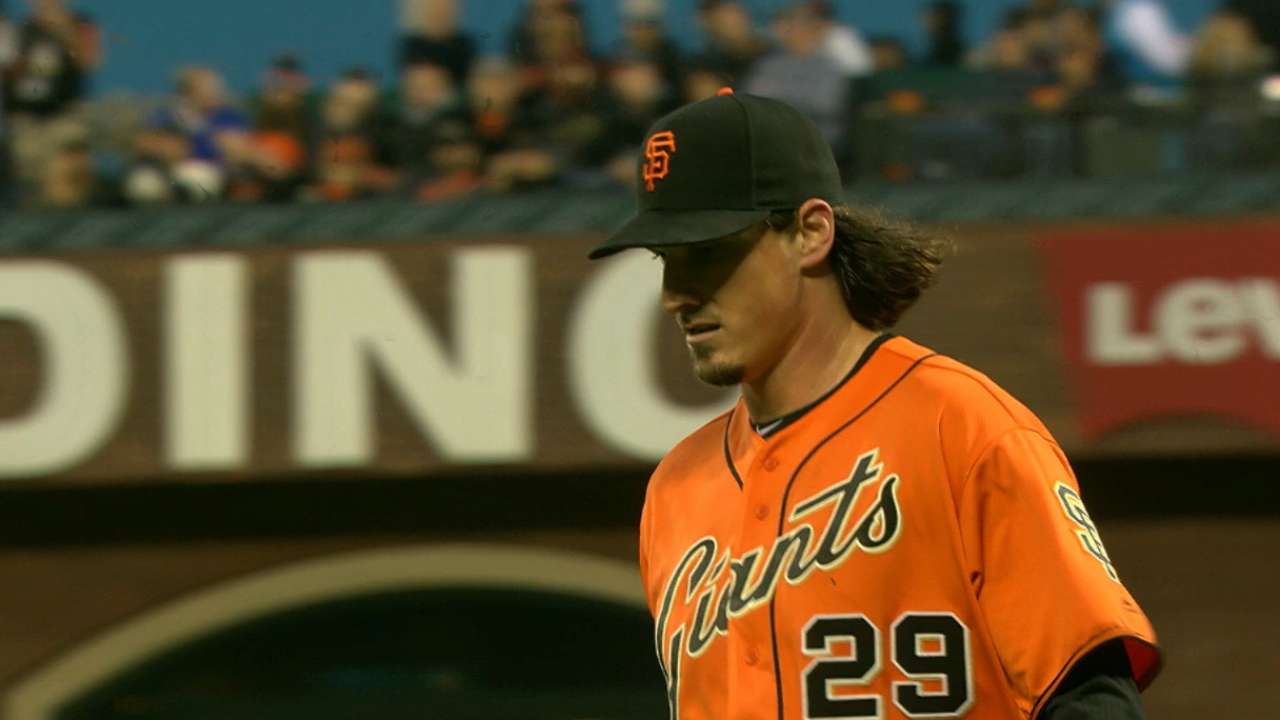 By now, we're used to seeing once-starters transition to the bullpen and have successful careers. We're used to the mold. It's a hard-throwing righty who's got a fastball and a slider but just can't master a consistent changeup. He gets moved to the bullpen, he ditches the changeup entirely, he ramps the velocity up a few ticks, and the fastball/slider combo dominates in one-inning bursts. It's become a rather common career arc. And it's almost the precise opposite of Jeff Samardzija's career arc.
After playing football for four years at the University of Notre Dame, Samardzija cracked the big leagues two years after being selected in the fifth round of the 2006 MLB Draft, and after four years pitching out of the Chicago Cubs' bullpen, he made the rare reliever-to-starter conversion. Not only that, but he actually reduced his arsenal when he became a starter. Usually, it's the other way around. So much about Samardzija's career seems backward.
• FanGraphs' Corinne Landrey investigates the historic success of Zach Britton
In 2012, Samardzija told ESPN that while he'd attempted to add a curveball earlier in the year, "I was kind of fed up with walking guys and stuff, so I really wanted to get into the zone, and I knew I could get into the zone with my slider."
Samardzija identified the curve as being no longer effective, so he ditched it.
Starters-turned-relievers have no qualms with abandoning their problem pitches, because they don't have to worry about giving batters multiple looks in order to turn over a lineup several times. Every batter a reliever faces, he's only going to face once, so he trusts his best stuff and lets the hitter have it. Starters do have to worry about multiple looks, so theoretically, the wider the arsenal, the better, as long as the pitches are effective.
Samardzija used to throw a curveball, but once he transitioned into his starter role, he began to struggle. From Aug. 8, 2012, to July 23, 2016, Samardzija threw zero curveballs.
In the second inning of Samardzija's July 24 start in New York against the Yankees, Starlin Castro saw something he couldn't have possibly expected:
For the past few years, the slider's been Samardzija's go-to secondary offering. Since the curveball debuted, it's taken over. The slider comes in at 87 mph, on average, and the curve has been coming in closer to 82. And in each of the four starts since Samardzija has started throwing the curve, he's been getting more velocity separation between it and the slider; in Wednesday's 1-0 win against Miami, Samardzija threw 16 curveballs, and they averaged just 79 mph.
If you'd been waiting for the return of the curve, I hope you weren't holding your breath, but there was reason to anticipate its comeback. Samardzija told us as much. From that same ESPN article in 2012:
"I think the more I get to learn myself and how I pitch in games and how guys approach me at the plate, I think there will definitely be time to use the curveball again," Samardzija said. "But it still needs work, and I need to learn how to carry over the work from the bullpen into a game. And it's a learning process especially with that pitch."
Samardzija expected there to be a time to use the curveball again. He just probably didn't know it would take four years.
I can't say precisely why Samardzija decided to resurrect the curveball, but we can infer that the overarching reason is the same as why he ditched it in the first place: Things just weren't working. Over Samardzija's first 10 starts with the Giants, he ran a 2.54 ERA and a 2.97 Fielding Independent Pitching, looking every bit the borderline ace he was before struggling for the White Sox last season. Over his next nine starts, however, Samardzija's homer problem showed its face again, and the ERA ballooned to 6.14, the FIP to 5.85. Then came the curveball.
Evidently, Samardzija decided he needed a change. And the curveball does just that: It provides a change of pace. It makes the hitters think about a third speed, and a new shape. Without the curveball, nothing in Samardzija's arsenal averages below 86 mph. The most recent iteration of the curve had it sitting at 79, and against Miami, Samardzija was frequently using it to set up his fastball, at times providing something near a 20-mph change in velocity.
Now, it's understandable to be skeptical of this development. After all, in the four starts since the curveball has taken over as Samardzija's go-to secondary offering, he's run an identical 5.18 ERA and FIP. It's not like this has suddenly turned Samardzija's season around. But the curve, on its own, has looked good.
By velocity, movement and spin rate, its closest comp is the curve thrown by Carlos Carrasco. It shares many characteristics with Jacob deGrom's curveball, too. Samardzija has gotten whiffs on 14 percent of his curves thus far, putting him comfortably above the league average of 11 percent and in the upper quartile of all starters with at least 50 curveballs thrown this year. When it's been put in play, it's resulted in a ground ball 57 percent of the time, also soundly above the league average. If small-sample pitch-type results aren't your thing, we can just look at how Samardzija has commanded his new wrinkle:
Samardzija has certainly let a few slip -- that's to be expected -- but on the whole, this is a pretty impressive plot for a pitch he hadn't used in a game in nearly four years. Far more than half of Samardzija's curves have been kept in the bottom of the zone, and what's more encouraging is how he's changed the location based on batter handedness. He's done a good job of keeping it outside both to lefties and righties, suggesting a level of command beyond "being able to keep it down." He's been keeping it down, and he's been keeping it to his preferred side of the plate.
Samardzija is still throwing too many mistake fastballs, and those mistake fastballs are leading to the home runs that have plagued the big righty over the past couple of seasons. And as long as those mistake fastballs persist, so will Samardzija's struggles. What an effective curveball can do, though, is make the mistake fastballs a bit less punishable. A third speed makes it tougher to sit on that heater. A third shape makes it tougher to sit on something straight. A sixth pitch, executed well, can't hurt. Samardzija is trying what he can to get back.
A version of this article first appeared at FanGraphs.com This story was not subject to the approval of Major League Baseball or its clubs.