Power surge: Miller enjoying career year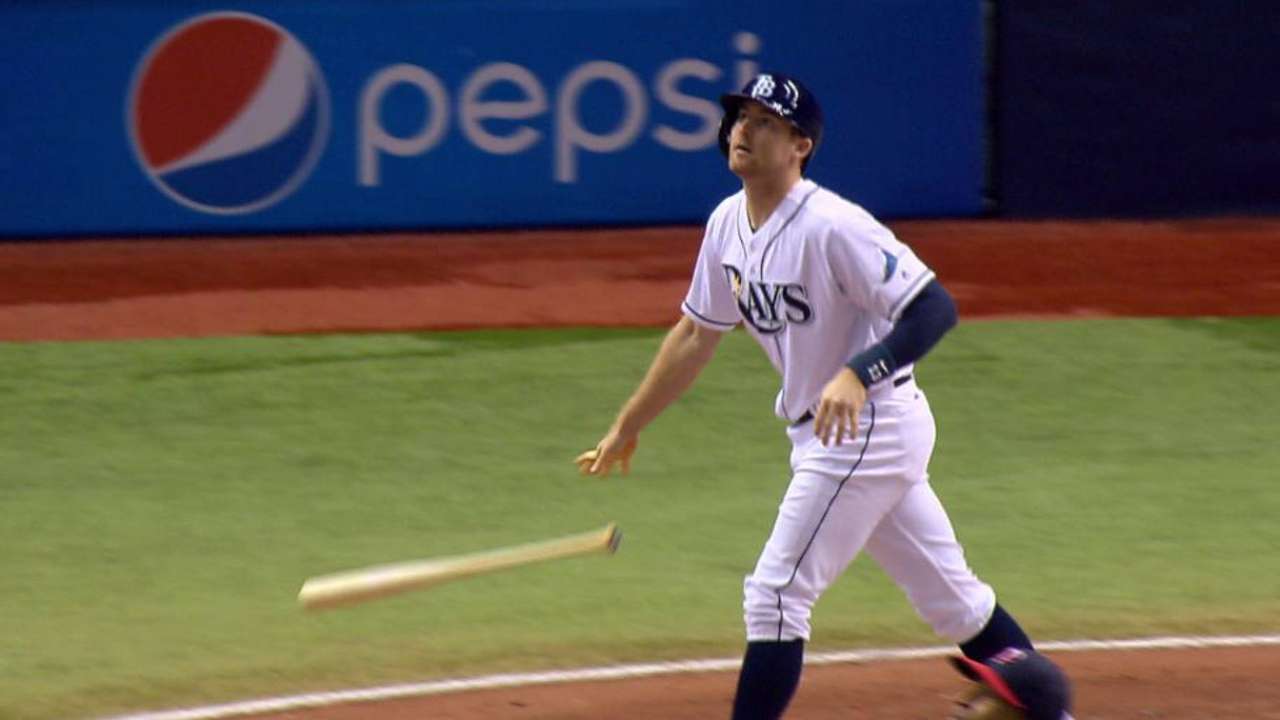 ST. PETERSBURG -- With a dirt-stained uniform and a smile on his face, Brad Miller jogged down the Tropicana Field tunnel. He fist-bumped the security guard holding the clubhouse door open for him, before quickly turning his attention to what waited inside for him.
Miller ran inside shouting, "Here I come," loud enough for everyone inside and outside the room to hear him.
Miller had just blasted a game-winning three-run homer to cap off a 3-2 win over Kansas City on Aug. 4 -- the Rays' eighth one-run win in 26 chances. Amid a lost season for Tampa Bay, Miller has had the best year of his career, finding an unprecedented amount of power. His blast against the Royals came during a five-homer week, and it was part of a two-month stretch where he's hit 15 of his 20 home runs.
"I've been able to consistently drive the ball," Miller said. "It's taking good swings. It's not necessarily a home run swing. If you take a good swing, you have a good path to the ball."
Miller has been crushing his dingers this season. Among players with a minimum of 20 homers, Miller's average home run distance is 415 feet, according to Statcast™. That ranks fifth in the Majors, just behind Carlos Gonzalez (428), Giancarlo Stanton (423), Trevor Story (422) and Nelson Cruz (417).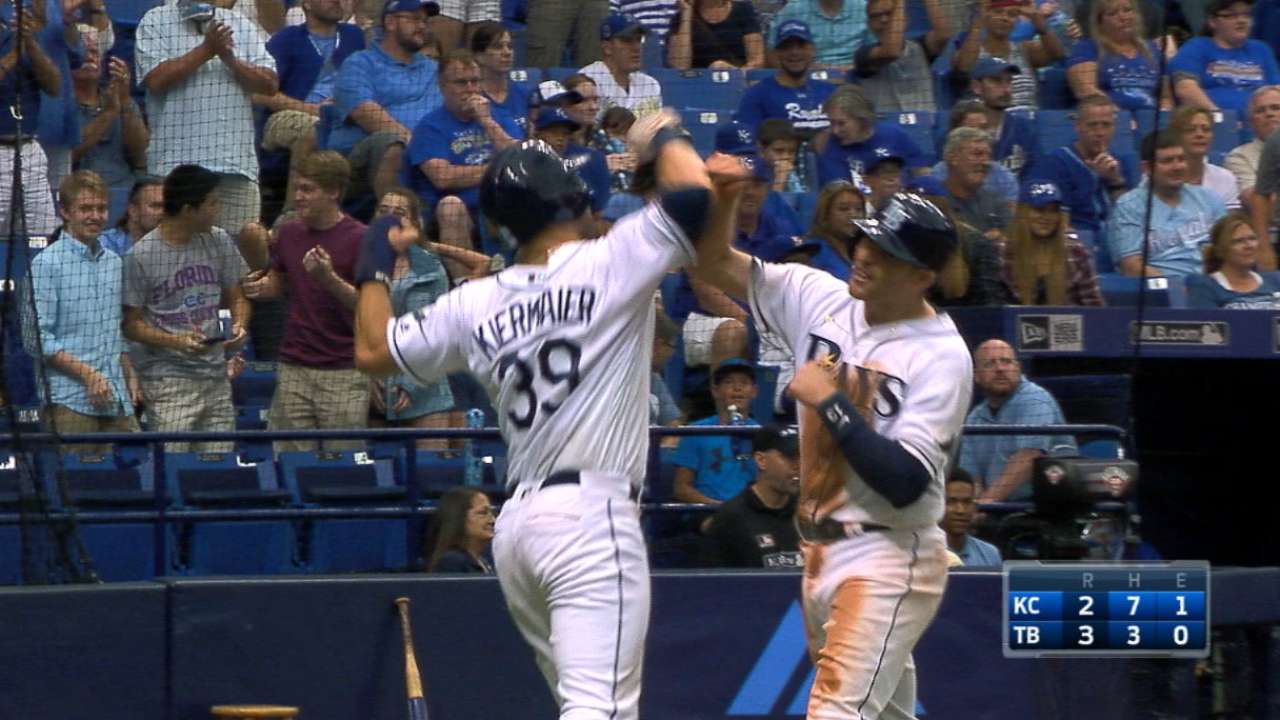 Last year with the Mariners, the average distance of Miller's 11 home runs was 391 feet, with an average exit velocity of 102.8 mph, according to Statcast™. This year, his homers have an average exit velocity of 105.8 mph.
All but three of Miller's homers have been more than 400 feet, and the only three that haven't have gone to the opposite field. According to Statcast™, Miller's longest homer this season is 439 feet. The average Major League home run travels 400 feet, but Miller has shown he's well above average. In fact, he's shown that he's probably the best and biggest power hitter that you've never heard about.
"He's got really good hands. He's really strong," Rays hitting coach Derek Shelton said. "What he does with his contact point and where he gets the ball is what enables him to hit the ball hard and get the ball elevated."
And by contact point, Shelton means that Miller is getting the ball out in front of the plate and that he is rarely late on any pitch.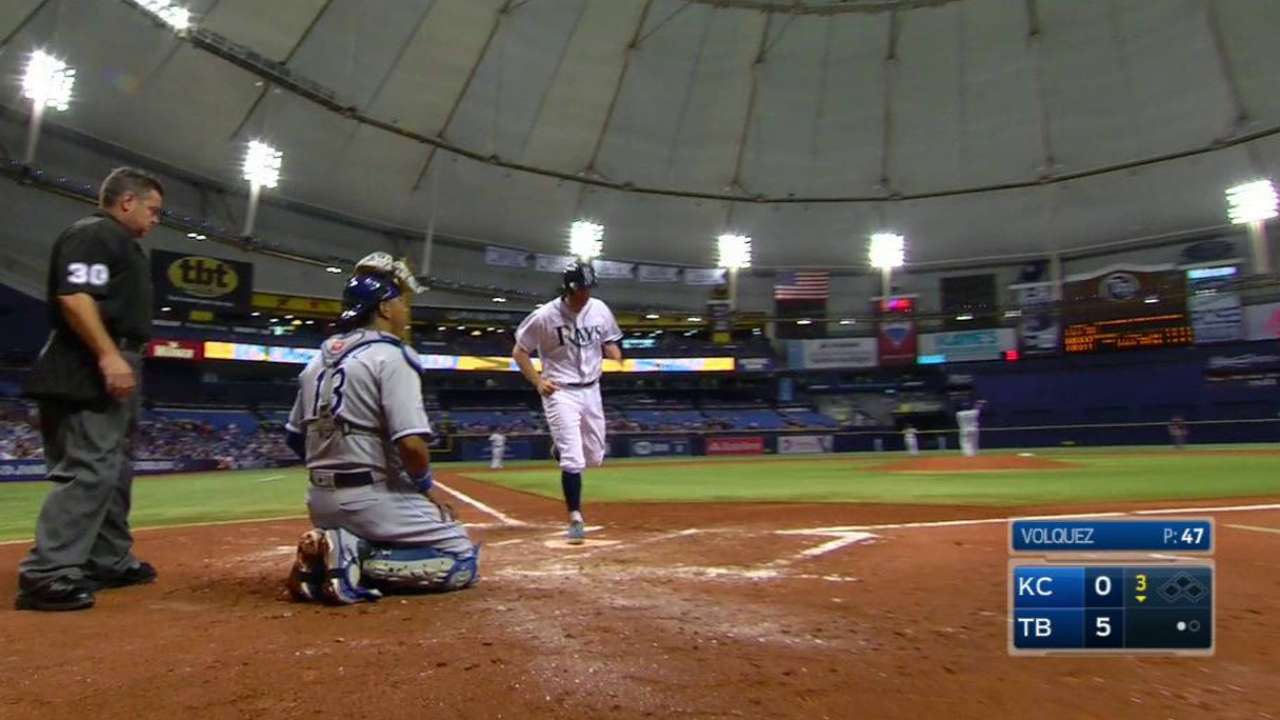 This season, Miller has hit five home runs to center field, compared to just one last season. An astounding 20 percent of the fly balls that he's hit this season have gone for home runs, per FanGraphs. That's up from 10.3 percent in 2015.
Shelton said it's always hard to predict when a player will hit a lot of home runs, but the Rays knew when they were getting Miller they had a player who could hit the ball very hard. Miller had never hit more than 15 home runs at any level, and that was in Class A/Double-A four years ago. He had two homers in April and hit below .200. There was no way to see this coming.
"We did have a lot of confidence and were very optimistic about his bat and his overall play," Tampa Bay manager Kevin Cash said. "And we've seen that. The actual home run numbers, I think you could say are a little bit of a surprise. He hadn't done that before. I don't know if he's ever hit 20 home runs anywhere."
Miller saw his eight-game hitting streak end in Wednesday's 7-0 loss to the Blue Jays. The run started the day he publicly voiced his displeasure at being removed as the shortstop in favor of Matt Duffy, who was acquired from the Giants as part of the Matt Moore deal at the non-waiver Trade Deadline on Aug. 1. Miller had nine RBIs during that stretch, and he has been a catalyst as the new everyday cleanup hitter.
There will still be a lineup spot for Miller, whether it's first base, shortstop, outfield or designated hitter. No matter where he is listed in the lineup, his bat plays as well as anyone on the team. And in 2016, as if from nowhere, Miller is hitting the ball as hard and as far as anyone in the game.
"I know this game's about consistency," Miller said. "I think the last couple years, I've been able to show spurts of stuff, but I want to keep it going throughout the whole year. That's what [Evan] Longoria and [Logan] Forsythe, guys that are big cogs in lineups, that's what they do. They never let up. I'm just excited that I'm driving the ball."
Sam Blum is a reporter for MLB.com based in St. Petersburg. This story was not subject to the approval of Major League Baseball or its clubs.