Machado confident offensive woes are a blip
Luck has not been on Orioles side in three straight losses to A's
OAKLAND -- Manny Machado knows the Orioles are struggling right now. He also knows the team is liable to break out of it any minute.
Yovani Gallardo extended the pitching staff's streak to six consecutive quality starts, though that has translated into little more than a bit of frustration. The Orioles have lost four of their last five games with Wednesday night's 1-0 loss to the Athletics.
"It's August dog days," Machado said. "It's part of the grind. We're squaring the ball up; it's just not landing for us. We're all struggling right now. We're all a little down but we're doing the best we can."
After scoring 19 runs in taking two of three from the White Sox in Chicago to open the road trip, the Orioles have scored three times in 27 innings against Oakland, which ranks 14th of 15 AL teams in pitching.
"Real teams come out of this," Machado said. "We're going to get through this. We know we're better than this."
The Orioles couldn't even catch a break on a replay challenge. Adam Jones hustled to try to score from second on J.J. Hardy's hard-hit double in the top of the first. He beat the throw, but did not get his front foot down in time, as replays showed. Instead of a 1-0 lead after two batters, the Orioles lone scoring opportunity went for naught.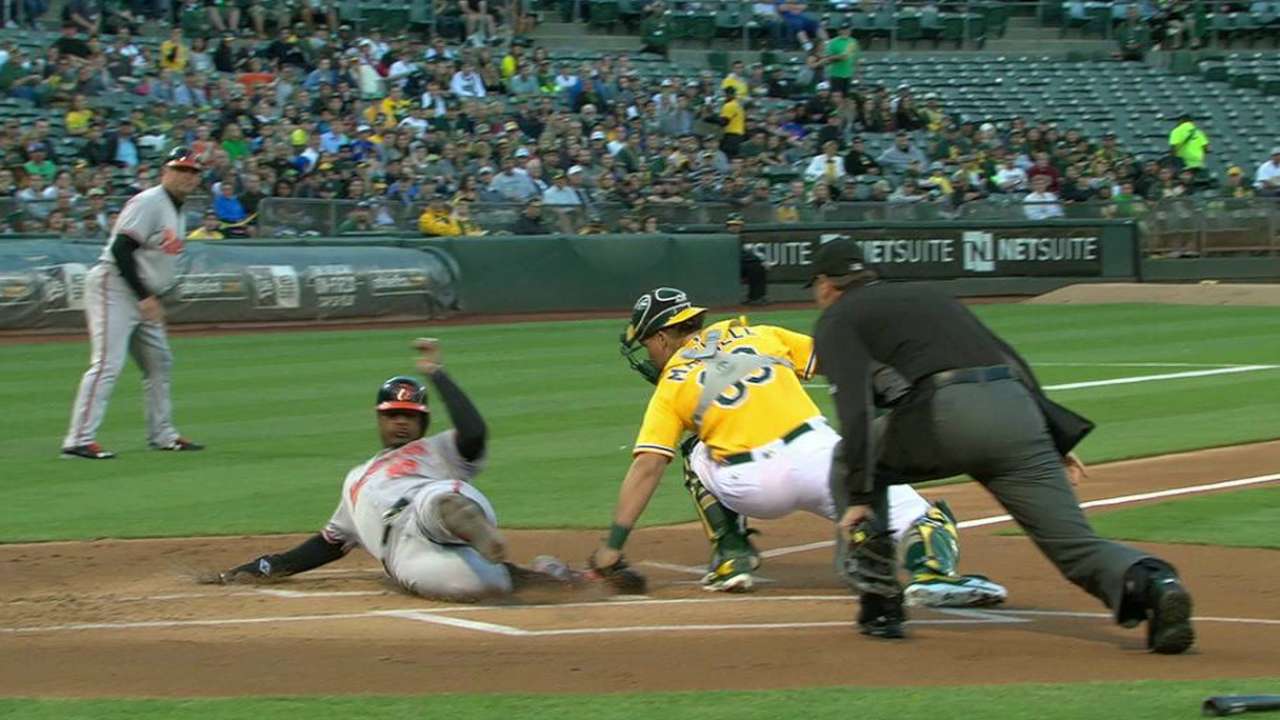 Worth noting
Left-hander T.J. McFarland, on the 15-day DL since June 30 with left knee inflammation, threw a rehab start for the Gulf Coast Orioles on Wednesday and will move on to make a rehab start in Frederick on Monday.
Rick Eymer is a contributor to MLB.com based in the Bay Area. This story was not subject to the approval of Major League Baseball or its clubs.