Royals rely on stout defense, 'pen in victory
Cain's walk-off hit made possible after some run-saving plays
KANSAS CITY-- Lorenzo Cain had seen enough. As the Royals and White Sox marched into the 14th, there had already been enough highlights to last a series. Right-hander Ian Kennedy posted another quality start and the Royals' defense had made several highlight plays, including two outfield assists from Paulo Orlando, while the bullpen had done its job.
Cain stepped to the plate with Christian Colon on second and two out and looped a single to center, giving the Royals a 3-2 walk-off win on Wednesday night.
"I've been ready to go home for a while now," Cain said with a smile after the game.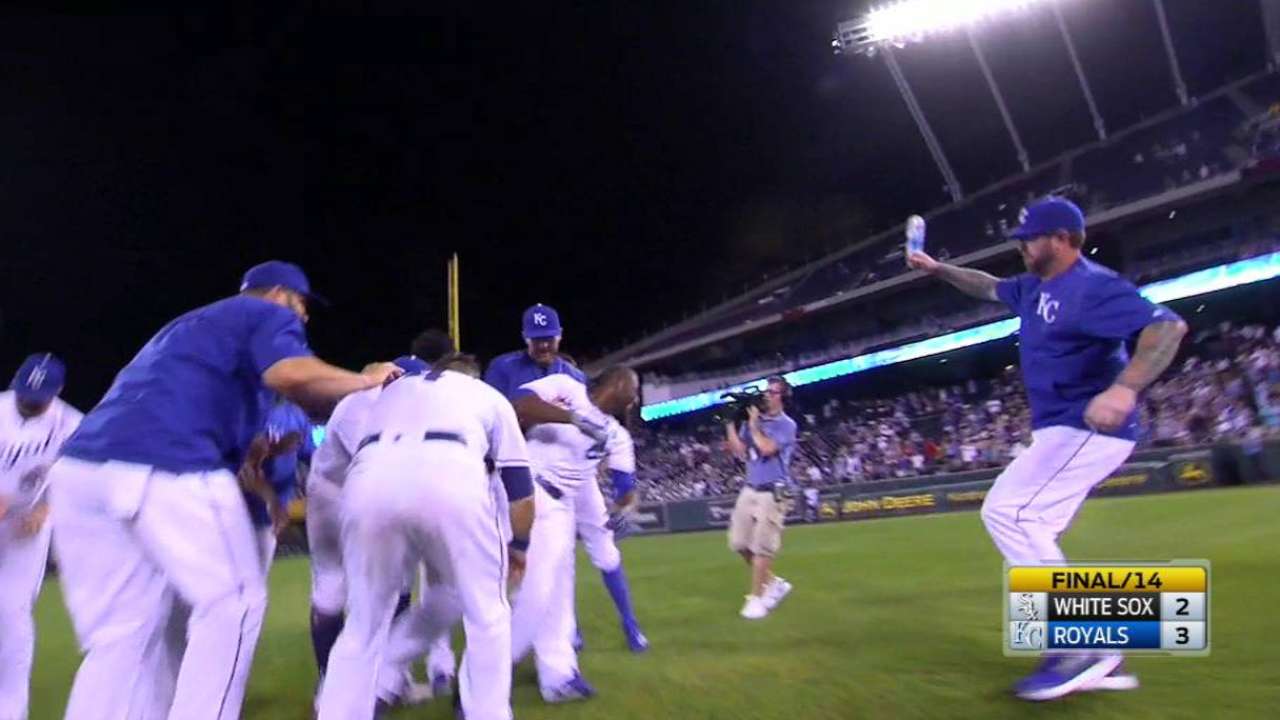 But had it not been for some stellar defense and a sharp bullpen, that might have been the case. The Royals' comeback was almost thwarted before it began.
With one out and runners on first and second in the seventh, the White Sox had the chance to tack on to their one-run lead. J.B. Shuck singled on a sharp ground ball to center, which could've loaded the bases. Instead, Omar Narvaez tried to score from second and was out at the plate with a picture-perfect throw from Orlando.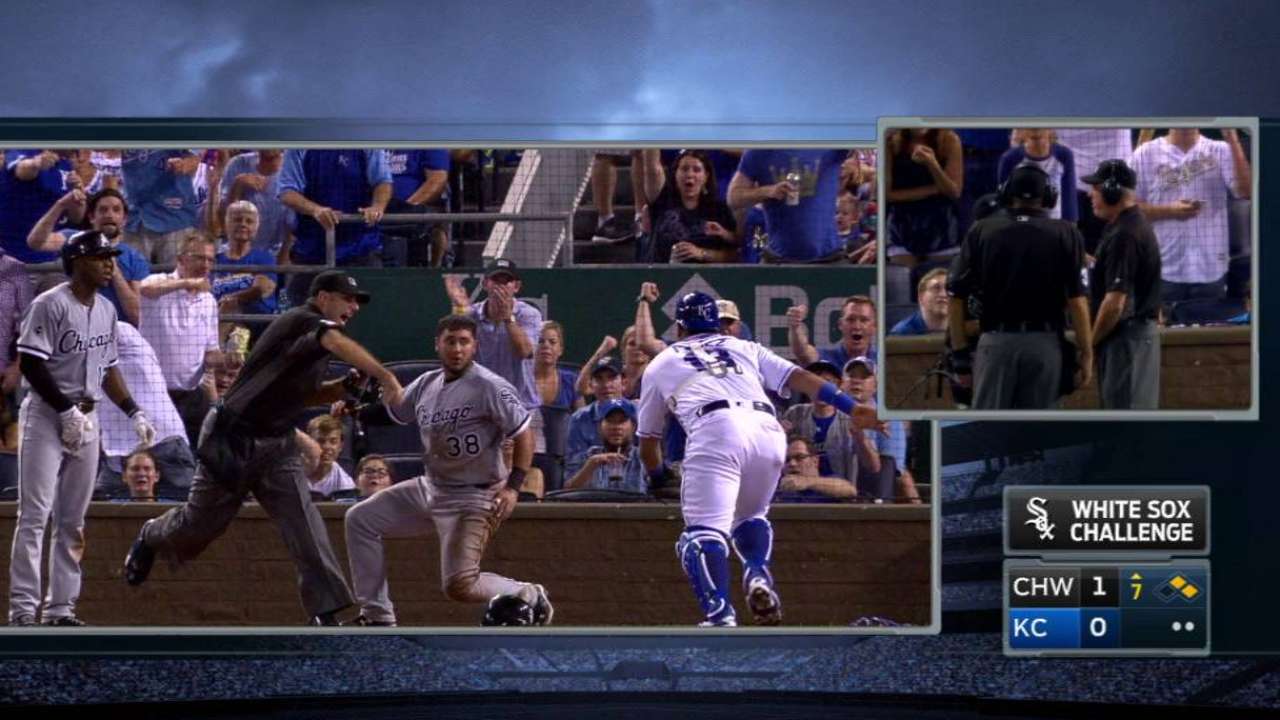 "I know he's a catcher, he's a pretty slow guy," Orlando said. "I just tried throwing it [on] one hop and made a good throw."
Orlando recorded his second assist in the ninth, doubling up Carlos Sanchez at second base. It was Orlando's first game with two outfield assists, and he became the first Royal to record two outfield assists in a game in more than two years since Norichika Aoki did it on Aug. 8, 2014.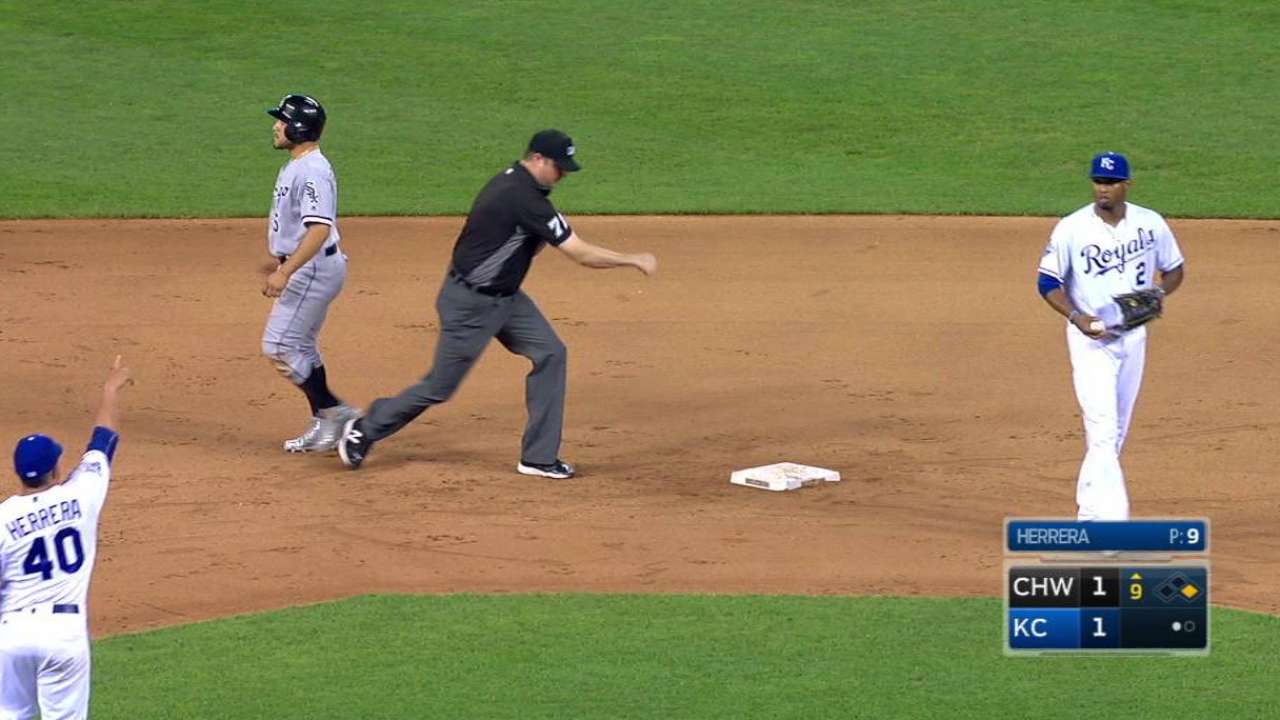 "He's a kid that's worked real hard to get to the big leagues," manager Ned Yost said. "He's played all three positions [in the outfield], and he plays them all really well."
But there more than just Orlando's highlights.
In the second and third innings, Raul Mondesi and Eric Hosmer showed off their range with a couple of tough catches. Alex Gordon had a diving catch to record the final out of the ninth inning, as well as an outfield assist in the sixth.
"There were a couple balls I thought were going to drop," Kennedy said. "Those are big. That saves a lot of pitches for me."
And while the defense kept the them in the game, the Royals used just about every arm in the bullpen.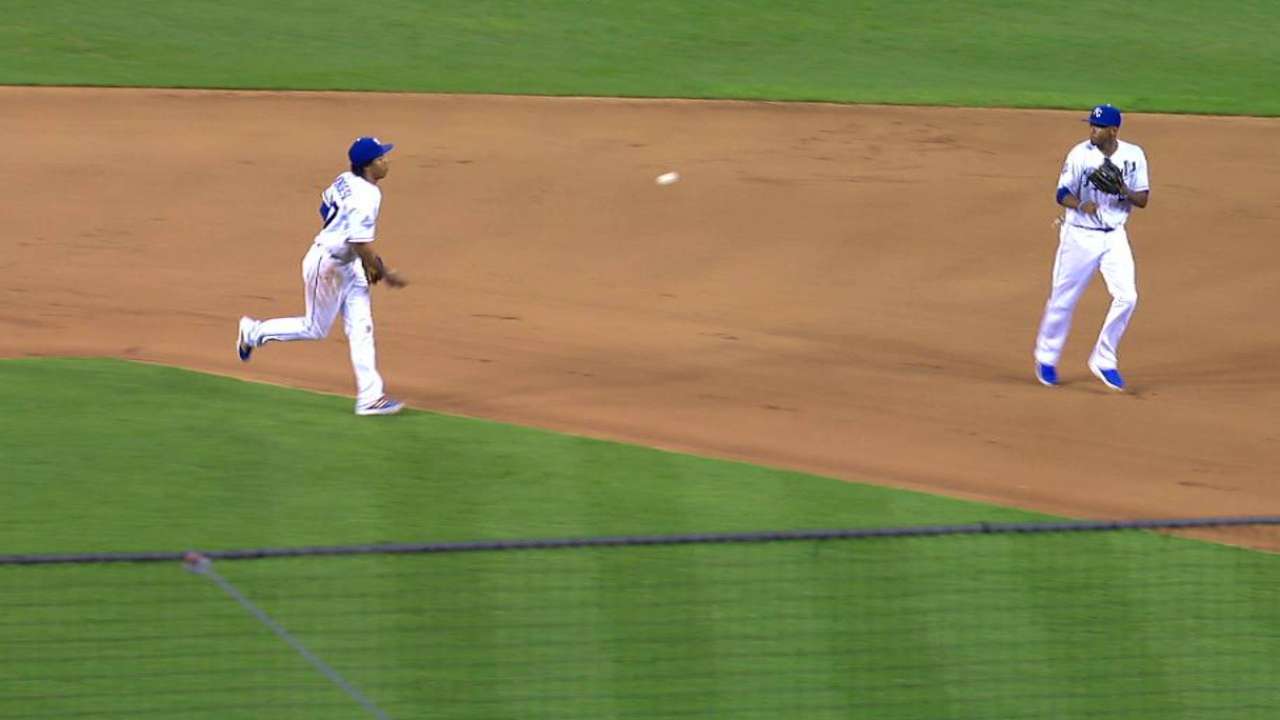 Brian Flynn, Peter Moylan, Chris Young, Kelvin Herrera, Joakim Soria, Chien-Ming Wang and Dillon Gee all made appearances.
"Nice two innings from everybody, really," Yost said. "Everybody came in and did a nice job [and] held the fort until we could finally score. Took us 14, but we did it."
Scott Chasen is a reporter for MLB.com based in Kansas City. This story was not subject to the approval of Major League Baseball or its clubs.