Lineup overhaul a needed change for Bucs
Moving Polanco to cleanup spot final piece of revamped order
PITTSBURGH -- Clint Hurdle waited for things to turn around. He avoided change for the sake of change. He evaluated and stayed patient through slumps.
But eventually, the Pirates manager decided enough was enough. Over the weekend, Hurdle began shaking up Pittsburgh's lineup. The final piece fell into place Tuesday night, when Gregory Polanco was healthy enough to take over the cleanup spot in the Bucs' 6-3 win over the Padres at PNC Park.
"I've given it enough time. It hasn't played out," Hurdle said. "We're not getting the productivity I think we can get out of the personnel we have involved."
So Josh Harrison became the new leadoff hitter, bumped up from the bottom of the order. Starling Marte found himself on the other side of Andrew McCutchen, switched from fourth to second. Matt Joyce kept the cleanup spot warm for Polanco. The third basemen, David Freese and Jung Ho Kang, hit fifth. John Jaso dropped from first to sixth, and Francisco Cervelli moved down to seventh.
The Pirates played 106 games before Hurdle rearranged the lineup. Compare the numbers:
First 53 games: 5 runs/game, .277 average, .352 on-base percentage, .425 slugging percentage, 29-24 record
Next 53 games: 4.1 runs/game, .238 average, .305 on-base percentage, .383 slugging percentage, 24-29 record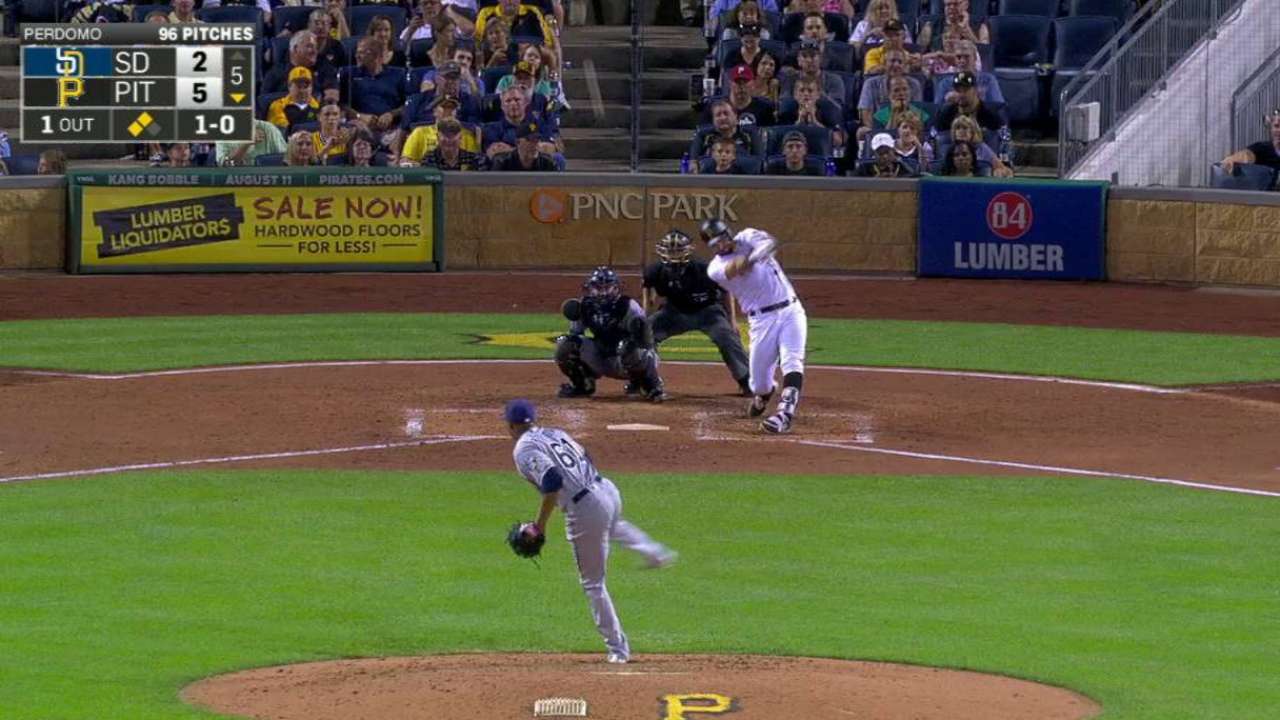 Hurdle considered a number of lineup options before settling on the one he's written out the last five days.
"It goes back to what we did [trying to optimize their lineup] in Spring Training -- same personnel, a different lineup based on strengths, swing patterns, chase rates, productivity," Hurdle said. "Old school? The eye test played a pretty big part in it, too.
"At the end of the day, when it's all said and done, I liked the way that one looked the best."
Hurdle talked over the changes with each player before implementing them. Harrison, for instance, feels most comfortable in the leadoff spot. Polanco had never started in the cleanup spot in the Majors, but he likes hitting in the middle of the order.
"I have talked to those guys. I was one of those guys," Hurdle said. "There's times when you're one of those guys you're just happy to see your name in the lineup. Then there's guys who have some entitlement sometimes that believe they belong in a spot. You get their feelings and thoughts and share with them yours."
The Pirates had one of the Majors' most productive lineups in April, and their offensive production remained solid through May. It fell off in June. Why not make the change after a bad month?
"The easiest thing we do is get off something. We never know how close we are to pushing through something," Hurdle said. "We're really good at changing things. I don't know if we ever show any improvement, but we change. We'll do something different. The lineups, they've got to have time. I really believe that."
Adam Berry has covered the Pirates for MLB.com since 2015. Follow him on Twitter at @adamdberry. This story was not subject to the approval of Major League Baseball or its clubs.