Mets giving T.J. Rivera chance to play third base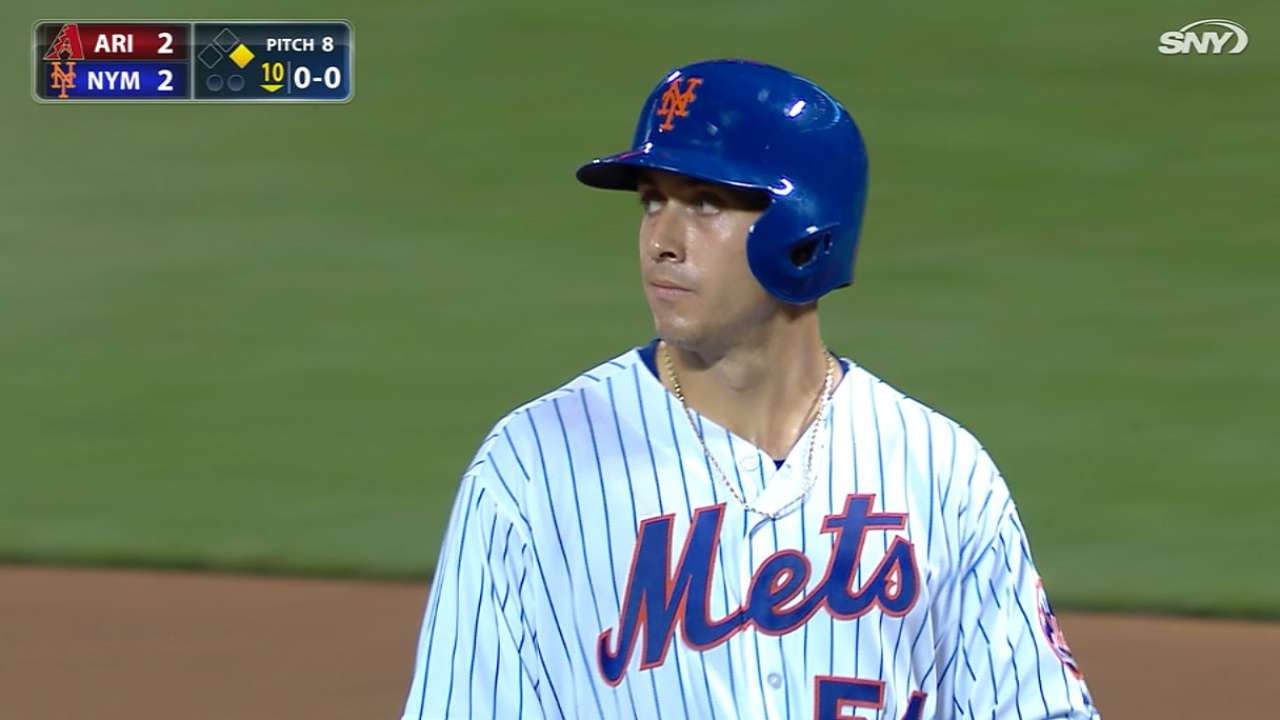 NEW YORK -- Moments after another lackluster loss on Tuesday night, in which the Mets again didn't generate the type of offense they've needed for months, general manager Sandy Alderson marched into manager Terry Collins' office to say simply: "I think it's time for Rivera."
Rivera, of course, is T.J. Rivera, an undrafted Bronx native whom the Mets called up Wednesday from Triple-A Las Vegas. The club optioned outfielder Brandon Nimmo to Vegas after Tuesday's loss. For weeks, fans have clamored for him, hoping the infielder's .349 Pacific Coast League average could translate to the Majors. Rivera himself began doubting it might happen, as the Mets passed him up for promotions time and again.
"You start to wonder if this year is the year, if you'll get the call," said Rivera, who started at third base, finishing 1-for-5 in the Mets' 3-2 loss to the D-backs in 12 innings. "But you try to put that behind you, and just try to grind away at the season."
Rivera did, and has for years now, with a .323 career average in the Minors. He also owns just 35 career homers and 150 walks in 617 games, numbers that fly in the face of what the Mets' front office values most: power and patience. But with injuries sapping them of other options, particularly in the infield, the Mets decided to turn to Rivera.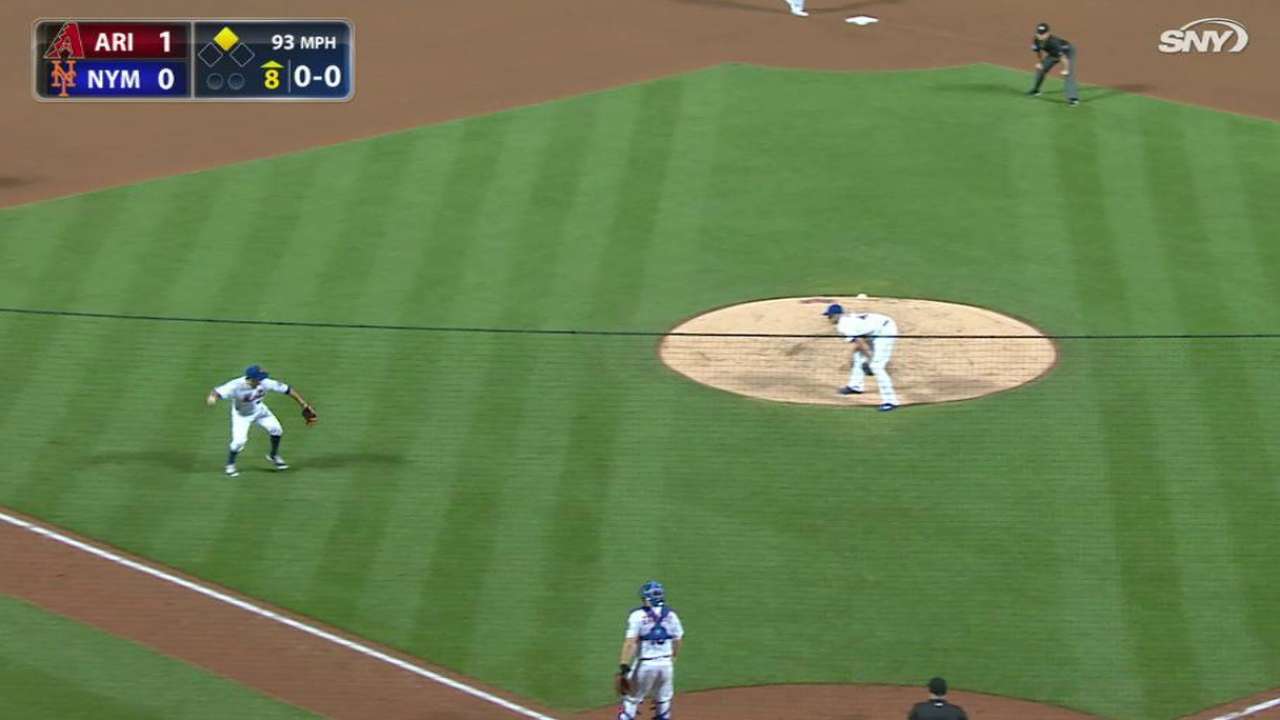 "I've heard a lot of Minor League guys talk about how this guy can really hit," Collins said. "Really short swing, not a lot of movement in the swing. ... Right now, the plan is going to be to give him a chance to play some third base here."
That means almost every day, at least for the foreseeable future. When Jose Reyes returns from the disabled list as soon as this weekend -- he'll begin a Minor League rehab assignment on Thursday -- the Mets will slot Reyes at shortstop and shift Wilmer Flores into a platoon role. So until Asdrubal Cabrera returns from the DL further into August, the Mets will roll with Rivera at third.
Because the 27-year-old grew up about a 15-minute drive from Citi Field, his parents, wife and more than a dozen other family members were on hand to watch on Wednesday, in addition to countless other friends. Shortly after arriving on a red-eye flight from Albuquerque, N.M., Rivera joked that he's been receiving "a lot of texts and phone calls from numbers I don't even know." He spent time stationed with teammate Ty Kelly at a clubhouse computer reserved for ticket requests.
Then Rivera went out to the field, collecting his first career hit on a 10th-inning liner that he initially feared Michael Bourn would catch. The ball from that hit sat on a shelf atop his locker after the game.
"I was trying to clear my mind, honestly," Rivera said. "A lot of things go through your mind: all the work you've put in, and the reasons why you play the game, and things of that nature. I tried to clear it, but honestly, my mind was racing."
It all made for a whirlwind afternoon for Rivera, his moment finally arrived.
"Unbelievable right now," Rivera said when asked how he was feeling. "It still feels unreal. I'm really just proud and happy for my family to be able to experience it with me."
Anthony DiComo has covered the Mets for MLB.com since 2008. Follow him on Twitter @AnthonyDiComo and Facebook, and listen to his podcast. This story was not subject to the approval of Major League Baseball or its clubs.